Vixen Media Group Releases its Biggest Film of 2023 "Influence: Vanna Bardot"
The five-part all-anal crossover showcase will be available on Tushy, Blacked and Slayed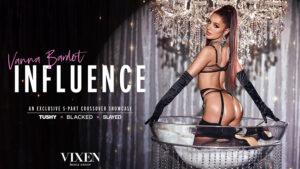 LOS ANGELES (Sept. 12, 2023) – Vixen Media Group, the leader in luxury adult entertainment, announced today the release of a five-part, star-studded installment of the award winning series, "Influence." Starring the award-winning performer of the year, Vanna Bardot, the iconic starlet's all-anal full-length feature film will be released as a crossover on VMG's renowned sites: Tushy, Blacked, and Slayed.
Directed by AVN Hall of Fame inductee Derek Dozer, the new project delves into the sultry underworld of organized crime, crypto-scammers and the complex entanglement of personalities, sex and the power of influence. The project boasts an all-star cast in a riveting, action packed storyline, bound to keep viewers on edge.
Viewers can expect a premium lineup of adult talent in the new series, including Vicki Chase, April Olsen, Jax Slayher, Dante Colle, Alex Jones, Little Dragon, Maximo Garcia and newly re-signed exclusive contract star Jason Luv. The first episode will debut today, September 10th on Tushy – sequential scenes will drop throughout September across Blacked and Slayed as well.
The high-budget film also features an original theme song by renowned musician and adult performer Queenie Sateen, produced by George Lewis Jr. titled "Under My Influence." The song is both inspired by and produced specifically for the film and Queenie Sateen makes a special guest appearance in the film to perform this track in one of the project's high impact scenes.
"To say that this showcase is a dream come true is such an understatement," said Vanna. "I've always admired VMG's work and to be given this opportunity has been a surreal experience. From the moment this project became real, I dedicated myself completely to it. It has profoundly changed my life in so many positive ways. I deeply respect and appreciate everyone involved. The cast and crew went above and beyond to make this movie the absolute best it could be. I want to thank director Derek Dozer for making it what it is. I can't wait for everyone to see the magic that we've made!"
Part one of the series gives audiences Vanna's highly anticipated first-ever anal performance, while part three of the series takes it up a notch and features her first double penetration scene. Since her first Vixen Media Group scene in 2019, Vanna has appeared in 22 films for the global entertainment lifestyle brand, which can be viewed across the company's portfolio of premier studios such as Vixen, Slayed, Blacked, Deeper and Blacked Raw.
"Working with Vanna and the entire crew was an incredible experience," said Director Derek Dozer. "This is my biggest showcase to date, and it does not disappoint! I've known Vanna for a while now, and she has become one of the top stars in the business, bar none. Her performance from top to bottom, from her screen presence as an actress to the stellar scenes, was just phenomenal. The entire cast was simply stellar."
While Vanna truly shines in her new role, her electrifying performances across Vixen Media Group's exclusive brands have earned her widespread recognition within the adult industry. She has won several of the industry's top awards, including the 2023 AVN Award for "Best Girl-Girl Sex Scene" in "Heat Wave" on Slayed, and the "Best Foursome/Orgy Scene" in "High Gear" on Blacked Raw, among others.
"I had an absolute blast working with Vanna and the whole crew," said co-star Jason Luv. "It was an incredible experience, and we had such a great time on set. Stay tuned, 'cause this film is gonna be seriously special!"
Learn more about the crossover showcase here. Be sure to follow Vixen on Twitter and Instagram for additional info on the series release dates for "Influence" and other exciting news.