Blacked: Level Up

Movie Type: Vignette
150 Mins
2023
WEBSITE: www.blacked.com
CONDOMS: No
THEMES: Interracial Sex, Group Sex, Big Cocks,
STARS: Anna Claire Clouds, Amber Moore, Anton Harden, Isiah Maxwell, Kelly Collins, Ivy Wolfe, Lika Star, Joss Lescaf, Azul Hermosa, Lana Roy, Aaron Rock, Freddy Gong, Kaisa Nord
REVIEW-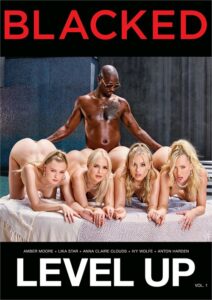 This collection of scenes from Blacked has one of those "event" type of scenes that really get a movie noticed. The opening four on one fuck is the stuff fantasies are made of. Anton Harden enjoys four very lovely ladies in a scene that is high end in every respect. The women are beautiful, the action is well shot and it makes for perfect highlight reel material. From there things settle into some hot one on one action. Azul Hermosa plays a spoiled princess perfectly. Since her man can buy her anything, he buys her a guy with a cock who can satisfy her needs. The result is a passionate and memorable follow up scene. Kelly Collins stars in a fun scene with a lot of nice build up. She is old enough to fuck guys, but still vacations with her strict and controlling parents. They can't stop her from sneaking off and finding a well-hung black man to enjoy. Great scene with plenty of sneaky fantasy appeal. Kasia Nord and Lana Ray double up in the finale for another stand out scene. Two on two fun for this pair of stunners. I am tempted to call this the best scene of the movie. At the very least it is worth repeat viewing. This is another high end release from Blacked, with plenty of the stuff you look for from their productions.
Ivy Wolf, Anna Claire Clouds, Amber Moore, Lika Star & Anton Harden
Anton gets a great tip from a friend. He calls a special car wash service that specializes in giving men exactly what they want. With Lika Star, Ivy Wolf, Anna Claire Clouds and Amber Moore all on hand in skimpy bikinis getting things sudsy, the heat rises quickly. The car wash makes for some hot tease, but it doesn't last long. No crying though because the four women go after his cock with their hands and mouths while taking turns smothering him with their pussies. There is also a whole lot of girl on girl kissing going on while they wait their turns. With plenty of hot mouths to work on his cock, Anton is absolutely loving every second of this. With the round of oral complete, the girls get in line on all fours to take his thrusting prick from behind. Since there are four of them, that gives the girls plenty of time to play with each other while waiting to be fucked. In addition to all the eye candy (especially if you like blondes) there is some really good action as Anton has them stacked two at a time taking turns on their willing holes. The big finish is a four girl facial shot with a lot of cum swapping. Wow, this is a serious highlight reel scene that opens the movie by making a statement.
Azul Hermosa
Spoiled blonde Azul Hermosa has a fiancé who can buy anything he needs. What he needs in this case is someone who can satisfy her sexually. Enter Isiah Maxwell who has the skills to get the job done. Azul looks good in black lingerie as she invites him into her bed and greens him with a slow two-fisted handjob. Once he is hard and ready, she slides that cock into her mouth and starts sucking. She is quite pretty and ready for deep penetration. They start in mish with her knees pushed up and her boobs out of her bra so he can grab at them. The energy picks up a bit when she flips over and arches her back while he long strokes that pussy from behind. Adding another round of eye candy, she mounts up for a ride in reverse cowgirl that shows off her stocking-covered legs. She responds to this round by lovingly sucking every inch of his meat. He lets her do that until he shoots a big load all over her face.
Kelly Collins & Aaron Rock
Poor Kelly Collins is old enough to have grown up fun, but still young enough to vacation with her parents. This makes it impossible for the pretty young thing to get laid. Every time she checks out a hot guy, there is someone in the way. Acting on an opportunity she follows Aaron into his room and picks up some massage oil. He wonders where her uniform is, but lets her put her hands on him anyway. After a quick rub on the back, she rolls him over and shows him the sort of special service he can expect. He likes her mouth and invites her into the room where she can get on her knees and finally use her mouth in the way she has been craving. HE pulls her up on top and we get to watch her buck her hips back and forth while she gets used to his size. Aaron picks her up and drops her body down on his big cock. Kelly fucks with great energy and has a big smile on her pretty face as he takes her from behind. He goes deep and then flips her over for some nice shots of her legs up in the air. She gets on top and swings around for some 69, eating his dick with great enthusiasm. Flipping back around she lets him fuck her pussy until he shoots a big load right into her horny hole. Now that's a vacation highlight.
Kaisa Nord Lana Roy & Joss Lescaf Freddy Gong
Kasia Nord and Lana Roy are so close that they are often mistaken for sisters. They end up dating a pair of brothers and one thing leads to another. What does that mean? What do you think? It means that the guys leave their girls alone on a Caribbean vacation and they decide to hook up with local guys Joss and Freddy. They hit the pool, strip out of their suits and start sucking on a couple of very big dicks. In between sucks, they kiss each other and then switch partners. Hey, besties share everything and if that moment doesn't get you going, you might as well just skip to something else because wow, that's hot. They get out of the water and go for some side by side fucking. Great outdoor action with standing doggy and cowgirl giving us plenty of hot full-body eye candy. Getting a bit daring, the girls take the guys two at a time. Do you enjoy outdoor DP footage that also features two pretty girls kissing? Well then you will be glad you stuck around to the end of this movie. Everyone pairs off again and since the anal has begun, we ride that backdoor train through to the climax. Two climaxes actually, one for each pretty face. Which of course gives us a chance to see them kiss and cum swap for several seconds at the end. Beautifully hot and hot from start to finish, this is a fantastic finale to close out a very hot flick.