Lexi Luna Stars in Brand-New Inked Vixens XXX Release
Las Vegas –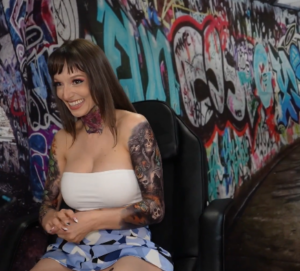 Lexi Luna, the captivating adult film star, is the latest hottie to shoot for Inked Vixens XXX. Lexi Luna's raw sexuality and captivating presence make this performance an absolute must-see.
Lexi Luna, covered in ink, visits Trap's tattoo parlor at the suggestion of Alex Coal. She tells Trap that she wants to get some new ink. Trap gets her right in, giving her a new leg tattoo while noticing she isn't wearing panties. She loves the tattoo and starts to suck Trap's dick to show her appreciation. Trap mounts her in missionary and compliments her boobs. She climbs on top and rides him in cowgirl before they move on to doggie-style. Lexi leaves a very satisfied customer.
"Working with Inked Vixens was so much fun! I've always wondered what I would look like with tattoos, and these were super high quality." Lexi continued. "Everyone on set made me feel welcome, and I very much enjoyed the scene!"
NSFW trailer can be seen here.
Fans can follow Lexi Luna on X at @lexilunaxoxo
Check out the Inked Vixens XXX BJ Compilation.