Women Loving Girls 7

Movie Type: All Sex
120 Mins
New Sensations
DIRECTOR: Paul Woodcrest
2021
WEBSITE: www.NewSensations.com
CONDOMS: No
THEMES: Lesbian Sex, Sex at the Office
STARS: Minx Luxx, Eve Marlowe, Delilah Day, Kenzie Taylor, Vanessa Moon, Aiden Ashley, Jessica Ryan, Olivia Madison,
REVIEW-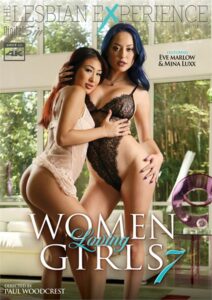 This is a nicely shot all-girl movie with some basic story set ups to lead us into the lesbian sex. We have established couples who can't keep their hands off of each other. Horny wives with the hots for the babysitter. Workplace lesbian attraction and best friends who take it to the next level. In every case, they end up fucking and the action is nicely shot. This movie has a good looking cast who bring enough energy to the scenes to make it a good option for those looking for pretty lesbian action with light vignette storylines.
Jessica Ryan & Olivia Madison
New love is intense. So says the voice over. Jessica Ryan is totally head over heels in love with Olivia Madison and the feelings are all consuming. Adding fuel to the fire, they are each other's first. Well that is bound to intensify things. Before they end up in bed, we get some really nice shots through the steamy shower door. Once settled in, Jessica spreads her young girlfriend's legs and does things with her tongue that drive Olivia wild. She happily returns the favor, getting a mouth full of full muff while flicking her tongue over Jessica's bean. They break out a toy and take turns working each other with it. After the dildo warm up, they share a double insertable vibrator that works with Jessica humping her girl from behind. They finish up by grinding on one another.
Delilah Day & Kenzie Taylor,
Delilah Day shows up for her usual babysitting gig and is informed by Kenzie Taylor that it was supposed to be canceled. She invites the babysitter in and tells her that she feels she is not appreciated around the house. Kenzie also comes on hard. Delilah is shocked and has never been with a woman before. That doesn't slow things down even a little bit. Off to the bedroom they go where the busty blonde enjoys rubbing her big tits in the pretty redhead's face. They look really good together and Kenzie's experienced tongue drives Delilah wild. Just to make sure she gets the job done, she uses a toy, filling that pretty little slut perfectly. Applying what she has learned, Delilah goes to work between Kenzie's thighs with equal parts enthusiasm and skill. A couple of toys help do the trick as a fat dildo keeps her boss stuffed and the vibrator finishes her off. Great contrast in this scene.
Aiden Ashley & Vanessa Moon
Aiden Ashley is having a really rough day. She gets a good look at her assistant Vanessa Moon and has something to say. Casual Friday doesn't mean wearing what you want. After a brief lecture on proper attire, Aiden suggests they blow off work and have some fun together. Not sure if that fits the corporate culture, but it works just fine for this movie. Vanessa is very pretty and gets even more so as her clothes come off and her horny boss' fingers find their way into her pussy. She works her fingers and toys until the young assistant barely knows which way is up. Vanessa does a pretty good job returning the favor, but then gets some serious vibrator action from her boss. When she is done, they line up for scissoring, but only for a few seconds before the scene ends.
Minx Luxx & Eve Marlowe
Mina Luxx and Eve Marlowe have a great friendship. Mina wants more and is pleasantly surprised when Eve makes the first move. From there things go quickly. Some kissing, a quick flash of play in the pool (that is sadly never followed up) and then onto the couch they go. Eve makes great eye contact as she camps out between Mina's legs and enjoys a midday snack. Trading places, she enjoys feeling her friend's tongue and a handy little vibe. The toy play has them both really excited. There are some really nice kissing shots before they throw the toy aside and grind their clits together.