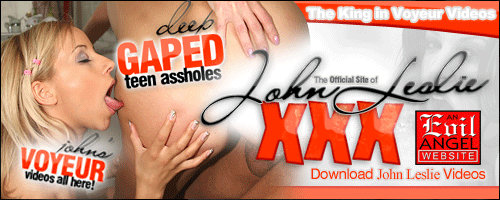 MOVIE TYPE: All Sex

162 Mins.

Evil Angel

www.EvilAngelDirect.com

Jenna Haze, Gianna, Nyomi Marcela, Tia Tanaka, Cassandra Cruz, Rebeca Linares, Aubrey Addams, Amber Rayne,
REVIEW-
It is safe to say that the blow bang genre has reached a new high. Any time someone like John Leslie enters the ring, you know there has to be something special going on. We could hope perhaps that Leslie would bring his unique vision and impeccable style to a genre that is generally about gagging, drool and freak show sex. That wasn't the case with the first Gobble movie though. Perhaps things have evolved a bit. The cast for GTG3 is headed by two of the hottest girl in the biz, Jenna Haze and Gianna. These two women alone make the movie much more interesting than most blow bang. The other thing to note is that these scenes seem to be a bit more controlled than your average BB. Most of the scenes are two or three guys per girl. That should help the visual appeal of the action. (Unless of course you like a lot of man ass and an avalanche of meat.) With any luck this will be a great combination of eye contact and hot oral sex. At the very least we get to drool over Jenna, Gianna, Tia Tanaka and Aubrey Addams.
For many of you, Jenna is the only girl who really matters in the cast. She has been a fan favorite for years and is doing her very best work these days. Finding a guy chained to a chair, Jenna backs up on his face, rubs her pussy on his mouth and then goes after the cock. The blowjob that follows is vintage Jenna Haze. She talks dirty, uses her hands perfectly and takes quite a bit of meat into her talented little mouth. Jenna lets the guy loose and soon has three cocks to suck. Her little hands work overtime to keep two guys happy while she sucks the third. Blow bang scene can often break down and become pointless quag fests. That doesn't happen this time though. Jenna's energy is great and she finds a way to keep three cocks throbbing at the same time. The first guy shoots a load into her mouth. Jenna shows it to the camera and swallows. Guy number two needs the two fisted action to bust his nut. There is a big smile on her face as she takes the third load. This is the best scene to come from this series yet. Very hot.
Wow. That's the only way to describe Gianna as she struts up the street in her little brown dress. She teases a little bit, showing off that perfect body and then goes into the warehouse. The guys working in there have no idea just how much fun they are about to have. Attacking the first cock she sees, Gianna goes to work as only she can. After some single dick blowjob action she asks if everyone is going to stand around or put their cocks in her mouth. They are not totally insane so naturally they join in. Gianna gets her head going back and forth between dicks with enough body movement to keep her tits swaying the whole time. There is a bit more gagging in this scene, but we also get some tit fucking so it balances out. Gianna keeps up the hot talk while she sucks and then lets the guys shove her face to their hips as she takes them deep. Even with the gagging, the action is white hot in this scene. Gianna can take it and turns in a blistering scene. The guys line up for the pops and take their time giving her all the nut she can eat. She talks dirty until each guy has left a load in her mouth. Gianna walks out of that warehouse with a stomach full of sperm and another great scene under her belt.
Tia Tanaka and Nyomi Marcella
These two cuties are would-be actresses who show up looking for a director named Sam. While they are waiting they see Jean-Claude jerking off behind a shade. Calling him over, the girls offer to help out. Two on one is nice, but another guy shows up and Tia moves her full lips over to try some new meat. We get to watch them go for the side by side cock sucking. Nyomi doe some really good POV work on Jean while Tia manages to shine hanks to her sexy eyes and those inviting lips. There are other guys hanging around as well so they make their way into line for some hot Asian head. Each girl has two cocks to play with and despite some low-angle footage, they make it all really hot. The action does start to drag after a while, but the girls get coated in cream at the end so it's worth sticking around for.
Cassandra Cruz
We watch Cassandra and Seth through the window. This is like those old John Leslie movie with the voyeur slant. She gives her man a slow lap dance and looks ready to give him whatever he wants. When a couple of guys show up to watch, they decide to go in and put her lovely mouth to the test. This pretty girl is very busy and hard at work as she sucks one and strokes two. Cassandra is great for eye candy and doesn't really gag as she moves from dick to dick. That's a really good thing because it makes the action so much hotter. She kneels in the middle of them and looks up at three hard cocks over her face. Wat
ching this pretty girl go to down on all that meat is a fantasy come true for all mopes out there. She is way out of their league, but happily sucks them all and eats their cum.
Rebeca Linares

This girl is as hot as anyone could want, but the wind is playing hell with the sound. Rebeca stands near a dumpster waiting for some big cocks to suck. Great location for such a hot girl, but the sound issues are a problem. Once she gets going, the wind dies down and is replaced by the sound of her gagging on some big black meat. Surrounded by dick, Rebeca goes to town with her hands and mouth. She shoves one into her cheek and slaps her face. Interesting move there. The guys stay pretty quiet, but can't help commenting on how good she is when she's rubbing those shafts on her pretty face. There are some lighting issues along the way, but overall this is a pretty hot group suck off. The cumshots never seem to end as dick after dick explodes into her mouth. Rebeca's mouth overflows with seed as the guys pack up and head back to whatever they were doing.
Aubrey Addams & Amber Rayne
These two hotties have some car trouble and are going to have to work hard to get some help. Some mopes come along and one of them whips out a cock. Amber just drops to her knees and starts sucking. Some of the other guys gather around Aubrey and give her something to work with. This group blow bang is shot to keep both girls in the shot more often than not. That presents some problems and it keeps us from being able to obsess properly over Aubrey's awesomeness. Everyone moves inside and the sucking continues. I know some people may disagree, but Aubrey really steals the show at this point. She strokes hard dicks with great hand action. Amber tries to keep up, but ends up gagging and looking like she's just trying too hard to be what Aubrey is naturally. Thanks to the silly quagging, this is probably the worst scene of the movie. That isn't to say that it's bad. It just doesn't measure up to Jenna or Gianna's efforts. There is some decent deep throat by Amber and of course Aubrey's cuteness, but we don't close this movie on a high note. At least it ends with a lot of cum being dropped into Aubrey's mouth. Maybe she can come back from Goop 4 and show what she can when she isn't sharing the spotlight.
Oh yeah, this works. The small bangs are fantastic and the girls rise to the occasion. Even the worst scenes in the movie are pretty hot. That finale is pretty good looking and Aubrey shines even as she shares the spotlight. Rebeca does a nice job in her scene. There are some sound and lighting issues, but she proves that even trashy sex can be easy on the eyes. Tia and Nyomi share dick really well in a scene that is bound to please those of you who dig hot Asian chicks. If this were the best scene in the movie it would be a pretty solid anchor blow. The first two scenes leave even this one in the dust. Gianna's warehouse pop-in is very hot. She handles cocks really well and knows how fucking hot she is. As much as I loved this scene, it comes in second this time around. Jenna Haze takes the prize for hottest blow in this flick. She looks great, attacks hard cocks with a mouth that is incredibly talented and hands that work magic. Jenna has been turning in a lot of great scenes of late and her mini blow bang sets the stage for this hot oral flick.