120 Mins
DIRECTOR: Zakk Wyde
Elegant Angel – 2000
THEMES: Blowjobs, Facials.
STARS: Lita Chase, Nature Blossom, Vivian Valentine, Cumisha Amado, Dyn-a-Mite, Shaena Steele, Heather Lyn, Phyllisha Anne, Nova, Amber Michaels, Sasha Cummings, Stormy Dream.
DVD FEATURES
This isn't a very big extras package. Full motion chapter stops make it easy to find your favorite blowjob. There is a small photo gallery with below average quality shots. There are five trailers that all run together. Elegant Angel usually gives us a much better extra package. This is clearly their B game.
REVIEW:
Of all the blowjob series on video and DVD these days, Elegant Angel's Dr. Fellatio line is still probably the most recognizable. Though it has gone through a number of directorial changes, style changes and boxcover styles, the basic content remains the same. We get a bunch of chicks who rarely speak a word before sucking a hard cock. So long as there is good lighting, a decent looking cast and no one in the edit bay decides to get fancy, everything will be fine.
Actually, the very first scene shows a little something different. We are not in the familiar Elegant Angle offices for the Story Dream blowjob. Instead, she is sitting outside by a pool as she strips off her pants and plays with her pussy. Wow, new location and a bit of a different set up, I like that. She makes her way over to the camera and shows off a very nice set of (seemingly) real tits before diving in for some knob slobbering. She loves the entire dick with her mouth, sucking and licking from balls to tip. Only about half of the shaft fits into her mouth, but she makes up for it by slapping it against her tongue. Stormy takes a pop on her smiling face. See, nice lighting, cute girl and all is well in Dr. Fellatio land.
Heather Lyn does her sucking indoors and starts by crawling over to the guy and showing off her real boobs and curvy hips. She's using the belly cover trick, so we can only wonder if she needs a bit of toning up. However, this is a blowjob movie so all that really matters is whether or not she can suck a big fat one. Starting at the balls, Heather works pretty hard to make this guy happy. She can take most of his in her throat, but likes to use long strokes and hand motion to vary things a bit. (Love the ball grip on the deep throat. This girl has done this a few times.) Heather has a nice enough looking face and uses her tits to make this a nicer scene. She rubs his cock on her nipples and does a bit of tit fucking before the guy unloads his loins on her lips.
Sticking with the crawling theme Lita Chase really plays it sexy. She is the cutest girl so far, a blonde with a bad girl look, medium implants, a pierced tongue and just a little bit of sexy talk. Lita starts out slowly, playing up the tease aspect a bit, though she misses the boat slightly by night giving much eye contact. Later, she talks right to the camera which is nice, bit every time those eyes lock, things get three times hotter. Bobbing her head double time, Lita works the load out onto her neck then smiles right into the camera.
Dyn-a-Mite is a redhead with small boobs and a big round ass. She shows off a bit, but doesn't utter a word before taking dick into her mouth. When she does tart sucking, it takes the guy a little while to get hard and then he can't seem to maintain solid wood. Of course, he is stiff, she keeps gagging herself and coughing. About the only thing she does really well here is use her hands. In addition to using her fist to follow lips strokes, Dyn (And someone give this girl a name please.) takes the head in her mouth and jerks hard on the shaft. Moving into a 69, she keeps gagging, though now she takes the whole thing to the root. Somehow, this guy still lacks solid wood. He does manage to fire a load, though it's about as unimpressive as the rest of this scene.
Now here is a girl I love, Nature Blossom. She's all decked out in her little Britney Spears outfit as she crawls over and starts sucking. I've reviewed this girl in another Elegant movie and loved her. She has a great set of real tits and is just so fucking sexy it's unreal. Sticking with her outfit, she is playful and teases us as the skirt comes off. However, when it comes to sucking dick, this is no prom queen giving it her first try in the back seat. No, Ms. Blossom is a full fledged cocksucker who can talk, lick and suck like a fully grown porn princess. Letting the guy jerk himself for a while, Nature does a lot of ball sucking, but takes full control again to make sure she gets a good load. Nice long strokes, with a lot of hand work. Then, at the end, she turns it over to a full on handjob, jerking the cum from his cock right onto her tongue. This is easily the best blowjob of the movie and Nature is easily the most spooge worthy girl here.
Cumisha Amado goes back outside and talks dirty as she plays with her pussy. You know, the camera really shouldn't move in close on this woman's pussy or face. I don't know how old she is, but she looks as old as anyone in the biz who isn't doing the geriatric porn stuff. Since this is a blowjob movie, we get lots of shots of that face and you know what, it's just not that good. Her head must not be either since the guy ends up getting his ass licked for much of the scene. You know that for blowjob movies I only list the better than average and the really awful. Two guesses where this one ends up.
I just can't let an Amber Michaels blowjob scene go without talking about it. Every time I see her, she reminds me of an English teacher who gets hot and nasty after school. She starts off by fingering her wet pussy for us and really showing off a hard body that was built for pleasure. She's teamed up with a pretty small guy, so Amber focuses on his balls for a while Taking every inch of his shaft is no challenge at all for a woman who can take some pretty serious size down that throat, but by putting her all into the act, Amber makes the scene work. Very nice tit fucking and a well taken facial make this the second best scene on the disc.
Nova, Phyllisha Anne, Vivian Valentine, Shaena Steel and Sasha Cummings also contribute oral exploits to this volume. Director Zakk Wylde has tried a few new things and for that I will give him credit. However, he has been saddled with a cast that is, for the most part, average at best. There are a couple of real stand outs, most notably Nature Blossom and Amber Michaels. These scenes are worth watching, but much of the rest is pretty forgettable, definitely not up to the Dr's high standards. Still, watch it just to see Nature's too cute face get goo'ed.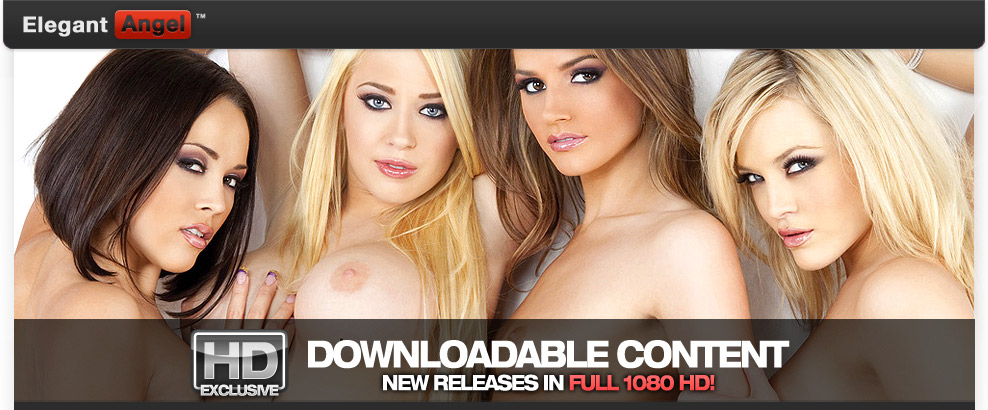 www.ElegantAngel.com