OVERALL RATING: 9-
125 Mins
DIRECTOR: Patrick Collins
Elegant Angel
THEMES: Anal Sex, Great Asses, Euro-Babes
CONDOMS: None Noted
2001
8/01
STARS: Belladonna, Anastasia, Michel, Frederice, Pavla, Isabella, Pamela Kilman, Nacho Vidal, Toni Ribas, George Uhl, Kevin Long, Boby, Franco Roccaforte, John Slovak
REVIEW:
The history of Buttwoman has been chronicled in my reviews of past adventures, so we don't need to go through it all again. Suffice it to say that the new Buttwoman has a mighty big G-string to fill after the likes of Tianna, Tiffany Mynx and Charlene Aspen have held the title. The current Buttwoman is, as you have guessed from the title, Belladonna. Many of you may have read my other reviews of this woman's work and I haven't been overly impressed. Make no mistake, she has a damn near perfect ass and has good enthusiasm in her scenes. It's the many, many trips to the ink factory that turns me off. Still, her backside and energy have been enough to impress Patrick Collins and that has to be worth a look. She is joined by some overseas babes who will certainly challenge the newly crowned B-woman in terms of looks and heat.
While driving through the European countryside, Bella has car trouble. She's dressed in this tiny little black number that shows off her cheeks quite nicely. While she waits by the side of the road, she picks up her camera and the fun begins. The first stop is at a nearby home where a busty blonde babe, Anastasia, lets her in to use the phone. With plenty of time to wait, Bella gets Anastasia to pose and we all know where that leads. Things are heating up when Nacho Vidal and his buddy show up. When they see two half naked girls in bed, the real fun begins. Anastasia becomes the center of attention as they all pass the camera around and take turns eating her out. As the fucking starts, both guys are enamored with Bella's ass and pass her back and forth for what appears to be some pretty fucking great head. Anastasia is quite pretty and gets slammed by Nacho, but Bella is already earning her strips with a very energetic cock ride. Whenever the camera moves down between this girl's legs, it's impossible to miss how awesome that ass is and she really seems to be having a good time here. Even though Buttwoman isn't necessarily an anal title, this girl gets really loud with a cock in her ass. When her feet go behind her ears for deep anal, I'm ready to forget the tats and just recognize what Collins sees in this chick. Lost in the anal heat is Anastasia who really has a great set of tits and takes a hard poke in the pussy. Before she's done, Bella does a bit of a DP, take a big load on the face, then shares a cum swapping kiss with her new girlfriend. Damn, that's a pretty nice way to start a movie.
Bella's adventures are just beginning. Alex Ladd introduces her to a group of men and in a very thick (and hilarious) accent, tells them that there can be no nudity. What? Why do I think she really doesn't want to take pictures of these guys modeling their shoes? As soon as she sees the first guy without his shirt on, Bella just has to suck his dick. She hands him the camera so we can cut away to a very close up POV blowjob. Bella repeats this treatment with the next guy, sampling his cock then sending him out of the room. After the third guy also gets teased, they decide to come back in and give her what she really wants. Can she take on three horny Euro-dudes at once? She wouldn't have made it into the title role of this movie if she couldn't. Wisely, much of the early action has Bella standing, bent over at the waist taking one cock in her mouth and the other from behind. The guys manage to keep her surrounded, filled and sucked on from just about every angle they can manage. (Nice shooting here because it's not easy to keep things together with this many guys.) Eventually, one of them moves around, parts her cheeks and plunges deep into that Buttwoman butt. That makes it easier for a second guy to stand between her legs and give us a very high energy DP. Bella earns very high points for finishing the first guy off with her mouth. No jerking off for this cat, she just makes him explode in her mouth and savors every drop. The other guys follow suit, giving her enough cum to keep her happy for a while.
Buttwoman doesn't love just cock. She picks up a couple of hot hitchhiking chicks, Michel and Frederice with evil fun on her mind. The tables get turned when the girls try to rob her. Thinking quickly, Bella disarms them and shows them a better way to make money. She gives the girls toys and starts filming as they go nuts on each other. I doubt they need much help, but Bella is a good teacher, getting them to be nearly as nasty as she is. After they have done each other, Bella makes sure they give her ass some attention as well.
The guys come back, this time with a pretty blonde who wants to be in movies. Bella loves her natural tits and sees great slut potential in Pavla. She really is a very pretty girl with an inviting little pussy. Bella samples her first, licking bush then rubbing titties before making the new girl go down. When the guys get into the picture, Bella directs traffic, sending two guys in to work on Pavla and letting dude number three get in there as well. Even as they are poking her pussy, you know that her ass is where they really want to be. Since only one guy can be in that ass at once, Bella gets down for some piledriver vag while Pavla gets double dicked. Even after letting the blonde take most of the dick, Bella ends up with two of the three loads on her face.
Bella manages to get a camera into a private club and there is more hot pussy in there than you can possibly capture with one camera. Bella fits right in with this horny crowd, finding the prettiest girl in the room and making out with her. She gets down and starts working on his cock, sucking it about halfway down and making it throb. The only problem is that with a room full of action, we bounce around like a channel surfing kid with ADD during Saturday morning cartoons. There is a very pretty blonde in there who just gets ripped up by a thick cocked stud. Another blonde, with big tits, gets slammed from behind by a black guy. Everyone gets passed around and all the girls show great energy. After some great anal, the cum starts flowing. As before, Bella is happy to take seen in her mouth and gets all four loads on her face.
I have to say, I'm impressed as hell by Belladonna. I had never thought much of her before this. (Beyond the fact that her ass is incredible) However, the energy she brings to every scene really vaults her up my list. Not only does she have an awesome ass, but she also takes cock in there like she can't get enough. The rest of the cast is easy on the eyes and very enthusiastic as well, which helps. One technical thing that I was very glad to see in this movie, the POV shots are in color. (In the past, we lost great heat when the POV shots went to black and white.) So mark it down, I was skeptical when Bella became Buttwoman, but now I see why and I can't wait to see how she matches up with Slutwoman. Won't that be fun.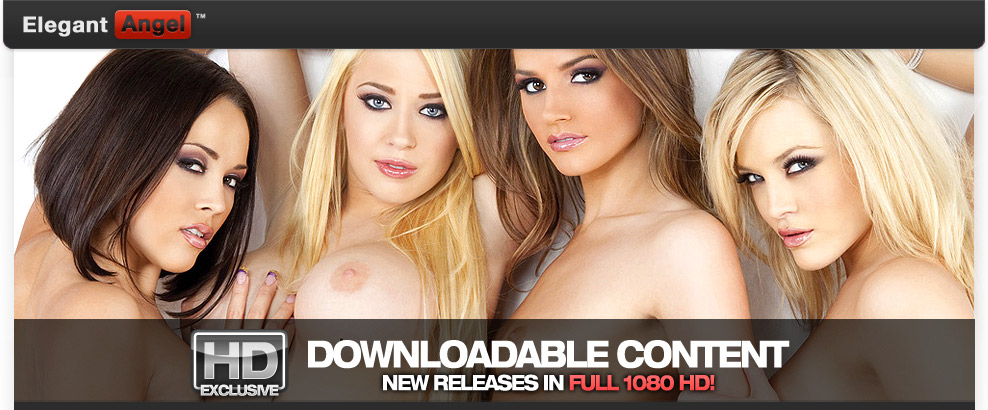 www.ElegantAngel.com