Lauren Phillips' Adult Time Lesbian BDSM Series Switch is "Leaving Your Mark" in New Scene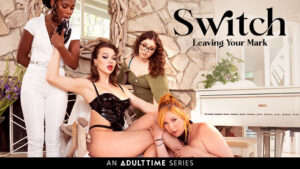 (Montreal, QC / July 5, 2023) — Adult Time Brand Ambassador Lauren Phillips introduces the latest episode of her crackling lesbian BDSM series Switch, "Leaving Your Mark".
Leana Lovings stars as a lusty lady desperately trying to get in touch with Lauren for a BDSM session at the club, as their last BDSM encounter is still fresh in her mind. Leana pleads with Lauren for a new rendezvous with maybe a more… dominant role in the activities. The next day, Leana arrives at the club to find Lauren naked and collared on the bed alongside Hazel Grace and Emma Rose, and tonight she will be instructed in the ways of dominant pet play.
"Everyone has something to say about BDSM, but little is known about the nuances that go past classic dom/sub roles," said Lovings. "With Lauren Philips and Bree Mills, Switch has given everyone a slight insight into the layers of secrecy, intimacy and trust that lie under all that leather. I'm so grateful to have had a part in exploring my own Switch side with Lauren, Maya Woulfe, Emma Rose and Hazel Grace.
"It was lovely getting more of a taste for what domming would feel like, and Lauren was so graceful in her bratty playfulness. I really hope this scene shows people the healthy dynamics that BDSM has, from initial pre-play consent to check-ins during the scene; but I also hope everyone can see just how much love we all shared for one another."
"I played a versatile switch who had the opportunity to be Emma's right hand, and the lovely Lauren Phillips came in to play the role of the submissive, which was an absolute pleasure," enthused Grace. "I'm super excited to share this experience with all of you. Hope y'all ready to be aroused and enlightened."
View the Switch series here and visit AdultTime.com to take advantage of unlimited access to more than 380 channels, 60,000 episodes and 8 new releases per day of the network's award-winning brands.