Wireless Remote Wearable Panty Vibrator – Invisible Bullet (Reviewed by Happy Loving Couple)
Overall Rating: B+
Type of Toy: Wearable Clitoral Panty Vibrator
Bottom Line: Adjustable and easy to use for discreet fun.
Price: $19.99 at Amazon.com
Manufacturer: Bombomda (https://amzn.to/2Mc2T2j)
Purchase: https://amzn.to/2RnpI1J
Material: Silicone
Color: Rose Red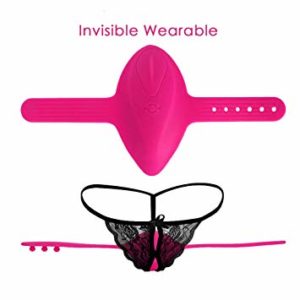 Size: 3″ wide, 3.75″ tall and 7″ deep.
Best For: Discreet fun alone or with a partner, under the clothes simulation, partner controlled arousal.
Review:
This is a very unique toy with a lot of different applications. It is a simple to use vibrator that attaches the crotch of a pair of panties for ideal positioning. Once the Panty Vibrator is fastened into place, it fits discreetly under any clothes. Nestled nicely in between panties and naughty bits, it is ready to be used by the wearer or a partner for discreet, naughty pleasure.
Controlling the device is done using one of two methods. There is a control on the device itself for easy control of the 10 vibrating modes. The unit also includes a small remote control that will turn the vibrator on and give the user full control of all modes from a distance of up to sixty feet. This makes it perfect for discreet play. Want to drive your lover wild at a party, just give her a little buzz every time you pass. She will never see it coming if you work the control while you are out to dinner or shopping. The small size and fastenable vibe also make it perfect for bondage play. Use it to drive her crazy while your hands are free for other pleasurable activities.
The settings on the vibrator allow for a number of different sensations, making it quite versatile. It is a small unit so if you are looking for industrial strength vibration it might be a little weak, but if you don't need Richter-scale levels of shakes, you are likely to find something the suits your fancy in the settings.
If you don't want to use the vibrator inside of your panties, it also works quite well as a fingertip vibrator. The design makes it easier to hold than a comparably sized (and powered) toy especially when things get slick and slippery.
This is a really cool toy. It is very easy to use. It takes a little getting used to the proper positioning inside the panties, but once you have a good start, it's tons of fun.
Batteries Needed: None)
Clean Up: Warm soapy water, toy sprays.