Name: Doc Johnson Organix Clear 9″ Dildo
Reviewed by: Naughty Mikayla
Type of Toy: Dildo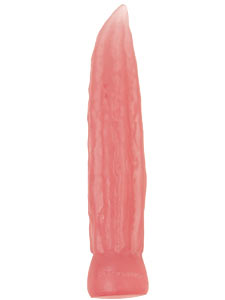 Bottom Line:
Ttoo thick and nubby, I couldn't even get it into my pussy with lube or spit
Price: $8.99 at PEXXX.com
Size: 9″
Material: Jelly
Best For:
Review: At first glance it looks intriguing but after washing it and feeling it, it is too soft . The nubs on the outside make it hard to go in If you can get it in at all, which I could not. I tried to force it but it would bend.
Weaknesses: Too soft of jelly material.
Batteries Needed: None.
Clean Up: Soap and water
Similar Products: 7 & 8 Inch Organix by Doc Johnson (Reviewed by Leanni Lei)
For more sex toys, visit: