Den Retires
Read the Complete Story on CAVR.com
I count myself among those fans of course. Den's body of work is impressive for more than its sheer volume. He has worked tirelessly to keep up with the constant flood of new talent and his ability to identify women has made his reviews the "go to" standard for fans and colleagues alike. His honest, straight-forward style has made his reviews reliable and easy to read. I have been and remain to this day, an ardent fan of Den and of CAVR.com.
In addition to being a fan, I am also a colleague. Den and I both began our on-line porn reviewing 'careers' at about the same time. As two of the earliest entries into what is now a rather crowded pool, we have always been linked. Though our styles vary greatly, I have always had the utmost respect for Den as a writer and a tireless worker. How he keeps up the pace he has is beyond me. I have found him to be a fine mentor as well, always ready with a kind word or suggestion and never afraid to speak up. I can't tell you the number of times Den's sage advice has helped me see things from a new perspective and guided me in the right direction.
On a far more personal note, I consider Den to be a friend. We haven't spent more than a few hours together over the years. Our contact has come primarily through shows in Las Vegas and through email, but I have always found him to be a positive force. This is an incredibly rare thing in and around an industry that often takes the very best from people and leaves them bitter, jaded and less than they could be. Den has always been an example of the sort of person we all should strive be both personally and professionally and am proud to call him my friend.
I have always stated that Den is the King. He is the very best at the thing I do for a living. He is to on-line porn reviewers (And let's face it, isn't it time we take the "on-line" delimiter off?) what Hank Aaron, Walter Payton, Bill Russell or the Beatles are to their crafts. He has stood the test of time and never waivered.
I find it wonderfully amusing to read the tributes to Den on line. They often include praise from those who love the way he "stays neutral" and "doesn't have any biases." One of the amazing things about Den is that he has incredibly strong opinions, but he shares them in a way that doesn't make readers feel that they are being preached to. It is one of his many skills and I often wish I had the same such ability.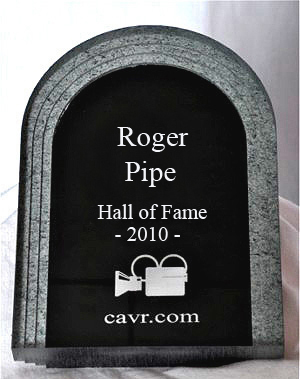 One of the great honors of my professional career came when Den added me to the CAVR Hall of Fame. It is an incredibly humbling experience when someone you respect so completely deems you worthy of the ultimate honor his great site can bestow. I am not worthy, but I shall strive every day to be.
Since Den is, and will always be the King, it has been my strong contention that he deserves to be in any Hall of Fame that recognizes excellence in our industry. Three years ago when the XRCO honored me by inducting me into their Hall of Fame I stated that I did not feel worthy of entering into that hallowed ring unless Den was already a member. He has however, flatly refused to be considered for any Hall of Fame. I respect him greatly for that, but hope he will seriously reconsider because if anyone is deserving of such an honor it is Den himself. He deserves to be in the XRCO and AVN Hall of Fame as one of the best and most influential adult critics of all time.
I will say again. Den deserves to be in both the XRCO and AVN Hall of Fame.
Period.
So as my colleague, mentor and friend retires, I can only say thank you. Thank you on behalf of the thousands of readers you informed every day with your countless reviews. Thank you for remaining diligent and ardent in protecting an industry you love against enemies within and without. Thank you for supporting women who often get little in the way of real encouragement. Thank you for being a shining example and an inspiration to myself and countless other writers who will forever strive to live up to your lofty example. Thank you for being a friend to me and for honoring me in ways I can never repay. Thank you most of all for being you.
Thank you Den