ADULT ENTERTAINMENT EXPO 2003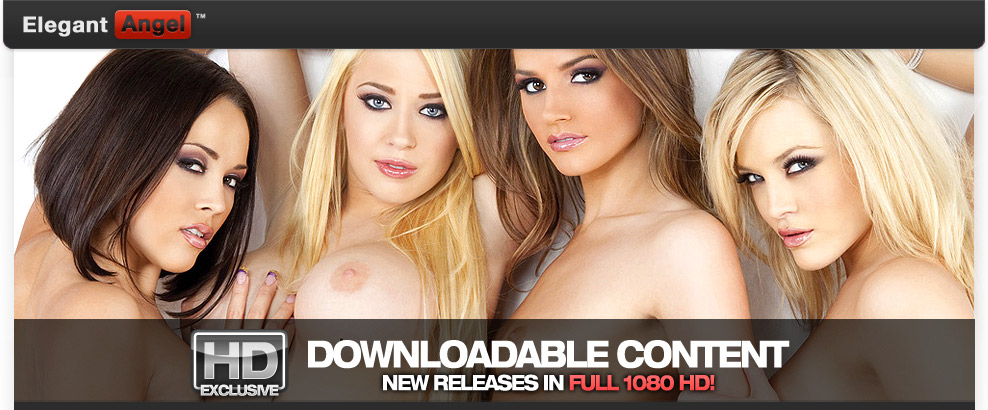 www.ElegantAngel.com
Day One
With a growing throng of porn fans forming at the door, everyone who is anyone in porn gathered for day one of the 2003 Adult Entertainment Expo. Every year porn puts on its Sunday best and parades the newest, hottest titles to smut hungry fans from all over the world. The annual adult expo used to be part of the Consumer Electronics Show, but was taken over a few years ago by Adult Video News. It is one of the largest gatherings of adult entertainment insiders and fans in the United States.
Inside the Sands Expo Hall, the scene is part carnival, part freak show and part hedonistic celebration. Elaborate booths from porn's biggest companies house scantily clad starlets who pose and preen for countless photographs. New companies display their wares, hoping to gain a greater foothold on the marketplace. Web sites catering to every fetish lure passing fans with generous flesh. Toy, clothing and specialty companies fight for attention by passing out flyers, cracking whips and displaying catchy slogans like "I love Vagina."
The first half of the day is open only to industry insiders, so the wide aisles between booths are relatively uncontested and I was able to pass easily from one booth to the next. As always, industry heavy hitters Vivid and VCA had huge booths right at the front of the hall. Fans waited in long lines to have their glamorous Vivid posters signed by each of the contact stars. VCA featured adult film veteran and recent brothel queen Sunset Thomas signing alongside contract girls Julie Meadows and Tawny Roberts. Farther back in the room strippers grinded on poles as music blasted.
Many of the booths stood empty during the early hours, with companies waiting to man their booths when the fans were allowed in at one o'clock. Jill Kelly Productions brought in their contract girls just ahead of the wave of fans. Those who braved the long lines were treated to pictures, autographs and smiles from such JKP Girls as Ashton Moore, Jenna Haze and Haven. (Who was sporting a brand new set of boobs on her already flawless figure.) Elegant Angel also stocked their booth late, but that was caused by car trouble. The bus carrying most of the signs had a blowout in the middle of the desert, putting the Elegant Angel crew several hours behind schedule.
Along with the established porn big boys, two new companies were well represented this year. Red Light District, formed by Dion Giarusso and Vince Vouyer, has taken the porn world by storm in 2002 and their booth was filled with starlets and surrounded by long lines. Directors Vince Vouyer and David Luger busied themselves by talking to fans and taking care of the girls. Just a few booths down, DVSX made the first appearance at an AEE. Company founder Alex Ladd was on hand to greet people, as was his beautiful wife and DVSX director Constance Le. Busty starlet Loni signed pictures for fans who couldn't help but read and re-read the DVSX logo stretched tightly across her ample chest.
Toy company Las Vegas Novelties, Inc. had a very busy booth. Contract talent Jewel De'Nyle and Michael Stefano signed early in the day along with long time LVNI girl Jaclyn Lick. Later in the day, LVNI brought out curvy Latin beauty Alexis Amore to sign along with their newest girls, Aurora Snow and Gauge. Landing two of the most popular girls in the business for exclusive toy deals certainly made for a great start to 2003 for LVNI. Both ladies looked spectacular and discussed their future plans.
The Private booth was packed with some of the hottest European porn starlets including Sophie Evans and Rita. Though they couldn't always understand their adoring American fans, the gorgeous girls were gracious and kind as they signed autographs and posed together. Their booth was also decorated with box covers for some of the hottest DVDs on the market.
With his legal troubles behind him, Seymore Butts is back making movies and was all over the floor today. At his booth, McKayla Matthews showed us that she is back and as hot as ever. Also on hand was Mari Possa, a brand new girl who actually helped me pass out Rog Awards last year. At that time, she swore she wasn't going to do porn, but thankfully, she has changed her mind. Check this girl out as soon as you can, you won't be sorry.
The always busy Anabolic and Diabolic was quiet early in the day, but picked up as Aurora Snow and Olivia O'Lovely joined the crowd. Director Mike John and male stars Erik Everhard and Lexington Steele chatted with fans, but kept a close eye out for new female talent.
Over at the Evil Angel booth, things were really hopping all day. Early in the day, director Jules Jordan showed off his sexy new teen sensation Cris. Fan favorite Belladonna also fought back a huge crowd dying for a sexy picture from her. Later in the day, the irrepressible Kaylynn gave everyone a thrill with her super short skirt and flirty ways. Of course she was nearly upstaged by Vanity who put on quite a show, including plenty of bumping and grinding with horny male fans who apparently had no idea that Vanity is actually a she-male. Sorry to break it to you guys, but that's not a pen in that G-string.
Towards the back of the room, another new company had a very active booth. Sineplex is an upstart video company that just started putting movies out a few months ago. They are already making waves thanks to an all girl release featuring Belladonna doing her best to corrupt young girls. I interviewed a very pretty blonde named Brittany Foster who gave us this piece of news. Long time porn performer Pat Myne has called it quits. Pat has been living with Brittany for a while and as of December, he is a one woman man.
Tomorrow's journal will detail more from my interviews with the Jill Kelly girl, Katie Morgan, Gauge and Jules Jordan. We'll also take a trip to the www.adultdvdtalk.com party and reveal the winners of the 2003 Rog Reviews Critic's Choice Awards.