www.GagFactor.com
84 Mins.
JM Productions
DIRECTOR: Jim Powers
THEMES: Lesbian Sex, Brides, Big Toys
CONDOMS: None
2001
6/00
STARS: Amber Lynn, Candy Apples, Gwen Summers, Daisy Chain, Mirage, Caroline Pierce, Tina Cherry
REVIEW:
The Violation of series is the best known lesbian semi-rape line on the market. Now it's on DVD and they are putting some recent titles in there with the older stuff. Personally, I like the early stuff because there was an edge and a sense of humor. Of course, this one does have Amber Lynn in her most recent porn comeback. In some perfect typecasting, Amber plays a bitchy chick about to get married. Naturally, she does something to offend her veggie loving bridesmaids and they will be enjoying her torment. That about covers it, so can begin.
At Amber's bachelorette party, her friend wish her well. She returns their kindness with a butt load of attitude. Spewing venom comes all too easily for Amber, and she leaves the girls a little hurt and whole lot pissed off. In fact, she leaves Gwen Summers in tears and only the soft touch of Mirage can make her feel better. Gwen turns me on and Mirage is so damn pretty it hurts. When Mirage takes her big fake cans out, Gwen can't hold one in both hands, but dives in like the fat kid at the ice cream truck. This is about as close to loving sex as you are going to see, so if you like watching girls get each other off with soft kisses and touching, have fun with this. They do make quite an interesting pair. Gwen, cute and natural lapping away at Mirage, the pumped up Barbie doll with the million dollar face and sweet as pie pussy. Before Mirage is finished, Gwen has forgotten all about whatever made her cry. She's too busy cumming all over that pretty face. To pay her back, Gwen licks her rosebud and puts a toy in her mouth to fuck Briana. I'm not all that hot on girl/girl action, but the sight of the tall blonde standing, bent over while sexy little Gwen mouth fucks her is pretty great. In turn, Gwen stretched with a fat toy rounds out what has to be one of my favorite veggie scenes of the year.
Amber's wedding day doesn't cure her bitchiness. In fact, she shoves one of her bridesmaids down the stairs. That's the last straw. They throw her down, tear her clothes and scream at her. Years of mental abuse are paid back by one afternoon of sexual pleasure as Amber becomes the centerpiece in every bridesmaid's dirty fantasy scene. One of the girls drops her very big ass down on Amber's face as the other scream out indecipherable babble that seems to include the word "whore" every third syllable or so. If you've ever had a fantasy about brides getting busy, then you'll love how they slap Amber's ass until it glows pink. They break out toys and start doing what porn guys were looking to do for years, fuck that super star ass. The din of the girls screaming isn't as hot as it could be, but if you've wanted to see Amber abused by toys, here is your chance. Candy Apples starts using a cock that would make even her pussy feel stretched. The grudge thing is more of a cluster fuck, but the extreme toy play is bound to find some fans out there. After being absent for most of the gang bang, Briana takes center stage to fuck herself with a vibe. With Amber tamed, the girls take some time out to please each other, but never let up on their victim. They finish her off with a strap on in the pussy and various other toys shoved right up her ass. I think it would have been good to have her husband come in and see what's going on. Imagine how tough it would be for Amber to refuse anal once he's seen her with a huge dildo shoved in there. Instead, the final straw comes when they bring out a male blowup doll, then use a dildo on the end of her bridal bouquet to complete the humiliation.
I liked this movie OK on video, especially for an all-girl flick. After watching it again, I like it a tad more. The opening scene with Gwen and Briana Mirage or whatever her name is now, is really good. I still say that the big gang bangs are getting a bit loud and disorganized feeling, but there is a lot of good toy play. Amber doesn't look like she used to, but she sure takes a lot more cock in that prissy little pussy. The bridal theme is a good one and as a DVD, this Violation is bumped up a notch.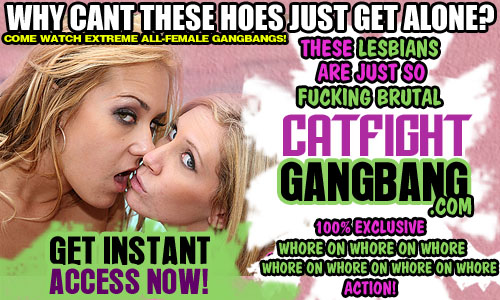 www.CatFightGangBang.com
VIOLATION OF AMBER LYNN