OFF DA HOOK #4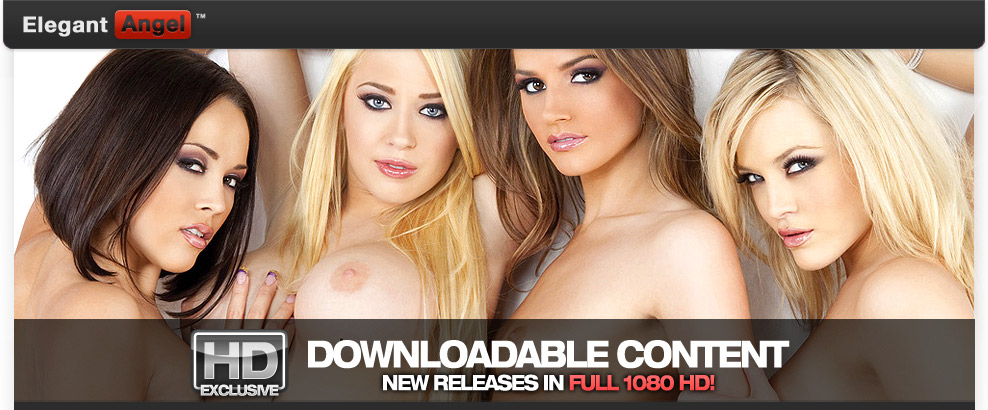 www.ElegantAngel.com
OVERALL RATING: 5+
113 Mins.
DIRECTOR: Dale Jordan
Elegant Angel
THEMES: Black Girls, Natural Tits
CONDOMS: None Noted
2001
5/01
STARS: Jeannie Pepper, China Barbi, Kup Kake, Kit Kat, Karizma, Cinnamon, Stevie White
REVIEW:
Dale Jordan has taken over the all-black lines at Elegant Angel and is gaining a pretty big following. I get emails all the time asking me to review more of his stuff and when this one came in, I made sure to put it on top of the pile of stuff to do. I know that some of you are looking superficially for hot new black chicks. Me, I don't care what color she is, a hottie is a hottie is a hottie. That said, I realize that this movie is for a specific audience and some of you will find certain women more appealing than others. Personally, I find the addition of China Barbi to this cast interesting, but quite am attractive little bonus. Black porn legend Jeannie Pepper also makes an appearance, mixing it up with the new sistas to show them how it's done.
Karizma and Kit Kat start things out and they must be a bit confused. First, they say that they are shooting "Off the Wall" and then they talk about riding Santino Lee's big dick. Excuse me, last time I checked, this movie was called "Off Da Hook" and Santino, nice guy that I'm sure he is, is only modestly blessed in the penile region at best. After correcting the first flub, the girls give a little interview before moving inside where Santino joins them. Karizma has nice little titties, but Kitty Kat has the prettier face. Lee starts off by going down on Kat while Karizma works his little dick into her mouth. I would say that in spite a few too many tats, this little sucker is the more appealing girl thanks to a thinner, tight looking body. Of course when Kit Kat gets her face down around the dick, she is a visual treat. After a quick double blowjob, Karizma rides the dick while her partner takes the face. If you ask me, the girls are more interested in each eating each other as Santino fucks one of them from behind. Karizma has a lot of fun playing with her pal's big ass as she rides Santino, making those bruised cheeks bounce. She dismounts just in time to miss the stream of cum that shoots past her face.
China Barbi may seem out of place in this cast, but she's cute and a total freak, so anyone who has a problem with it, can skip this scene. Since China is half black, she qualifies anyway. Julian St. Jox comes in and gives the naturally busty babe some dick to suck on. This is cut short when they move to the bedroom so Julian can return the favor. China is pretty vocal while being fucked and has a tight pussy that grips his rod with every stroke. When she hops off, this time we get a nice long blowjob, complete with great, two fisted action. This is the best stuff in the movie so far. From there she gets right back up on his dick and shakes that ass. Speaking of the backside, China happily takes his dick right up the rear end, dropping her body down on him for deep strokes. The best looking anal footage comes in doggy because her tits look so good swaying with each stroke. A better facial closes out the highlight scene of the movie.
Jeannie Pepper is back and she's put on some weight. I guess after nearly two decades in the business, you would expect that. Her tits are still spectacular and her body looks ready for a good, solid fuck. Guy DiSilva lays her out on the bed and starts licking at her seasoned lips. Jeannie responds nicely to his oral affections and happily fishes his cock out of his pants. Taking just the head in her mouth, Jeannie uses her hands to milk him to full attention. I wouldn't call the blowjob particularly inspiring but it gets the job done and Guy is able to fuck her hard enough to get those titties moving all over the place. As she rides, we really can marvel at two of the best tits to ever grace the blue screen. They engage in a fairly energetic fuck that ends with a pretty weak dribble of cum that misses her chin and splashes her neck. Not exactly the most memorable scene in Jeannie's career.
Cinnamon is a very good looking girl with great tits and just a few tats on her smooth skin. At twenty, this girl has only done a handful of movies, but knows how to work her pussy into a frenzy while waiting for Santino Lee. He spends a lot of time licking her ass, trying to get her worked up enough to really give him a ride to remember. Working on her pussy does the job a lot faster and has Cinnamon smiling as she takes his cock to the root. She handles him quite easily. Santino isn't quite Ed Powers, but he's not the biggest brother in the biz and this babe just devours him. With all that mutual oral sex, things are juiced up well by the time she hops on for a ride. That doesn't stop the pretty babe from doing a P2M dismount. Give Santino a lot of credit doing a good job fucking this girl. Ass hound that he is, the hardest strokes come when Cinnamon is on her hands and knees. I would watch for this girl in other all black lines because she's cute, natural and seems to like to fuck. Even if her lips stay closed, she also takes a nice facial.
Kup Kake and Stevie White are a couple of snapper happy chicks who have to be pulled away from each other in order to do their short interview. Both of them have big, full asses, nice sized hooters and tight looking pussies. Having a guy come in while they lick each other almost feels like an afterthought, but Stevie's ass is high in the air, making her pussy an easy target. She moves out of the way and plays nipple patrol while Kup gets her bare beaver banged. All three performers have a good time throwing each other around on the bed, fucking in as many positions as they can come up with. Stevie turns in a very nice reverse cowgirl that shows off her snug lips. The guys seems to have a bit of wood trouble while fucking Kup, but gets it back in time to blast all over Stevie's belly.
I don't watch enough of the all-black movies to know if this is a great looking cast, a terrible one or just average. I would guess the third option is most true, because there are some pretty hot women mixed in with a few who should be going to night to school or practicing their waitressing skills. Karizma and Kit Kat are a couple of decent new chicks to start with. Jeannie Pepper turns in a decent fuck, though she is not the same girl I remember from all those years ago. I like China Barbie and think she has one of the best racks in all of porn, though she has really bad acne in this scene. The action is generally well shot and specifically designed for guys who really dig the sistas and their ample backsides. On that level, it works just fine. Beyond that market, it has some appeal, though it's definitely limited.