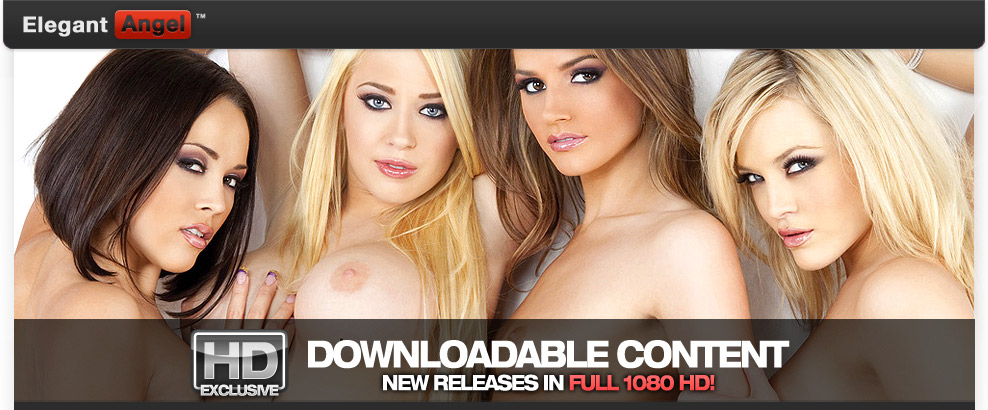 www.ElegantAngel.com
114 Mins.
Elegant Angel- 1997
DIR: Van Damage
STARS: Stephanie, Chandler, Liberty Lace, Nikki Smalls, Neva Styles, Raven Royale, Roxi Tucker, Van Damage, Rick Caven, Jake Magnus, T. Red, Frank Shaft, Clarence Carter, Wayne Woods, Lance Copral.
THEMES: Cheerleaders, Car Sex, Teachers, Foot Sex, Interracial Sex, Outdoor Sex.
OVERALL RATING: 9-
REVIEW:
Taking the Elegant Angel edge onto the college campus, Van Damage has his sights set on the freshest coeds he can find. Although billed as an amateur feature, none of these girls looks like complete first timers, but who am I to ruin a good fantasy. Given Van's recent successes, this one looks to be every bit as hot as I have come to expect from his fast rising star in the ElA family.
Blonde cheerleader Stephanie is up first. Not a lot of build up here, just a girl in a cheerleader uniform saying "I like football players cuz they fuck me in the ass." OK, that's enough for me. A quick hop, skip and jump and quarterback Van Damage has his blonde homecoming queen on her knees in the bushes. One look at this woman with her soft, wide eyes and full lips, working on his fat cock will tell you this ain't no amateur. Also, anyone else thing Van is working out his own little 'Revenge of the Nerds' fantasy here? (Yeah, I'm gonna make a movie where this hot cheerleader fucks me in the bushes, hey, it could happen.) After being on the receiving end of a fine blowjob, he pays her back by bending her over for a solid standing fuck. Nice touch to leave the uniforms on here and the standing doggy really shows off her fantastic legs and ass. Rolling Stephanie over, Damage gets even better access to her tight ass. Really outstanding anal here, and no one calls anyone a 'cunt.' Don't worry though, this is still nasty stuff. The dream cheerleader spins around from her standing assfuck to suck his cock in a couple of A2M moments that are sure to please the raincoaters. The final of these moves results in a very sticky facial, taken with glee by the prettiest, hottest coed on campus. Wow!
I guess Mr. Quarterback wasn't enough for Stephanie, because she runs right into the arms of fellow cheerleader Chandler. In a flash, the are off to the bushes, where they slowly begin to enact the secret fantasy of every red blooded, heterosexual high school male in the history of the planet. The uniforms stay mostly on, with only the sweaters and panites discarded while each girl takes turns showing off the sort of pussy lapping skills obviously learned on those overnight slumber parties��(Come back Rog, you're drifting again.) Chandler just happens to have a great big fat dildo that is just perfect for continuing the assfucking of her blonde pal. Luckily it has two heads on it, one for each pussy to share. Oh yummy, one shaved slit and one blonde beaver, grinding together on opposite ends of a double headed dong. Hey Van D, feel free to shoot this sort of thing over and over and OVER. In the world of lesbian, cheerleader, anal dildo play, this scene is at the top of the class. The standing double anal is nothing short of brilliant. My choice for best girl/girl scene of the year.
A third horny cheerleader, Liberty Lace, eavesdrops on the team in the locker room, fingering her pussy until she is discovered by the boys. They are quite willing to help her with her deep itch. Liberty is not as cute as the first two, but she just can't wait to start servicing the well hung foursome of jocks just dying to get up under short skirt. They happily fill her mouth and pussy with enough meat to quite even this hot as a pistol cheerleader. The floor of the locker room serves as the perfect place for Liberty to lie on her back and fuck and suck her way through this little round robin. Nice action, here especially the way she jerks loads of their cocks so she can lap up ever drop. No anal, but I'd say a gang banged cheerleader with cum all over her face is plenty of reason to recommend this scene.
So much for the cheerleaders. The next girl is a clad in a short skirt and looks like she came right off the set of 'Clueless'. Nikki Smalls is a leggy brunette with an itch to have her vibrator in her pussy. Trouble is, the lady's room is locked, so she finds a nice semi-private place to get off. Watching nearby, Van Damage decides to help the young lady out by offering a bit of the real thing. First he helps with the vibrator, and that brings her off rather quickly. In return, Nikki knees and stares up into the camera as she gives a well above average blowjob. Very well shot oral, helped by the fact that this angel faced young thing knows how to suck cock. Her oral skills just serve to get his hard and read to bend her over and give Nikki the fucking of her life. Not very PC, but this has to be something most college guys want to do to that untouchable sorority princess. (Back away PC patrol, no element of rape her, we just all wish the princess was as big a slut as this cutie ok?) Nice acrobatic bit of fucking with this petite woman, that only gets hotter when she goes to the ground to get pounded. Those great legs go back, WAY back for a hard and fast fuck that brings another nice load from Van D onto Nikki's sweet, smiling face. To his credit, Van Damage, shoves his dick back in her for another quick, hard fuck and gives that face another little sperm dribble.
Van Damage catches Neva Styles walking around the bleachers and whisks her off to the parking lot where she meets her boyfriend and his buddy. They don't seem to mind having the camera in their face, and the boyfriend doesn't seem to mind sharing his cock hungry girlfriend in the front seat of his car. Very nice, sexy bit of semi public oral sex with the thin brunette stretched across one lap so she can swallow sword. Neva does not have the most beautiful face you will ever see, but her body is firm and she has a very tight little pussy that just seems to be aching for a fat prick. It's cramped quarters, but that just means lots of nice close ups of that tight hole stuffed full of hot meat. Sex in cars is always fun, but in broad daylight of the school parking lot, now that is something that only the depraved mind of a film maker (Or a then student Senator turned video reviewer.) would go for. Enthusiastic Neva loves having her mouth and pussy filled with hard cock in the small car. (Oh, I am sure this is not her first in auto fuck.) All this is too much for the guys, the first of whom drops a killer load on her face that Neva just smears around her mouth with his shrinking cock. Guy number two gets a long footjob and drops his cream on her toes. She even licks jizz from her feet.
In class, sexy blond Roxi Tucker just can't help but tempt Van Damage away from his books with her inviting beaver. Her enticing looks and na�ve attitude lead him to give her an up close lesson in anatomy. This cutie is right out of the Tammi Ann/Barbie Angel dirty girl mold and knows how to work her lips around a growing cock and make it throb. As much as she loves sucking cock, Roxi is even more fond of having her ass rimmed. After a good ass licking, Van Damage finally responds to her pleas to be fucked hard. With this honey begging on the desk, he fills her steaming snatch while she never stops talking dirty. Bending her over the desk, gives him a chance to spank her little ass and really drive deeper into that pussy. OK, out on a limb here, but Roxi is my nominee for hottest little trash mouth in porn. Add to that, the fact that she can take a big fat dick up her super tight butthole, and you have a big time starlet on the rise. The only thing she does better with her mouth than talk like a whore, is gulp cum like one, which she does, here in a direct A2M suck and spray facial leaving the petite darling cum drenched and ready for stardom.
Raven Royale plays a French tutor to a pair of black studs and an uncredited blonde going hard for the Gwen Steffani (No Doubt) look. She tests her male students' knowledge of such things as the French kiss and decides to inspire them with a little in class stripping. Gravity has taken its toll on her large breasts, but hell, at least they are real. Raven slowly works on one of her well hung students, teaching him how the French suck and tit fuck. This is really sexy stuff, I have to admit. In the middle of her tantalizing tit play, Raven invites the second student over to practice his tongue work on her round backside. Once teach is well juiced up, she hops up on her desk and rides the very fat, black cock in front of her classroom. The strong man lifts his teacher in his arms and lets her bounce around in his arms for a while before putting her on her back in the center of her desk. At last, student number two sheds his clothes, just in time to watch his partner fire what looks like a sprinkler load of cum all over Raven's face, shoulder, tits and stomach. Wow, what a flood. The second stud takes a lot of time eating Raven's pussy while the blonde sits close by and encourages him. She finally joins in, jerking off the modest sized prick while he sucks teacher's bit tits. The gum chomping blonde figures extreme measures might be needed to get her friends off, so she breaks out a silver vibe and works it in Raven's ass. That doesn't thrill her nearly as much as his cock, once he gets it hard and in her pussy. He is quick on the trigger and sprays her tits as well. Class dismissed.
This is really a great video. Van Damage has hit the nail on the head big time with just about ever scene. Stephanie sizzles in her two cheerleader gone bad, ball busting scenes. Nikki Smalls and Roxi Tucker are two totally cuties who fuck and suck like trained pros. Even the not so pretty women in this video shine with great sexual heat. Neva's in the car double fuck is fantastic and Raven shines in her interracial tutoring scene. I only wish the little Gwen-wanna be actually got boned. I guess I can't have everything.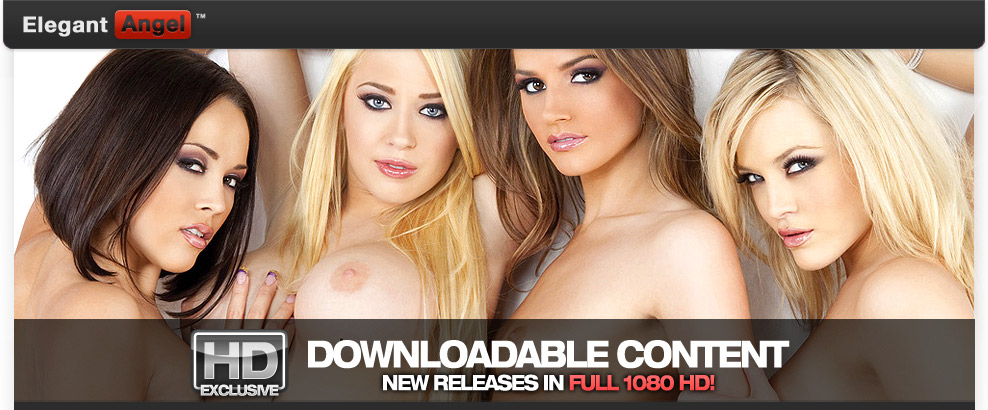 www.ElegantAngel.com
FILTHY COEDS