OVERALL RATING: 7-
130 Mins.
DIRECTOR: Dr. Fellatio
Elegant Angel
THEMES: Oral Sex, Facials
CONDOMS: None (It's a blowjob tape)
1998
STARS: Jeanna Fine, Karsorn Swan, Blondie Anderson, Agent 69, Devon Shire, Cherry Lee, Alex Knight, Kim Chambers, Ivanna Lee, Azlea Antisiea, Vendetta, Candy Roxxx, Venus Milan, Amber Michaels, Doomy Moore, Shaena Steel, Elizabeth X, Natasha Blake and a whole bunch of faceless dicks.
REVIEW:
By now, we all know the drill. The cool theme song, the familiar surroundings, many of the same cocks, all the things that have made the Dr. Fellatio series the undisputed king of blowjob tapes. This one has a nice picture of Jeanna Fine and even carries her name in the sub-title (A Fine edition.) Considering she may very well be the best cock sucker to ever grace the blue screen, it's about fucking time she found her way into the Dr. office. So, let's get on with it. As always, only the best and the worst get the full treatment, the rest, pardon the pun just don't suck enough. (Or suck well enough as the case may be.)
Jeanna leads things off and not only is she going to suck cock, but she is going to do that other thing she does better than anyone in porn, talk dirty. She has taken it upon herself to describe her incredible technique as she does it. (Hey, porn for the visually impaired, brilliant idea.) I know she isn't at stunning or a thin as she once was, but there is still something powerfully sexy about Jeanna, especially the way she sucks dick. At one point, she actually calls her mouth a "nice warm place to masturbate in." What more could a guy want? Her eye contact and sexy talk is awesome. This is such a great way to lead off a tape. Of course, a lot of you might lose a load early and spend the rest of the tape recovering. With great hand action and more than a little bit of verbal coaxing, Jeanna gets just what she wants, a big sticky load right on her outstretched tongue. Brilliant opening scene.
Azlea is up next and I have enjoyed her work in the past, and she still has a cute face. The trouble is, and I say this not as a guy who automatically hates implants, that she has gone and had some hideous looking boobs put on. Between those and the tats, I can't say that I am nearly as enamoured as I once was. She doesn't do a terrible job sucking dick, especially since she is paired up with a rather meaty stick, but she just doesn't look fresh any more. (And unlike Jeanna, she doesn't have the killer on screen presence to fall back on.) It's somewhat above average, but I was expecting to like this so much more. Nice facial though.
Kim Chambers is another one of those women who has made an art of sucking dick on camera. Her tits are fucking amazing, but they don't hold a candle to her smile. Even as she slides out of her bra, the heat is way up and things are ready to boil. She has such fun with the cock put in front of her that it's impossible not to enjoy the scene. (Yeah, and the ease with which she deep throats the cock isn't a kick in the nuts either.) In fact, fun over, the DT action is just fabulous. Kim is an amazing cocksucker who has to be seen to be appreciated. (Though I am sure the feeling is required to REALLY get the full effect.) Kim gets a big mouth full of jizz that she plays with for a good long while before swallowing. Lovely, brilliant, fucking killer!
Amber Michaels is a woman I got to interview at CES last month and I have been looking forward to watching her again since sitting down with her. She looks like a sexy school teacher to me, the kind who would drive her students to total distraction. The tattoos of course, are not my style, but Amber brags about her oral skills then puts them right to the test. Got to love a woman who can back up her oral sex smack. She beats his dick against her tongue, sucks it fast and hard, all the while making great eye contact. Amber is a tremendous tease and every bit as good as swallowing sword as her bragging would indicate. In the end, she gets a big thick load of cum right on her nose, making her all the more appealing.
Vendetta (Oh, and please darling, change than name FAST) is a little manly looking from certain angles. (She looks like the dudes who dress up as Gloria Estephan actually.) She also has a pretty big ass, which is certainly not her best feature. Her oral skills are OK, but not enough to make up for some of those angles which make this look like a trannie vid. (There are only a few, but imagine the horror for the poor stroker. He's sitting there, seeing this all right looking chick bob knob, when all of a sudden she looks like a Dennis Rodman dream date. That could put some guys in the psyche ward for goodness sake.) I guess every video has to have a few filler scenes. Chalk this one as a good time to go get a beer.
Now, Ivanna Lee is just the opposite, a very fresh faced eighteen year old with long blonde hair who is making her very first appearance on camera. She's a little soft around the middle, with a big ass (And a Damn tattoo on it) as well as 36C, real tits. Ivanna says she's been sucking cock since she was fifteen and she certainly doesn't shy away. Once she gets over trying to show off her vocabulary is (Do you know what a mandibula is? Shut up and suck my cock slut.) she actually does a nice job of sucking. The camera angle could be better though, as we get a lot of close ups of her ear. Nice job of rubbing the cum in by this fresh off the bus newbie.
Devon Shire is a porn vet who is cool as the other side of the pillow in front of the camera. Her blowjob looks like it feels pretty awesome, though at times, she almost looks like she is just going through the motions. When she is on however, Devon shows a great ability to talk her way through a sexy, slow paced blowjob that may very well have everyone reaching for that spare hankie they keep near the TV. Very nice dirty talk and a cumshot straight into the mouth for a sexy swallow.
Blondie Anderson and Kasorn Swan team up to close things out. Blondie looks nearly too young to be in this sort of film, but I'm sure there is plenty of ID to prove that it is OK to get a total chubby watching this cute blonde with a dick in her mouth. Karsorn is a pretty Asian girl with a sexy purr to her voice. The two fight over his cock, passing it back and forth only after much begging. Nicely executed double blow here, helped along by the fact that both of these women have what it takes to become full fledged slutlets. (All they need now is to do an interview with me.) I love the alternating suck and stroke action by the duo of dicksucking darlings. They hold their mouths open for a stream that nearly chokes Kasorn. Fan fucking tastic ladies.
Cherry Lee (AKA Honey), Candy Roxxx (Candy's scene nearly made the list, the facial is pretty fucking killer), Doomy Moore with Shaena Steel (Who do a nice shared facial), Elizabeth X (Who at 31 looks pretty good), Venus Milan (Who talks a good game, but that ass looks mighty meaty.) Agent 69 (Oh please), Natasha Blake (Who blows the film editor), Alex Knight (One to watch for sure.). Though these women didn't make the blow by blow, some of them are worth a look. There are four really hot blowjobs in this movie. Jeanna Fine, Kim Chambers, Amber Michaels and the final two girl suck by Blondie and Karsorn all make this video worth renting. Quite frankly, they are highlight reel material and I think I would rather go watch them again than write any more.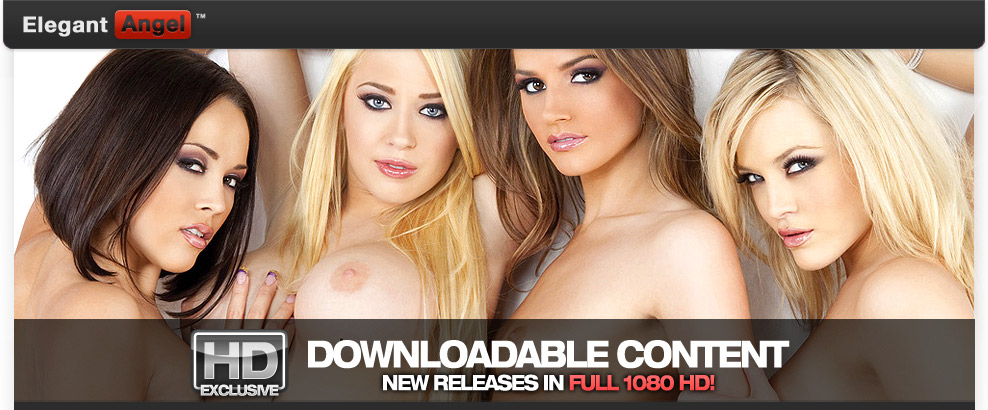 www.ElegantAngel.com