Bad Girls 6 Contest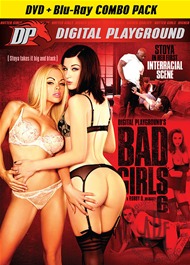 To celebrate the release of their new movie "Bad Girls 6" and Stoya's first on screen Interracial sex, Digital Playground is sponsoring a "Trivia Contest" here on www.RogReviews.com. The rules are simple. Fill out the 10 trivia questions below about Stoya and her sexy Digital Playground friends for a chance to win. Entries with the most correct answers will win 1 of 5 signed copies of Bad Girls 6 Blu-Ray/DVD combo pack.
Get your entries in now. All entries must be received by October 4th. Winners will be announced by October 5th. Visit the Digital Playground Official Website
1. Contest is open to anyone 18 years of age and older.
2. The 5 entries with the most correct answers will win.
3. If there is a tie, a random drawing will be held to determine the winner.
4. All entries must include an email address so that winners can be notified.
5. One entry per household.
6. Void where prohibited.
Enter to Win!
Yes, e-mail me updates and special offers from RogReviews.
I certify that I am 18 years of age or older.
Banner Links