Blacked Raw V61

Movie Type: Vignette
154 Mins
Blacked Raw
DIRECTOR:
2023
WEBSITE: www.blackedraw.com
CONDOMS: No
THEMES: Interracial Sex, Cheating, Big Cocks, Redheads
STARS: Mina Von D, Scarlett Jones, Jack Rippher, Mazy Myers, Anton Harden, Pristine Edge, Richard Mann, Emelie Crystal, Jesus Reyes
REVIEW-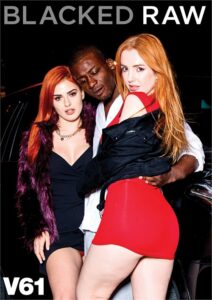 Another solid effort from Blacked Raw with a few stand out scenes in the mix. The opening three way sets the stage nicely. Jack and Scarlett are a couple looking to spice things up. They find Mina and are off to the races. Very hot three-way sex with a bonus if you like redheads. Mazy Myers checks in with her man before getting thoroughly railed by Anton Harden. This is a BRaw staple and it works well this time. Pristine Edge is very sexy and gets to show off a rather amazing body in her scene. Emelie Crystal goes out looking for a satisfying romp and finds one with for a super hot turn with a massive cock. This one has everything you expect and some performers who are fresh enough to be a lot of fun to watch. Very solid if you like the series.
Mina Von D, Sclarett Jones & Jack Rippher
Scarlett Jones has fucked Jack "so many times" that she wants to spice things up. They decide to find a "slut" to join them for a hot threesome. They have no trouble finding Mina Von D who hops in their car and is down for anything. The two redheads get into bed and share his dick. They aggressively suck his big dick, passing it back and forth and slapping it on their faces. Scarlett adds some great dirty talk when her mouth is not filled with throbbing meat. She takes the first right, coating his pole with her juices and letting their new friend taste it during a quick break. After waiting her turn, Mina gets on and squeezes her tight box around him. They clearly picked up the right freak to get their spark back. He keeps them both stuffed with his long cock and the girls greedily suck it clean whenever it pops out. There are some good close up shots as his long pole slides into their tight pussies. (Bonus points if you like ginger bush.) They end up draining every drop of cum from his happy cock. Damn, this scene is hot.
Mazy Myers & Anton Harden
Checking in with her man, Mazy Myers lies and tells him she is out with the girls. She is really in with Anton Harden who is about to be in her, very deep in her. He kisses his way down her body, getting rid of her clothes as he does. His tongue gets her good and warmed up, but nothing can prepare her for the monster dick she comes face to face with seconds later. Mazy opens her mouth wide and still can barely get her lips around the head. She looks up at him with a smile in her eyes as she uses both hands to get the shaft nice and wet. He lifts her up and drops her onto the bed where she opens right up for him.It is a tight fit and she lets us know that with every stroke. Once warmed up, Mazy bends over and gets her little butt smacked as he pumps her from behind until he finally unloads all over her cheeks.
Pristine Edge & Richard Mann
Excited about her date with Richard, Pristine Edge sends a video message to her man before getting all dolled up. Richard is waiting in bed with his big cock hard and ready for his pretty friend. Looking right into the camera, she uses her hands and mouth then stroke his dick. Nice sexy talk here as well. Looking at him like she really is looking forward to this, Pristine bends over and invites him in from behind. They have good chemistry and she looks like she is having a blast. We get a lot of nice angles of her body while she works as much dick into her hot holes as possible. There are some super hot leg shots from this highly appealing performer.
Emelie Crystal, Jesus Reyes
Emelie Crystal is in need of a good hook up and she is paired with just the guy to get the job done. She is very thin with incredible abs. He is well hung with a cock that fills her mouth and still leaves room for both of her hands on the shaft. After getting him wet with her mouth, she gets on all fours and backs up on his cock. A few good strokes and she is ready to spread her cheeks and let him go crazy on that tight ass. She takes it deep and then turns around to suck him clean. Rolling over she pulls her knee up to her chest and rubs her clit while he stuffs her ass full of meat. When she gets on top and spread her legs wide, the camera cactus all of the action. Great close up shots with a lot of bonus points if you like thin legs with visible muscles and tight holes being stretched. He finishes on her wide open mouth and uses her tongue for target practice.
BONUS: Cumshot Recap, Photo Gallery, Website Info