Lexington Steele: The Connoisseur

Movie Type: Feature
150 Mins
Jules Jordan Video
DIRECTOR: Mike John
2019
WEBSITE: www.JulesJordan.com

CONDOMS: No
THEMES: Big Cock, Interracial Sex, Big Ass, Big Tits
STARS: Kenzie Anne, April Olen, Savannah Bond, Gianna Dior, Lexington Steele
REVIEW-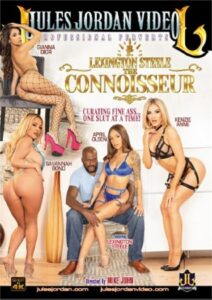 Well this is pretty exciting. The Connoisseur brings two of my favorites together again. Director Mike John is back making great smut and Lexington Steele is the star of all four scenes. This is a combination that has worked before and I am looking forward to seeing them both do what they do best. Oh yeah, there are some really hot women in the cast as well. All four scenes have plenty of appeal. Which is the best? I think that depends on what you're looking for from your female stars. All of the scenes are well shot, with some good tease and sexual energy as Lex is back in MVP form. If you like blondes with big asses and great curves, we have two scenes to keep you happy. Kenzie Anne opens the movie by just tearing into the action at full speed. She seems to love working with Lex and the result is a pairing that sets the bar high. The second bodacious blonde is Savannah Bond. I am sure a lot of you have been dreaming of this match and it does not disappoint. This is a clash of the titans and worth a rewatch or two. April Olen is a very solid performer who has good chemistry in her scene. The big finale pairs Lex up with superstar Gianna Dior. This is another scene that more than lives up to expectations. Lex gives it to her and she takes everything he's got with tons of energy and glee. It is very good to see Mike John making hot smut again. It is great to see Lexington Steele performing again. It is fantastic to watch Kenzie, April, Savannah and Gianna take that huge cock like superstars. In short, it's all fucking good. So fucking good.
Kenzie Anne & Lexington Steele
Mike announces that "today is special" and that certainly seems to be true. But special for who? For Kenzie Anne because she has a "date with Lexington Steele."? For Lex because he gets to enjoy her obvious and impressive charms? For us, because we get to watch? Maybe all of the above. The outdoor tease gives Kenzie a chance to show off for us before she moves inside to continue with some solo to get Lex in the mood. He enters the picture and gives her a taste before whipping out his huge cock and letting the pretty blonde do her thing. Nice shots of the oral actions, including some angles that show off her legs and heels. Her mouth has him wet and ready to go, so she climbs on top and starts riding. Now we get to see what that big ass looks like when she's bucking back and forth on a long pole. She is very good and looks fantastic in this position. If you are into big round asses, you are going to love the way she squats and bounces on him. He turns her around and hits it from the back, letting Kenzie roll her hips to take him. The ass shots continue to be amazing as she works him all the way to the end. Lex drops a huge load all over her face and tits. This is a great opening scene that should put Kenzie on the map for everyone who likes blondes with big booties.
April Olsen & Lexington Steele
Next up is April Olen who shows off in blue lingerie by posting on a clear chair and talking a bit. She pulls her panties aside, rubs her pussy lips and gets the juices flowing. Good tease leading up to the scene and once Lex steps in, April turns her attention to his cock. She strokes it with both hands and licks the length while looking up at him with her eyes wide open. They move over to a couch with a pit stop along the way to allow her to knees and choke herself on his long pole. Climbing on top, April works her hips and really shows off her ass. It's a nice backside, but her energy and pretty face are what keep me glued to the screen as she fucks. Lex stands her up and bends her over so that the camera can get underneath to capture the full length of those long strokes. She spins around just in time to take a big load on her pretty smiling face. Very hot scene from a lovely young woman.
Savannah Bond & Lexington Steele
Savannah Bond is just the kind of woman you would expect to see in a movie like this with Lex. Pretty, blonde, curves for days and a whole lot of sexual energy. (She is built a lot like Shyla Stylz was and remember how great her scenes were with Lex.) The tease is very solid with Savannah showing off her juicy but and monster tits before LEx joins the fun. Savannah gets on her knees and uses both hands to assist in a very hot (though quite short) BJ. She looks completely ready for anything but the time she climbs on top. Great ass shots as she rocks her hips and makes his dick disappear into her. They take some time in the middle for a second round of BJ fun. It is a little longer this time with some really nice shots of tits as she licks his pole clean. She rolls onto her back, spreads her legs and gets pounded until he is ready to decorate her face with a big wad of ball juice. This may be the best scene of the movie and is certainly worth rewatching.
Gianna Dior & Lexington Steele
Last up is Gianna Dior. Strutting her stuff in heels and fishnets, she reminds us all that she is a big star without ever having to do more than just wiggle her hips. When Lex joins her, he takes out his cock and she seems as anxious to get it in her mouth as the audience is to see her do her mouth magic. Gianna gets busy with her tongue, stopping after a few minutes to get off her panties. Squatting over him, she lowers herself onto his hard rod and starts to bounce, taking more and more into her tight folds. By the time she is ready to turn around, he's pretty much giving her all he's got. When she stops to suck his dick between positions, the look of satisfaction on her face is tremendous. Gianna rolls over onto her back and rubs her clit like crazy while he goes deep into her. Super hot looking footage that is also quite high-energy. She drops to the floor to take a big load on her face, sucking out every drop and licking her fingers clean. She's a star for a reason folks.
BONUS: Cumshot Recap, Photo Gallery, Trailers, Websites