Terror Camp

Movie Type: Feature
150 Mins
Sweetheart Video
DIRECTOR: Ricky Greenwood
2019
WEBSITE: www.SweetSinner.com

CONDOMS: No
THEMES: Lesbian Sex, Horror, Outdoor Sex
STARS: Abigail Mac, Aiden Ashley, Aidra Fox, Alexis Fawx, Cecilia Lion, Charlotte Stokely, Gianna Dior, Shyla Jennings, Silvia Saige
REVIEW-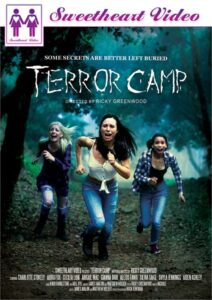 This all-girl porn horror movie got a lot of attention a few years back. I watched it for awards consideration, but never got around to reviewing it completely. It is a very creative and well shot movie with some good mainstream sensibilities. I really enjoyed some of the lighting and camerawork. There is enough story to make it interesting, although I think I was hoping for more in that department. Maybe because it's an all-girl movie. It's a good one, but that's never been my favorite genre so I always enjoy something beside the normal lick and rub. There is some good sex here, largely due to the fact that the cast is really good at this kind of bumping and grinding. Any time you have Charlotte Stokely, Asiden Ashley and Shyla Jennings hooking up with the likes of Abigail Mac, Cecilia Lion and Gianna Dior you are bound to see some sparks. There are some very strong scenes here. I especially loved watching Cecilia and Alexis Fawx together. If you enjoy all-girl movies with creative lighting and camerawork with a bit of a story, this is definitely worth picking up. I enjoyed it more than more all-girl movies, but still would have enjoyed more of a story to go along with the other mainstream creepy aspects.
The first tape the detective puts in features a hot lesbian tryst between Shyla Jennings and Gianna Dior. It is a pretty basic trip to lesbian town with really nice mainstream quality lighting and Gianna puts her future FPOTY skills on display while eating Shyla's pussy like she is ready to settle in for the night. She also gets a chance to show off her body when she turns to the camera. There are some great shots of face riding and 69 here with beautiful lighting and some good sexual energy from both women.
Taking a break from their research, Alexis Fawx and Cecilia Lion find time to frisky in a tent. They start slowly with Alexis taking her time while licking Cecilia's stiff nipples. There are some very cool moments thanks to gorgeous lighting in this scene as well. Of course most of you will find the way Cecilia lovingly sucks on Alexis' big melons to be even more intriguing. Sliding into a very comfortable 69, Cecilia is on top with her back arched, her ass sticking out and little white socks on her feet for those of you who notice such things. Alexis takes her turn on top and shows off those big knockers before grinding on her pretty young partner.
Abigail Mac & Aiden Ashley
In between sexy time, mysterious things are happening. Spooky sounds, a missing professor. What can they do? Have more lesbian sex of course. Aiden Ashley and Abigail Mac apparently find the outdoors and the creepy danger just too erotic to resist. With some creative shots to keep things interesting, the action builds slowly until they are both just dying for each other. Abigail's body trembles as she rides her pretty partner's face.
After plenty more spooky goings on, the final sex scene unfolds in another tent. Aidra Fox and Charlotte Stokely
make a lovely couple. Charlotte spreads her pale thighs for the eager brunette's talented tongue and probing fingers. They look very good together and much of the action is shot from far enough away that the tent is in the shot with our view slightly obstructed. It gives a strong voyeur vibe that fits with the movie as a whole. Nice kissing and some lovely shots of both women with Charlotte stealing the show as usual.