Sunny Leone Loves HD Porn
'
Movie Type: All Sex
150 Mins
Vivid
DIRECTOR: Christian XXX
2023
WEBSITE: www.vivid.com
CONDOMS: No
THEMES: Tease, Solo, Big Tits,
STARS: Sunny Leone, Lexi Belle, Nikki Benz, Audrey Bitoni, Shy Love, Anne Marie Rios, Mark Ashley, Ben English, John Strong
REVIEW-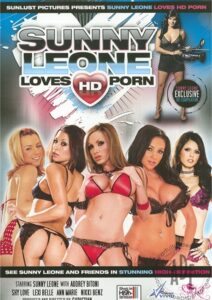 Well this is a trip into the way-back machine for sure. Sunny Leone has a well-established mainstream career, but back in the early 2000's she was one of the most beautiful and marketable stars of the XXX screen. So marketable in fact that she could put her name on a movie, introduce scenes with a few lines of dialog and then rub one out for five minutes at the end and fans still grabbed it up. What makes this movie work is that aside from Sunny's star power, the cast is pretty good, the sex is solid and the energy level is a lot higher than you might expect. It helps to have performers like Nikki Benz and Audrey Bitoni in the cast. They are always good for a solid scene. Nikki has become hotter with time, but this scene is really good and shows you something from early in her transition to reliable gonzo girl. Adurey is a performer that slipped through the cracks a bit, but is a great combination of good looks and sexual energy. Ann Marie Rios looks good in this movie, but her scene is not one of her best. Shy Love goes all out, especially when she is on top. Throw in Lexi Belle and you have a really solid cast. Lexi is beautiful, energetic and kind of steals the show here. A lot of these scenes hold up nicely, but none quite so well as Lexi's. We can't forget about our titular host who gets herself off after over two hours of gonzo porn. More of Sunny would obviously have been great, but we take what we can get and what we have a movie that holds up rather nicely.
Nikki Benz & Mark Ashley
Clad in red bikini, black boots and thigh high stockings, Nikki Benz is quite proud of her big tits as she talks to the shooter. (Sounds like Pat Myne, but I don't think so) She sheds the bikini and rubs her pussy as the camera moves in tight. Mark slides onto the bed and Nikki gets to work on this cock. It is a Canadian on Canadian oral assault as she strokes and drools on his rod. Nikki does a really good job with a two handed pumpjob and does her best to dirty talk. (She has gotten a lot better at this aspect. It feels a little forced here.) Mark bends her over and gives her long deep strokes that make her big titties shake. If you like this position, enjoy it because they stay here for a really long time. Rolling back over, she sticks her ass out and slams her hips down to take every inch he's got. Nikki fucks with a lot of energy in this scene, especially when she is on top and is able to work her hips as she pleases. She ends up on her back while he shoots her load all over her face.
Audrey Bitoni & Ben English
Next up is Audrey Bitoni who strips and teases her way through some pre-scene footage that will remind us all that guys behind the camera can sometimes go overboard with the commentary. (Fun drinking game. Take a shot every time he says "sexy" just in this five minute segment alone. You will be passed out before Ben shows up to shove his fingers down Audrey's throat. His cock is much bigger, but she manages to get that into her windpipe as well. Making sure to keep her tits in full view from pretty much every angle, Audrey shows how hard she takes it. Ben really works her from behind, making sure to balls deep like his horny brunette partner demands. Flipping her over for missionary, he bangs her hard enough to make those big tits really rock. She rides hard on top and provides a level of energy to match that banging body. They finish up with Audrey on her knees taking a really huge load all over her face, tits and wide open mouth.
Shy Love & John Strong
Sunny talks about the dirty talk we are about to hear from Shy Love and she starts the scene out by talking dirty to the camera guy. As she strips and shows off her "new" tits, and matches the banter until John shows up to stuff a dick in her mouth. Shy opens wide and starts licking from balls to tip. After a decent BJ, they sift into spoon so he can kiss her while they bang. She shows a lot of energy in this scene, partially when she is on top. Plenty of energy here as he fucks her until his dick expodes all over her face.
Lexi Belle & Mark Ashley
Fresh faced blonde Lexi Belle bursts onto the screen and steals the show. The camera lingers on her smooth, meaty pussy and irrepressible grin as she teases and pleases herself with a silver dildo. When a real dick replaces the toy, she lights up and starts licking. The camera angles aren't perfect, giving us more ball and chin shots than angles of her pretty eyes, but there is enough good footage here to make it a lot of fun anyway. She turns around and lets him work that big meat into her from behind. Great leg shots and there is just something fun about watching Lexi bang. Her body looks fantastic and the facial hots to round out the action is a real highlight.
Anne Marie Rios
Sunny's final friend to join the action is Anne Marie Rios.She has a lot of fun opening her legs and showing us how she likes to aggressively rub her clit. That energy does not wane a bit when she is faced with a hard cock. Mick Blue is on hand to tish out the cock and Anne Marie attacks it with her mouth. She smacks herself in the face, licks and slurps like she can't wait to feel that thing thrusting inside of her. Her legs look really good in stockings and fans of heels will love the way hers stay on and in the shot as the action progresses. They share some aggressive moments before Mick shoots his load on her face.
Sunny Leone
After nearly three hours of introducing us to other women fucking, Sunny finally gets in on the action herself. Well, sort of. She's been naked in the pool and decides it is time to start rubbing her pussy a bit. It isn't much of a scene, but Sunny looks amazing from head to toe and it will be enough to give fans a taste. It's just too bad we didn't see her in a scene with the kind of heat and energy as the ones that packed this movie.
'