Ripe 12

Movie Type: All Sex
120 Mins
Tushy
DIRECTOR: Manuel Ferrara
2023
WEBSITE: www.JulesJordan.com

CONDOMS: No
THEMES: New Girls, Big Ass, Big Cock, Facial
STARS: Theodora Day, Lumi Ray, Queenie Sateen, Carlita Ray, Manuel Ferrara
REVIEW-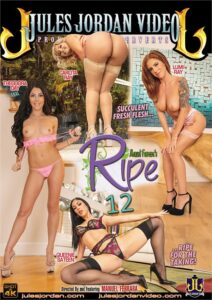 Manuel is the kind of director who gets to pick and choose who he shoots with. That makes him pretty lucky when get gets to find new, hot babes to bring to our attention. Unless we want to believe that he just does it for our benefit and doesn't take any pleasure in picking out the cream of the crop. As altruistic a guy as he may be, I would imagine he is doing this at least a little bit for his own good time. How can anyone look at Theodora Day and not want to have some fun with her? Manuel hits her with some good long strokes and feeds her a huge load of cream to set the stage for a really hot movie. Lumi Ray shows a lot of promise and should be on your watch list for future fucks. Ass lovers will want to save up some energy for Queenie Sateen. She has a serious booty, knows how to use and how to show it off. Carlita Ray caps off the action with a very energetic scene. I really like this girl a lot. Four very solid scenes. My favorites were the first and the fourth, but there is something for everyone here. Solid effort and worth a watch.
Theodora Day & Manuel Ferrara
Pretty blonde Theordora Ray does some posing in front of a mirror which is always good for interesting angles. We get to watch her dance while facing the camera and still sneak a peek at her ass while she sways her hips. Making her way to the bed, she makes sure that her ashiles is warmed up with her toy. Good thing because I watched the credit sequence and Manuel is about to lay waste to that tight butthole. She gives him quick head before rolling over to get fucked. Theordora has a very pretty face which comes back into play again when she rolls over and starts a second round of blowjob fun with some intense ball licking. Getting to her ass, he doesn't hold back, stretching her butthole with long strokes that seem to hit the mark. She backs up on him with her hands holding her cheeks apart and her boisterous cries filling the house. To finish things out, she gets on her knees and stares into the camera while he fills her mouth with cum. She is really pretty and this is a fantastic final shot.
Lumi Ray & Manuel Ferara
Lumi Ray dances in pink lingerie, looking like a cross between Emma Roberts and Kylie Ireland. Nicely shot outdoor tease she continues once she moves inside and strips on the couch. Once the panties are off, she starts rubbing her pussy until Manuel comes in and gives her something fat to suck on. She gives a nice looking BJ with a lot of eye contact before he rolls her over and starts fucking. She works well on top for a bit before he rolls over her into spoon so his fingers can work her clit while he stretches her little hole. Lumi is quite pretty and knows how to put on a good show. She shakes her tits with her hands while he pumps her pussy. They finish up a fun romp with a shot on her pretty face. I look forward to more from this cutie.
Queenie Sateen & Manuel Ferrara
From the very start, it is easy to see that Queenie Sateen is quite proud of her ass. Can't blame her really as it is quite impressive. Making her way into another room she comes face to face with Manuel's monster dong. You have to love her two fisted style as she crams as much into her throat as she can. He tosses her into the bed and works into spoon with enough force in his strokes to show off her natural bounce. There is a bit of choking before he flips her over and drapes a leg onto his shoulder. The facial shot is good as they wrap things up.
Carlita Ray & Manuel Ferrara
For the finale, Manual gets to work with cute blonde Carlita Ray. As she teases outside, she shows off her really big, round ass. She has a pretty mouth and lovely boobs, but the backside gets most of the focus. That continues as Manuel buries his face between her cheeks when he first meets the willing blonde. She returns the favor by trying to swallow his fat sausage. Aggressively showing off her oral talents, she gets him ready to roll. He slides in behind her and works her hard enough to make her tits shake as she screams for more. Rolling over, she bucks her hips, shows off that big ass and really seems to be having a great time now. Her shrieks are rather unique and quite emphatic. The facial finish caps this scene off nicely. Make Carlita one to watch.