BadMommyJOI.com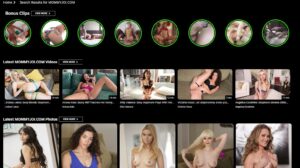 SYNOPSIS:
Some sites provide members with content that appeals to a very broad audience, while others stay very focused. I am sure that it won't take you long to figure out which camp www.MommyJOI.com> falls into. Since this site is from the same people who give us www.badmommypov.com> you know that the fauxcest will be heavy, mommy-oriented and hyper-focused. Like that site, the style and content will also cater to the title. In this case, the mommys in question will be busy encouraging their sons (step of course) to properly, enthusiastically and constantly stroke their cocks to the soothing sounds of mommy's voice. There are probably some of you out there who have a whole collection of this content already and can't wait to sign up to hear how these moms encourage their boys to remain in a perpetual state of goonship.
SITE BREAKDOWN
The main page of www.MommyJOI.com> makes it pretty simple to find what you're looking for. Once you are logged in you get a big banner at the top and then links to the latest videos and photo sets. Since this site is part of a big network, you have the option to choose other stuff, but lets stick to the Mommy JOI stuff for the purpose of this review. You can easily access the latest videos or his a "see more" button to open up all of the videos.
Updates come at a good pace and all of them fit the main theme of the site. We get hot MILFs providing POV set ups and lots of JOI (Jerk Off Instruction) fun.
The site is being updated frequently with a new JOI specific video added every two weeks. There are lots of other channels included in your membership so you will have plenty of similarly themed updates to enjoy in between new www.MommyJOI.com> scenes.
As of today (7/4/2023) there are 23 Mommy JOI scenes on www.MommyJOI.com> There are also photo sets to go alone with them.
Individual update pages on www.MommyJOI.com> feature auto streaming video of the scene. Most scenes offer 480, 720 or 1080 so you can watch whatever quality fits your internet speed. There are also photo and cap galleries for the action. Scenes may also be downloaded in various sizes to keep a collection of your favorites. There is a tag system in case there are some other specific things you want from your POV with mom fun. There is also a section for member comments to share your thoughts and read the thoughts of other members.
The most recent update on www.MommyJOI.com> is a hot one. Beautiful, busty superstar Anissa Kate welcomes you home in a very revealing pink lingerie set. She asks if we like "mommy's tities" and who is going to say no to that? After shaking them for a bit, she pulls them out to show how hard they are. Lots of breast play including some nipple self-fucking along with the "mommy" talk. Anissa breaks out a dildo and gives instructions on how she wants him to touch it. The visual aids are sure to help and she slides it between her boobs for a dirty talking tit fuck. When she isn't talking, she is sucking on the toy, putting on a pretty good show. Adding a bit more, she spreads her legs to show off her pretty pink pussy. After some fun solo action, Anissa settles in to the titular jerk off instruction. She pumps the toy in her hand, moaning out encouraging words and telling her favorite boy just what to do. The mommy talk picks up as she holds the toy near her mouth and strokes to the non-stop verbal instruction to cum all over her face and titties. Anissa does a great job with the specific genre and dirty talk in this one.
15 Min
Sometimes the stepmoms featured on www.MommyJOI.com> have specific reasons for turning to their stepsons for pleasure. Karma Rx has only been married to her husband for a short time. He has left for a month long business trip leaving her all alone. Her stepson walks into the room just as she is hanging up the phone. She teases him with her eyes and cleavage and then starts talking dirty. She loves her husband, but misses fucking younger guys. She has caught you watching her change and knows that she is hotter and dirtier than your girlfriend. Taking out a dildo, she stares into the camera, sucks it and in between strokes talks about how she wants to be fucked in the ass. Eventually she turns around, lifts her skirt and slips the toy into her backdoor. The dirty talk continues as she pumps her ass and then puts it back into her mouth. This one is less JOI and more simulated stepmom sex, but it is still fun to watch.
7 min
Mona Azar brings her big booty and sexual energy to www.MommyJOI.com> . She has on a sexy bra and panty set and talks to the camera. "Sexy mommy" wants you to take your cock out and get it hard. Playing with a dildo she spits on it and jerks is off, talking dirty and encouraging you to do the same. She stays dressed and makes a lot of eye contact while she pumps her fist. The dirty talk is on point and matches her handjob action. Using both hands on the lubed up toy, she picks up speed and gets loud with her dick play. Where is the load going to go? She seems open to a number of options so long as she cum hard for her. Taking her tits out of her bra, she slides the toy between them and gives it a little kiss. Getting closer, she gives a short countdown, never dropping the "mommy" talk as she works all the way through what she hopes was a big orgasm from her favorite boy.
11 Mins
Other Mommies giving their best jerk off instructions include Lauren Phillips, Victoria Voxxx, Syren Demer, Christy Stevens, Cherie DeVille, Aaliya Love, & Kenna James. They are all happy to tell the lucky boys in their lives exactly what to do with those big hard cocks of theirs.
As of 7/15/2023 there are nearly 24 Mommy POV updates on www.MommyJOI.com> . The site is still new and the updates are coming regularly. There are also a number of other channels included with your membership featuring other taboo-oriented JOI/POV smut.
In addition to the main Mommy JOI scenes, there are seven additional channels included in your membership. All are family related and feature either POV boy/girl action or solo JOI content. The bonus channels included are:
www.BadBrotherPOV.com
www.BadDaddyPOV.com
www.BadSisterPOV.com
www.DaughterJOI.com
www.badmommypov.com>
www.SisterJOI.com
www.MommyJOI.com> is a where you want to go if you have a very specific fantasy in mind.
COST: There are five membership options for
www.MommyJOI.com> All allow for streaming and downloads.

-$9.95 30 Day Membership (Recurs Weekly at same rate)

-$34.95 30 Day Membership

-$99.95 Six Month Membership

-$149.95 One Year Membership

-$399.95 Lifetime Membership

OVERALL: 79 of 100.
Models: 14 of 20 (Established MILF Talent)
Quality of Content: 14 of 20 (Simple, Well Shot)
Quantity of Content: 15 of 20 (Frequent Updates, Newer Site)
Ease of Use: 16 of 20 (Solid Site, Good Options)
Niche Appeal: 20 of 20 (POV/Fauxcest)