BadMommyPOV.com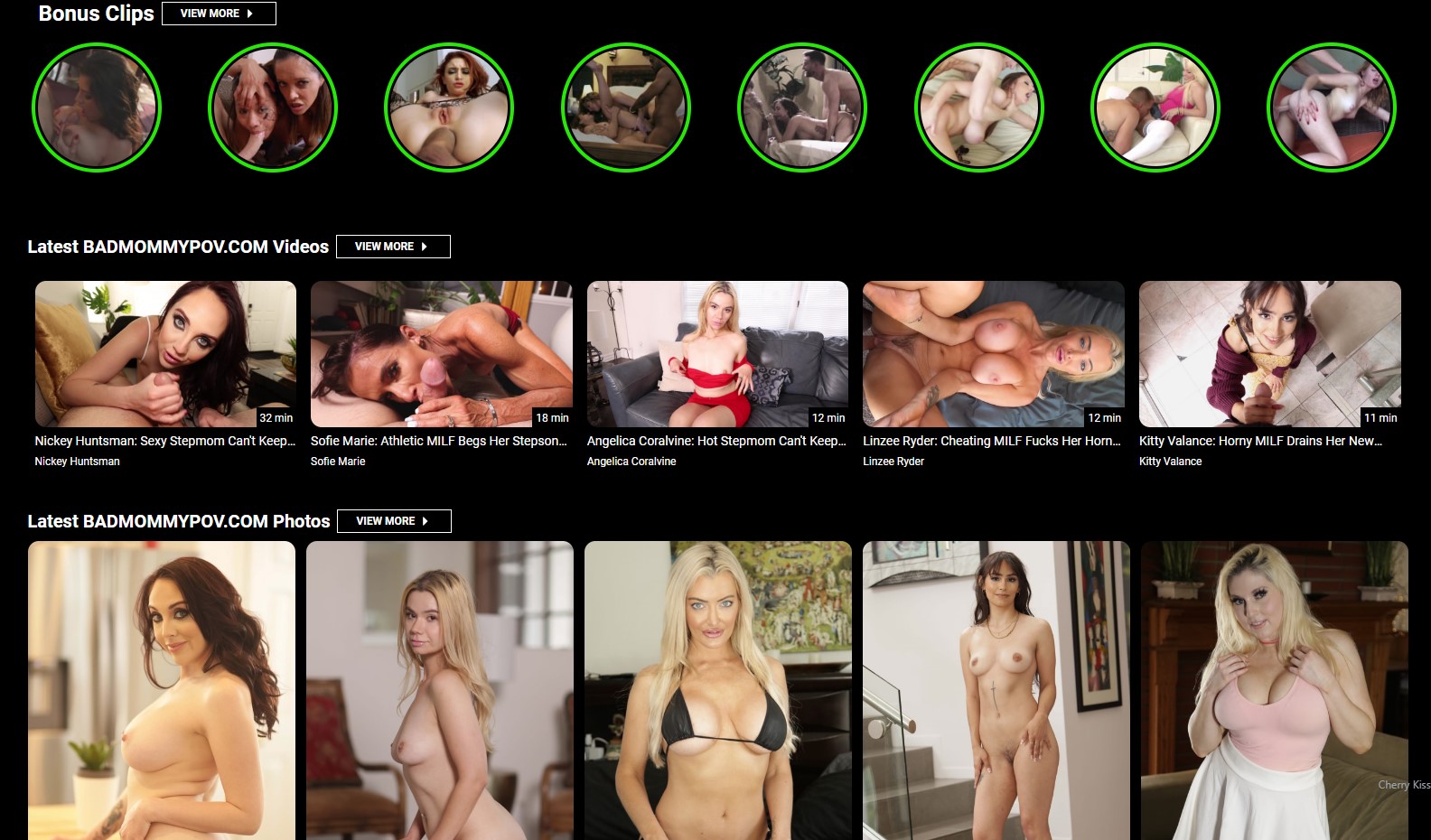 SYNOPSIS:
With a title like www.badmommypov.com, you can be pretty sure you know what you're going to get. The models are top notch porn performers who are a mature enough to be in the MILF category. The sex, in case you aren't quick enough to pick up on the title, is of the POV variety. Just in case the mature female stars weren't enough, the performers in these scenes are doing their best to act like the naughtiest bunch of moms and stepmoms you ever saw. If that type of role play appeals to you and you want to porn that closely simulates what living out these fantasies would look like, then come on in.
SITE BREAKDOWN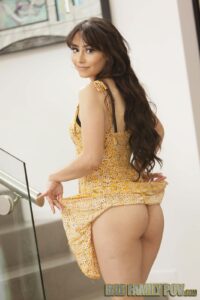 The main page of www.badmommypov.com takes us to the faux mommy POV fun, but does much more. It also serves as a gateway to an entire network of sites, many that fit the general themes of this one perfectly. Once you get past the big banner at the top you can start with the mommy movies. There is a lot going on on the main page since it is a gateway to a huge network. For this review we are going to focus on the Bad Mommy POV scenes. You can browse the latest videos and latest photo sets. If you want to see what other fans are watching, you can check out the latest updates slider. Further down you get a slider called Throwback for older scenes. There are lots of ways to browse and that can make for some fun searches. If you're like me and don't mind the simple stuff, there is an alphabetical list near the bottom.
The site is updated frequently with a new Mommy POV scene every two weeks for the last several months. With lots of other channels to enjoy in between and a decent sized back catalog, this offers you a pretty good (and growing) collection.
As of today (5/14/2023) there are 25 Mommy POV scenes with photo sets to go with them. That is a solid amount for a site that is still new and updating on a regular basis. There are a lot of other updates available as well, but this growing collection is specific to the titular appeal.
Individual update pages feature auto streaming video of the scene. Most scenes offer 480, 720 or 1080 so you can watch whatever quality fits your internet speed. There are also photo and cap galleries for the action. Scenes may also be downloaded in various sizes to keep a collection of your favorites. There is a tag system in case there are some other specific things you want from your POV with mom fun. There is also a section for member comments to share your thoughts and read the thoughts of other members.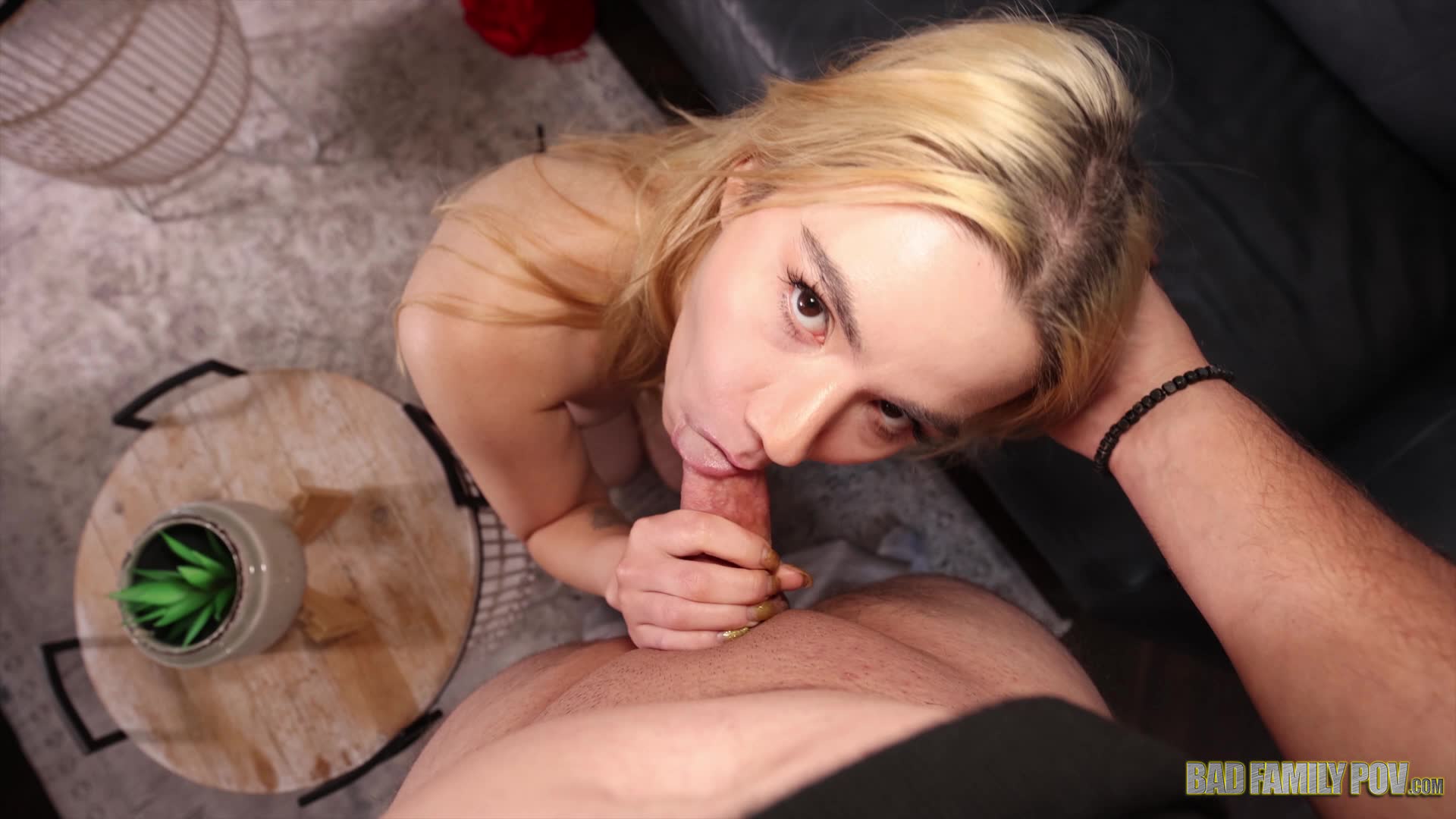 The most recent update on www.badmommypov.com stars Angelia Coralvine as the titular bad stepmommy. The blonde stepmom is sitting on the couch in a sexy red dress when her stepson comes in to question why she isn't going out. His father isn't giving her the attention she needs and is not giving her any sex at all. That just won't do. She is too pretty to be ignored. What is a stepson to do? She starts to pull her dress down and pops her tits out for him to admire. She makes it clear what she wants and asks him for help, repeated using the word "mommy" for those of you really into the role play. Fully naked, she gets on her knees and starts licking his cock while looking right into the camera. Whenever her mouth is not full of dick, Angelina makes sure to talk dirty in a way that will keep the core audience happy. She does a really good job, making his shoot his load into her hungry mouth. This is a short scene, but it delivers the POV mommy action with a lot of dirty talk.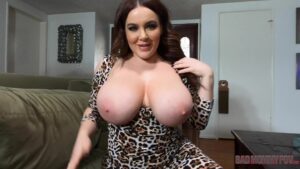 One of the hottest scenes on www.badmommypov.com features Natasha Nice as a stepmom obsessed with making sure that her stepson gets his homework done. The problem is that her presence is a distraction. In truth, it is not her presence, but her big mastiff tits and the way they are popping out of her dress. Knowing the way to get what she wants, Natasha offers to show him her boobs and "then some" if he promises to settle down and do his homework. He momentarily objects, but stops the second the pops them out of her dress. With the camera in close, her magnificent breasts look even bigger. She talks about how much his father loves them and tells him that he will have something "really cool" to tell his friends. The camera moves in very close as she rubs his cock on her tits and bounces them up and down with every stroke of his dong. With her gorgeous eyes locked on the camera, Natasha dives in and starts sucking his dick. When it is good and wet, she wraps her tits around it and bounces them up and down. The POV blowjob is hot, wet and accentuated by more hot talk. The only problem is that is is over too quickly as she tit fucks him hard. He wants to "fuck mommy" she she climbs on top and shoves her huge rack right into the camera while bouncing. She is flipped over for some POV shots of Natasha getting banged from the back. They are interrupted when his father comes home, but she doesn't want to leave him unsatisfied. She does another short round of tit fucking before getting on his bed for mish. This gives us more fantastic bouncing boob footage as Natasha stares up and encourages him. He gives her a nice big shot across her huge breasts and we end with a smile from one of the hottest women in all of XXX.
Superstar MILFs make the world go around on www.badmommypov.com and Cherie Deville proves that point perfectly. She is on her way to work when her poor whining son calls her into the bedroom. He is sick and needs something to help sleep. With no time to make him soup, she comes up with something else to help her poor son. Not surprisingly it starts with a generous peek at her cleavage and becomes progressively more intimate from there. She just needs him to trust her as she slowly undresses and straddles him. She pulls his cock out and is very emphatic about what she wants to do next. Cranking up the dirty talk, she gives him a medicinal blowjob to make him feel all better. Taking it until she chokes a little, Cherie drools all over his meat and encourages him to play with his stepmom's big "mommy boobs." Sometimes it takes more than just a mouth and boobs to help someone get off. Cherie mounts him and starts to grind, leaning heavily onto the mommy dirty talk while the camera stays close on the penetration. When she turns around, she really starts to buck hard, taking him to the root while showing off her ass. During the POV reverse cowgirl, she plays with her butthole, spreads her cheeks and loudly cums on his dick. Tasting herself, she sucks him clean before mounting up while facing the camera. Her eyes roll back in her head as she bangs him with everything she's got. Ramping up the dirty talk, she lets him cum inside her, commenting on just how big his load is before tasting some on her fingers and tucking him in for a nap. Yep, mommy makes things all better.
Other Bad Mommies getting into the POV include Sophie Marie, Kristie Stevens, Lauren Phillips Mona Azar, Rachal Cavalli, Aaliya Love, Jessica Starling, Linzee Ryder & Lexi Luna. They bring years of experience, plenty of curves, filthy mouths and load of sexual energy to their scenes.
As of 5/19/2023 there are nearly 29 Mommy POV updates on www.badmommypov.com. The site is still new and the updates are coming regularly. There are also a number of other channels included with your membership featuring other taboo-oriented POV smut.
In addition to the main Mommy POV scenes, there are seven additional channels included in your membership. All are family related and feature either POV boy/girl action or solo JOI content. The bonus channels included are:
www.BadBrotherPOV.com
www.BadDaddyPOV.com
www.BadSisterPOV.com
www.DaughterJOI.com
www.MommyJOI.com>
www.SisterJOI.com
www.badmommypov.com> is a great sight if you like short, hardcor, POV clips featuring direct, on-point fauxcest scenes. The female performers are hot, carry the action well and lean heavily into the "mommy" talk. If that cranks your engine then step up and get some here.
COST: There are five membership options for
www.badmommypov.com> All allow for streaming and downloads.

-$9.95 30 Day Membership (Recurs Weekly at same rate)

-$34.95 30 Day Membership

-$99.95 Six Month Membership

-$149.95 One Year Membership

-$399.95 Lifetime Membership

OVERALL: 81 of 100.
Models: 15 of 20 (Established MILF Talent)
Quality of Content: 15 of 20 (Simple, Well Shot)
Quantity of Content: 15 of 20 (Frequent Updates, Newer Site)
Ease of Use: 16 of 20 (Solid Site, Good Options)
Niche Appeal: 20 of 20 (POV/Fauxcest)