GloryholeSecrets.com
SYNOPSIS:
As you might imagine the action featured on www.gloryholesecrets.com> is rather specific. That is bound to be why fans of the glory hole genre will find it appealing. It features young women visiting the GH to experience anonymous dick. Not just one dick. Lots of dick. Lots of faceless dick for their horny mouths. The set is different from some others in the genre and very simple. It's basically just a black box with a few holes for the guys to stick their dicks through. The walls and floors looks rather clean compared to some others and there is no attempt to set the mood with a story or a bookstore front. Instead they focus on the women and what they can do with those strange cocks. (There are some interviews with the women which are often interesting.) If you enjoy women sucking strange dicks through a whole and wearing a whole bunch of cum on their faces and bodies then you are in for a treat.
SITE BREAKDOWN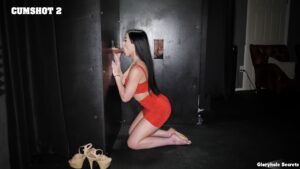 The main page of www.gloryholesecrets.com> gives you a quick glimpse into what the site is about with a preview clip that plays at the top of the page. There are links with big preview pictures to the latest videos in four categories, Gloryhole, POV (Also gloryhole action), Interview and Compilations. There are also preview links to upcoming updates, trending models and your most recently watched videos.
There is also a toolbar to the side to take you to Videos, Photos or Models if you prefer to browse that way.
This site features frequent updates, including several per week in the main Gloryhole Video section. In the first two weeks of 2023, there have been a total of eight updates, all featuring hot models sucking the hell out of cocks either in POV or through gloryholes.
As of today (1/14/2023) there are 388 Gloryhole videos, 659 POV videos, 129 Interviews and 128 cumshot compilations. That's over 1,300 videos of pretty girls using their mouths on lucky dongs.
Individual update pages feature links to view the trailer or the full scene. It provides stats including run time, update date and number of views. There is an extensive tag system that is easy to view and use as well. You can stream or download each update, favorite, comment or save for later. Simple interface that gets you to the action quickly and easily.
Some of the updates include the interviews, but it looks like recent scenes start right out with the sucking. The interviews are available on their own. They are long, with many of them passing the one hour running time mark. Each features multiple cumshots and they keep track with an on-screen counter. This isn't a one on one suck fest, it's an anonymous blowbang of sorts. As you might imagine, most of the popshot end up on the faces of the models and swallowing is more common than not.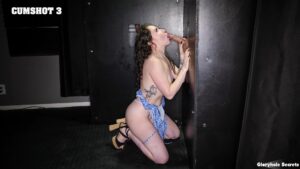 The most recent GH update on www.gloryholesecrets.com> features Hazel Paige in her first gloryhole video. Wearing a little blue sundress, Hazel gets right down to business on her knees. The fully clothed aspect of the scene is interesting at the start. She looks very much like an ordinary pretty girl just out for a day of shopping who happens to be sucking random dicks through holes in the wall. The first one gets hard in her mouth quickly while a hand gropes at her hair and back. She stays focused on the dick in her mouth while the guy thrusts as possible with the wall in his way. Great tongue action here as Hazel waits for the knock and then takes cumshot one on her tongue. Turning around, she takes the next one, savoring his load when he shoots quickly. Her dress is now down at her waist, exposing her tits while she loudly chokes on dick number three. After power stroking the third guy to climax, she slips completely out of her dress. Her panties follows while she gets to work on dick number four. Cumshot four lingers on her tongue while she shows it off for the camera. Hazel is naked except for her shoes and putting a lot of effort into throating cocks big and small while earning load after load in her mouth. The camera angles shift from profile to high angle POV as she continues to enjoy and drain each dick that pops through the holes. She ends up taking a total of nine cumshots, all in her mouth and all end up in her stomach as Hazel turns her first blowbang into a protein-rich midday snack.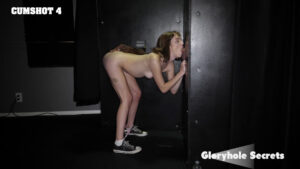 Young and cute Aliya Brynn is happy to talk to the guys through the wall. She looks good in shorts and a top. So good that I wish we had a camera in close to check out her ass she kneels and inhales. Her head game is so strong that the first guy feeds her in less than a minute. She holds it, plays with the load and swallows it. After taking off her top, she comments on how the next dick is big and heavy like she likes. Things start to get messy when she takes it to the root and sucks up the excess drool. Ariya makes nice eye contact while milking the third load onto her waiting tongue. While working on the next dick, she stands and wiggles her way out of her panties. This is a nice little touch, especially since she doesn't ever stop sucking while getting herself naked. As guy four shoots his load, Aliya looks to the side, right into the camera for a moment of blistering hot eye contact. It may be her first trip to the glory hole, but this cutie gets it and doesn't slow down for a moment between lucky cocks. Her shoes eventually come off as well and the guys start to feed her a bit more rapidly. After seven loads, she decides her pussy needs some cock and she backs up on dick number eight. It must hit the right spots, because her legs start shaking and she can't wait to suck her cum from the shaft. She takes a little extra time savoring that load before swallowing. Guy number nine also gets to fuck her and this time she angles her body so that we get a really good look at the plug in her tight asshole. She is so enamored by the last cock that she calls it "perfect" before fucking it and finally taking the last load in her mouth. This young woman is really fun to watch.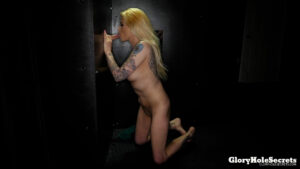 In 2021 when porn veteran Cindy Crawford made her return to XXX, she stopped by for her first glory hole scene. She takes off her shoes and gets right to it, bobbing her pretty blonde head as she inhales the strange dick before her. With some effort she gets underneath this guy and gives his balls some serious tongue action. Two handed action gets that guy to bust his load right in her mouth. After finishing off the second guy in record time, she scurries on her knees to the other side to open wide for the third. Cindy really seems warmed up now and is making plenty of noise as she sucks and moans around another lucky dick. They get her naked while she works out the next load. Slightly out of breath, she squats and takes on a rather large black cock, sucking it slowly until he throbs in her talented mouth. Using both hands, she milks a big load onto her tongue, holds it there for a bit and then downs it with a smile. The next guy is even bigger and his cum is in her mouth after only a few strokes. The guys are picking up the pace and Cindy is having fun, gargling with cum and staying ready for the next dick to poke through the hole. Changing things up, she does some hands-free sucking until the next dude is right on the edge before finishing him off with some pro strokes. Now fully naked, Cindy gets her whole body rocking back and forth to keep the guys happy and the audience glued to the screen. The full body shots are a nice addition to the gloryhole angles. Using both hands, she finally takes that eleventh load to close out the action. Cindy Crawford is always hot and brings her A head game here.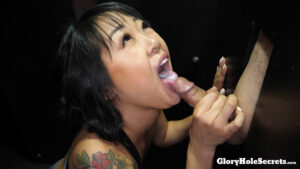 One of the hottest scenes on www.gloryholesecrets.com features Saya Song in a one hour First Glory Hole extravaganza. Looking lovely in tight shorts and revealing top, the always charismatic Saya laughs her way through an interview where she outlines what she likes about the idea of a glory hole. She also discusses her deep throat talent and how big a dick she can get down. She has a huge smile through the entire interview and looks absolutely beautiful. As soon as she stops talking, she finds the hole and sucks the modest dick to full size in no time. She makes short work of him and takes a big load on her tongue. Showing it off before swallowing Saya is ready for the next guy. They have her take off her shorts so she is just in bra and panties as the next guy is treated to oral favors. When he gets close, the looks upand holds her mouth open to created a very appealing target. The third guy is also pretty small, but Saya finds a way to keep things loud and high energy no matter who she is working with and what they are working with. Once she eats the third load, Saya strikes down and the camera lingers a bit on her body. Not too long though because another cock is waiting for her. Finally working with some size, she takes him to the back of her throat and uses a lot of spit to dgive him some double fisted pleasure. How this guy holds out for as long as he does is a mystery, but when he does finally fire, she milks it right into her mouth before turning to the camera with a wicked smile on her pretty face. Returning to deep throat size, she earns a big load that stays on her tongue long enough for us to watch as she swallows. The guys all seem to have pretty serious loads and Saya has a non-stop head and hand game working. If there is one things missing from this scene it would be the POV shots from above that would let us look at her gorgeous eyes. (They have videos with just this angle which is a nice change of pace.) Hands start groping at Saya through the holes but she is so focused on the dick in hand (and mouth) that she doesn't seem to notice. Nothing takes her focus off making the dicks pop into her hungry mouth and the way she smiles as she swallows is bound to make many of you nearly as fond of her as I alread am. The guys get really quick for a while and our starlet is polishing them off one after another like an absolutely gorgeous machine. When number eleven is all polished off and down her throat, Saya stays put for a second round of interview questions. This time she discusses her preferences in terms of dick size and gets some bonus loads.
The team at www.gloryholesecrets.com must like Brandy Bae quite a bit because they have her on the site twice. On her first visit, the twenty one year old blonde talks about how she loves to please, is not looking to date and has no question that her oral skills are amazing. She goes over the stuff she likes, including swallowing cum, cock slapping and the thrill of sucking off strangers. At this point, Brandi is only 34DD and her ass is only moderately big. (But super juicy anyway) The action starts fairly quickly and she makes it looks easy taking a tiny dick. Her hand covers his cock, but that doesn't stop her from pro-sucking his dick until he explodes. The next cock is more of a challenge in terms of size and more to Brandi's liking. She gets it very wet and gives a little "dick in the cheek" action before finishing him off with her highly skilled mouth. After dick number two, Brandi takes off her dress, wiggles her ass and squats to suck the next lucky guy. He is done quickly and she moves on to an even more modest member with nothing short of pure bliss in her eyes. For a brief moment, she reaches out to stroke a dick from both holes. More of this would be really nice since it shows off her body and just looks hot. Cock number five gives her a really big cumshot. This dude literally blasts her with streams of cream. Very impressive. Brandi keeps her hands busy when they aren't on cocks by rubbing her pussy or caressing her big tits. As always, the action goes non-stop from one dick to the next. Brandi makes a guy cum, swallows what she can and then turns around for the next lucky contestant. She leaves the rest of the jizz on her cheeks and tits and thighs like a good glory hole slut. As we pass a dozen shots, some of the guys are struggling with wood (Second time around maybe) but Brandi sucks them harder, strokes and eats each nut proudly. As she wraps things up, she gives her pussy a final rub and is a perfectly hot, cum-covered mess.
Violet Monore, Syern De Mer, Rachal Cavalli, Mercedes Carrera, London River, Nia Naccai, Lauren Phillips, Britney Amber, Skylar Snow, Ella Knox, McKenzie Lee, Violet Myers, Jillian Janson, Karla Lane, Tyler Faith, Saya Song, Karma Rx, Rebel Rhyder, Liv Revamped, Cindy Crawford, Anna Claire Clouds, Nicky Hunstsman, Jewels Jade, Nikki Delano, Sadie Santana, Kacey Jordan, Brandy Aniston, Veronica Avluv and so many others.
As of 4/1/2023 there are nearly 1,500 updates on www.gloryholesecrets.com>. With several more added each week, the action just keeps piling up. Many of the stars are new to the business, but there are plenty of well known stars in the catalog.
In addition to the main Glory Hole videos, there are POV shots of the same stars with different angles on the sucking and swallowing as well as compilation videos that cut it down to mostly the cumshots. Lots to choose from, but it all sticks pretty close to the main focus of the site.
If you love women sucking random dicks in a glory hole, then www.gloryholesecrets.com> is essential viewing.
COST: There are one membership options for
www.gloryholesecrets.com> and special trial membership available .

2702
30 streaming 19.95
30 all 29.95
1 year 119.40/9.95
3 day streaming trial 2.95

-$19.95 30 Day Membership (Streaming Only)

-$29.95 30 Day Membership (Downloads & Streaming)

-$119.40 30 Full Year Membership (Downloads & Streaming)

-$2.95 3 Day Trial Membership (Streaming Only)

OVERALL: 85 of 100.
Models: 16 of 20 (Some Great Future Stars)
Quality of Content: 15 of 20 (Simple, Well Shot)
Quantity of Content: 18 of 20 (Frequent Updates, Big Catalog)
Ease of Use: 16 of 20 (Solid Site, Good Options)
Niche Appeal: 20 of 20 (Glory Hole, All Day)