Adorime's Rose Toy Takes the World by Storm
It is a really good time to be experimenting with sex toys. If you are a man or woman in search of some sexual release or part of an adventurous couple looking to spice things up, then things have never looked better. After decades of delivering essentially retreads of the same basic designs, sex toy manufacturers have really stepped up their game. New technologies, better quality materials and a focus on customer satisfaction have upped the game to heights never before seen.
Adult novelty manufacturer Adorime has put all of these aspects together to come up with a line of toys for women, men and couples with designs to fit every need, desire and kink. Included in this impressive line up of pleasure products is the Adorime Rose (https://www.adorime.com/collections/the-rose-toys) which is not only a spectacular toy for women, but also a viral sensation thanks to popular TikTok videos. It isn't often that a sex toy makes its way onto the popular social media platform, let alone becomes it's own sub-genre featured on the feeds of several prominent content creators.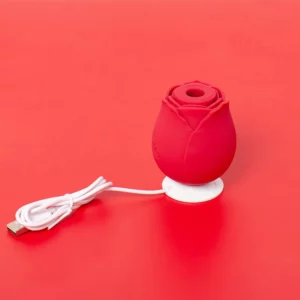 If you are thinking that it must take something special for a sex toy to reach viral fame, you would be right. The rose is a unique design that is easy on the eyes and incredibly effective. It uses a combination of vibration and pulsing air to create clitoral stimulation that is as unique as it is mind blowing. Beyond its functionality, the rose by Adorime is pleasing to the eye, compact, powerful and easy to use alone or with a partner. With all this going for it, it is no wonder it has taken the world by storm. Speaking of storm, you have to see how this amazing toy works in conjunction with a nice warm bath.
How does a sexy toy become a viral sensation? First, it has to look cool and the Adorime Rose certainly does that. However, it takes a lot more than just a clever design. It has to work and work well. Adorime's rose toy uses air pulse and pressure to focus pleasure on the clitoris. The combination of sucking, blowing and vibrating delivers unparalleled pleasure and stimulation leading to stronger orgasms. Many users have praised the toy for its ability to aid in back to back climaxes and the ever elusive squirting orgasm. With all this going for it, it is little wonder that the Rose by Adorime is the hottest toy on TikTok and in bedrooms around the world.
Not satisfied with the overwhelming success of their Rose Toy, Adorime has added to it. Taking this mild-blowing design and adding features, they have made something great even greater. Whether it is a compact, thrusting dildo to add penetration or a strategically positioned tongue attachment for intense direct contact, the Adorime designers have managed to add even more bang for the buck with their most popular toy.
While the rose is understandably getting the bulk of the hype lately, it is far from the only popular toy offered on www.adorime.com. Women have a number of other options including a full assortment of favorites like G-Spot vibrators, Dildos,, Bullet and Egg Vibrators as well as Rabbit Vibrators. In addition to those popular standbys, Adorime has embraced technology with a growing collection of APP controlled toys for all sorts of naughty fun.
Not to leave the men out, Adorime has a number of impressive options for them as well. From popular sucking and thrusting masturbation cups to a wide variety of realistic replica vaginas, there are plenty of appealing options available for lusty lads and their horny hard cocks. They also offer a wide variety of cock rings to enhance pleasure with a variety of stimulation. If you happen to be backdoor-adventurous, Adorime offers some of the best prostate massagers on the market.
Since they are all about providing pleasure to all parties, some of the most innovative products on www.adorime.com have been designed with couples pleasure in mind. Whether it is a vibrating cock ring designed to buzz her clit while snugly squeezing his shaft or a wearable G-spot vibrator to make both partners squirt like crazy, Adorime has lusty couples covered. Technology loving couples will find all kinds of ways to have fun by using their impressive array of app based vibrators. Want to really make her day? Give her a surprise with the Adorime's app-controlled version of the classic rabbit vibrator. It is guaranteed to put a big smile on her face.
If you are looking to have your mind blown by the best toys on the market or just want to see what all the fuss is about, give the Adorime Rose a try. If you have already experienced the hottest viral sensation in adult novelties, check out one of their other fantastic adult novelties. No matter who you are or what type of toy you're looking for www.adorime.com has what you are looking for.