PorkVendors.com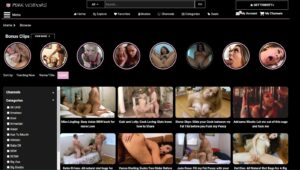 SYNOPSIS: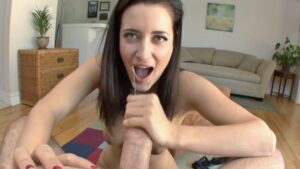 If you have watched porn in the last two decades. Good porn I mean, solid, hot filthy gonzo porn, there is a pretty good chance you are familiar with Tim Von Swine and his work. If you are a fan of fantastic POV smut there there is a 100% chance you have seen his stuff and it is a near certainty you have spanked a few out to some of the best filth the genre has to offer. Welcome to www.porkvendors.com, the home of professional pevert, amateur hockey enthusisc, POV fucking master and all around great guy Tim Von Swine.
This site is home to TVS's latest video adventures. He and his friends bring their dad bods and swinging dicks to the table to dish out some serious meat. Many of the recent scenes feature BBW including some of the biggest stars in the genre including Karla Lane, Mischievous Kitty, Bella Bendz and Eliza Allure. There are stars of every size though and some of the scenes go back a few years for XXX stars like Kimberly Kane, Adrianna Luna, Kaci Star & AJ Applegate. All of the women featured on the site get stuffed with porn, many of them double stuffed and everyone walks away happy, especially the viewing audience.
SITE BREAKDOWN
www.porkvendors.com is part of a larger network and they have undergone some changes and added some features. As part of a big network, there are a lot of options and loads of content to look through. The main page navigation feature and advanced search option so you can find content based on models, channels and categories that fit your interests. The toolbar repeats many of these options and there is also a menu with even more choices. The main page also lists updates with thumbnails featuring latest updates, scenes you may have purchased for download (Depending on your membership option) and channels you currently subscribe to. They want to make it easy for you to find exactly what you are looking for, and I would suggest you use the favorite option liberally to create your own collections. The further down the main page you go, the more you see from the rest of the network so we are going to stop here and focus on pork Swiney is vending.
Individual update pages are pretty simple. Videos start playing with a basic toolbar beneath them You can choose your streaming and download options and view photo and/or cap galleries. Each update has a short description with some helpful tags you can use to bounce to similar action. You can also comment on the scene and of course add it to your favorites for later enjoyment.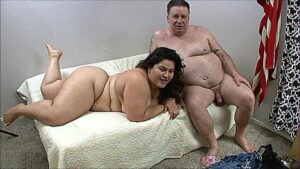 One of the most recent updates on www.porkvendors.com features ultra adorable BBW performer Karla Lane. The scene wastes no time getting to it. Karla is on all fours in the middle of the bed wit hhe shorts a round her knees and her big, bare ass in the air. Time oils up her cheeks and plays with her from behind. It is clear from the start that they are both having a good time. Flipping into 69, she throws a few glances to the camera while bobbing her head and wiggling her hips to smother his face with her juicy pussy. The stationary camera is a bit limiting, but we still get a nice view of her soft curves and pretty face as she expertly inhales his hog. As she moves into reverse cowgirl, her whole body, thighs, belly, boobs and all are bouncing up and down for the camera. Good energy here and when she hops off to suck him clean between positions the camera is a little closer for an even hotter shot of her face. Her ass faces the camera for a while before they move into doggy. This really gives us the best shots of Karla. That pretty face smiling for the camera and her natural tits bouncing as Swiney bangs her hard from behind.
He flips her over and plays with her juicy twat until she is begging for him to back on top and ride her hard. They flip into doggy for the finish as she cums all over her big round ass. There is a short interview after that gives us some insight and shines some light on curvy models like this amazing bundle of energy.
Other top BBW performers can be found in the www.porkvendors.com> video collection. Eliza Allure, Alexxxis Allure, Sara Star, Bella Bendz, Miss Lingling, Kelly Shibari, Jade Rose, Mischievous Kitty and Becki Butterfly are among the lovely ladies who stop by for a dishing or two of hard, hard pork.
Swiney also has himself a really good time with non-BBW performers on the site. One such curvy superstar is Siri who stopped by to get some pork in her horny holes. She is already naked (Except for heels and some lingerie) and on all fours when the action starts. As he slips his thick cock into her, they share some mutual admiration dialog. After a few strokes, Siri's dirty talk takes over and that's a damn good thing. He works her hard from behind and the long stationary camera shot lets us see just how difficult it can be to shoot the POV footage he's getting while also performing with one of the hottest women in the industry. They reposition the camera and move to a chair. Siri mounts Swiney and starts to grind. (Note: This scene is a few years older, so Siri still has her massive tits to shove in his face.) Once he has the footage he needs, he puts the camera aside and she really gets going. Siri's energy is fantastic and those curves look great. She finishes on her knees looking right at him as she sucks his cock and works a big load all over her face and boobs. We never do switch to the handheld action in this cut of the scene, but it offers a unique view of the action and we still get to see plenty of the good stuff.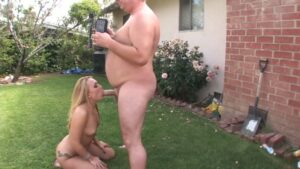 Cute, big booty legend and all around amazingly hot blonde AJ Applegate gets naked with Swiney in the backyard. They have already shot together and had so much fun that they just had to give it another go. That works out well for both of them since she loves sucking cock and he gets to shoot her epic ass while on the receiving end of some great head. The side angles are nice, especially when AJ gets on top and starts bucking her hips to ride his rocket. I do wish we could see some of that sweet POV footage Swiney is picking up while AJ works his meat with her mouth and pussy. AJ is quite vocal and when she rides a dick, she does it full speed while giving one hell of a hot show with her thick thighs and magnificence ass. The camera switches positions for the pop so that he can stand and feed her a big load for her pretty face. This is a hot scene and a great reminder that AJ Applegate is a fantastic performer.
Violet Monroe, Lisa Tiffian, Mia Rider, Kimberly Kane, Aiden Star, Adriana Nicole, Ava Delush, Kat Dior, Adriana Luna and Kaci Star also lend their beauty and talent for the hardcore fun on www.porkvendors.com
As of 11/2/2022 there are over 51 video updates on www.porkvendors.com> with new ones added approximately every five days. The updates are frequent and sorting by latest makes it easy to find new ones they come.
www.porkvendors.com is a great site for people who like watching regular guys with dad bods and big cocks fucking women of all shapes and sizes. There is some good star power here as well as a strong BBW appeal. Most of tall, it's solid smut with some fantastic POV footage from one of the best to ever do it.
COST: There are five membership options for
www.porkvendors.com including a lifetime membership.
-$9.95 1 Week Membership (Rebilled Weekly)
-$29.95 1 Month Membership (Rebilled Monthly)
-$69.95 2 Month Membership (Rebilled Bi-Annually)
-$119.88 1 Year Membership (Rebilled Monthly After a Year)
-$299.001 Lifetime Membership

OVERALL: 86 of 100.
Models: 17 of 20 (BBW Appeal & Star Power)
Quality of Content: 17 of 20 (Great POV Smut)
Quantity of Content: 16 of 20 (Frequent Updates, Bonus Catalog)
Ease of Use: 16 of 20 (Solid Site, Good Options)
Niche Appeal: 20 of 20 (Dad Bods, BBW, POV, Smut)