Dual Gripp (Reviewed by Vanessa Chase)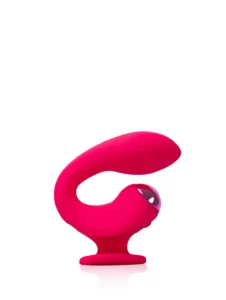 Overall Rating: A+
Reviewed by: Vanessa Chase (Visit her site at https://iamvanessachase.com/)
Type of Toy: Dual Vibrator
Price: $135.00
Manufacturer: Jimmy Jane
Purchase: www.JimmyJane.com
Material: Silicone+ABS
Color: Red
Size: 4.1″ long (3″ insertable) 3.8″ width
Best For:
Review:
Before I get started on the review, I'd like to thank, Roger T Pipe for sending me this awesome toy for review. I've had a great time testing it out, and it's so much fun having toys sent over to play with.
The Jimmy Jane Dual vibrator is made of sleek-silicone, it has a convenient magnetic charger, it's waterproof, and it has several different vibrating functions. It has a perfectly comfortable curve that stimulates both the clit, and the g-spot with ease.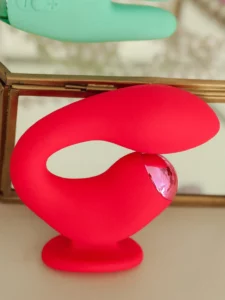 I was really excited when this toy arrived, and I immediately went to "work" testing it out. I found that the g spot stimulator easily curved up inside of me, and it did a spot on (so to speak) job of titillating both my g-spot and my clit at the same time. The motor was strong and intense, but not so intense to cause me to come too quickly, like some other vibes that I have tried in the past. I found that I had plenty of time to really savor the sensations, and let things build naturally. I like to take my time and really feel it before I come. The curved design fit perfectly in my pussy, so I didn't have to waste any effort keeping it inside, so both zones were easily, and effectively pleasured with just one hand. The designer(s) obviously put a lot of thought into this toy.
The orgasm that results from both the g-spot, and clit is intense and warming , and it's way more complex and satisfying than just a clitoral vibrator. I also really like the size of it. I have a dainty and petite pussy, and the smaller size of the g spot stimulator was just right for me. I also enjoyed the fact that the motor ran so quietly. Back in my days in the adult business, vibrators were often loud and clunky, and the discreetness and quietness of this vibe is perfect for me. I mean, we're living in a society, right?
There was only one downside (for me) and the same goes for most modern vibes. That is the fact that I can only handle a constant vibration. The other vibrational settings tend to be too intense and abrupt. More like, say, a power tool, or a jack hammer, or a heavy metal guitar riff. Save for that, this vibe was a perfect for me, and I fully recommend it to all.
Batteries Needed: None (Rechargeable)
Clean Up: Antibacterial cleaner, dry cloth.
Reviewed by: Vanessa Chase (Visit her site at https://iamvanessachase.com/)