Sensation Lubricant (Reviewed by Happy Loving Couple)
Overall Rating: A
Type of Toy: Lube
Bottom Line:
Price: $28.00 at www.jimmyjane.com/
Manufacturer: Jimmy Jane
Purchase: www.JimmyJane.com
Material: Water Based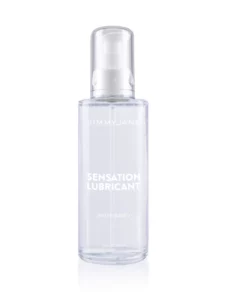 This four ounce bottle of lube checked all the boxes for us. First of all, it is water-based and long lasting. Few things are as frustrating as having to constantly re-apply lube, especially when products like this are available. It worked well with toys and has the kind of staying power we enjoy. For these reasons alone, we already had this one in the highly recommended category.
Now for the tingling sensation aspect of this product. This formula is designed to provide a slight sensation to add to the fun. We found that to really get the feeling, we had to use more of the lube than was necessary for other activities. This was true when we used it individually as well as together. She found that with enough lube in the right places it was a very nice solo play enhancement. Overall we found this to be a nice bonus to a lube that already had us pleased with the results.
Very good lube that provides long-lasting, non-sticky pleasure.
Best For: Long lasting solo or couples play.
Review:
Batteries Needed: None
Clean Up: Antibacterial cleaner, dry cloth.