Mini Chroma Personal Massager (Reviewed by Happy Loving Couple)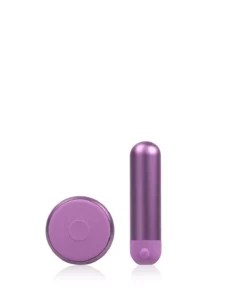 Overall Rating: A+
Type of Toy: Bullet Vibrator
Bottom Line:
Price: $135.00
Manufacturer: Jimmy Jane
Purchase: www.JimmyJane.com
Material: Aluminum & Silicone
Color: Purple (Also comes in Teal)
Size: 3″ long, ¾" diameter
Best For: Discreet play with Powerful and Variable Vibration
Review: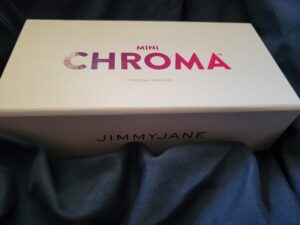 Straight off, this toy is exactly what we are looking for. Small, easy to use but powerful vibrators like this are a huge favorite in our bedroom. We have used a number of these toys over the years and The Mini Chroma from Jimmy Jane is one of the best such toys we have ever used. It is a great looking toy with easy controls, numerous options and plenty of power.
The main bullet portion of the toy is small, but packs a lot of power. It is nicely designed with quality materials and a lot of options. There are two power/mod controls, one on the bullet itself and the other on a small disc shaped remote control. The latter is perfect for use during couples-play or if things are just a little too slick down in the action zone. The Mini Chroma offers seven different vibration patterns and three intensity levels. That is a lot of options so whatever your favorite speed and rhythm, you will find it here.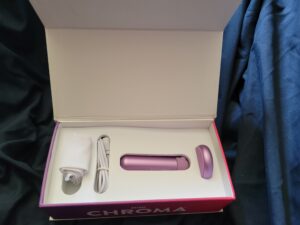 One of the things we find so annoying about most small bullets is the constant worry that the battery might need to be changed. The Mini Chroma solves that with a rechargeable battery with a magnetic charger for both the bullet and the remote. Very convenient and we really like this design feature. It also comes with a bag for convenient storage.
In use, the Mini Chroma is powerful and well designed. The rechargeable battery lasts a long time. They say an hour and that seems to be about right. It lasted us a few sessions and kept going strong. It is also waterproof and perfect for shower play. It is a fantastic toy for solo use with a nice design and very powerful options. The remote control adds a perfect way for it to be enjoyed during couples play. (Huge upgrade from our old favorite the Pocket Rocket)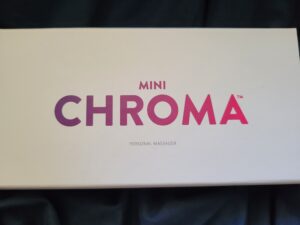 The toy offers easy clean up and storage, convenient charging and a number of powerful options. It checks all the boxes for what we are looking for in a small toy with powerful vibration.
The Mini Chroma gets the highest possible marks from us as a couple (and from her as a solo user) for being a great looking, reliable, versatile and highly powerful toy. Fantastic for beginners who need a powerful jolt of vibration at just the right spots. It is a little pricey compared to lower end bullet vibes, but VERY much worth the price for the quality offered. We look forward to trying some of their other toys. If they are half as good as this one, good times are assured for all.
Batteries Needed: None (Rechargeable)
Clean Up: Antibacterial cleaner, dry cloth.