EvilAngel.com

SYNOPSIS:
How does one go about reviewing a site for arguably the greatest adult entertainment studio in the history of all things smutty? I have little doubt that nearly everyone reading this is aware of Evil Angel and their impact on porn as we have experienced it for the past three decades. The impact of this studio and its unprecedented collection is impossible to overstate. But before I manage to cram enough hyperbole into this review to do just that, let's move past their history and tell you what you want to know. How good is their website?
How good is www.EvilAngel.com? Well we can start with the fact that is home to some of the best directors in the business. When you start with that as the foundation, you are bound to end up with a very impressive library of material. Those great directors have helped attract the biggest, hottest, brightest and nastiest stars in XXX from the past three decades. The combination of great directors and big stars has led Evil Angel to have plenty of huge hit movies and popular series. They have also led the way in a number of ground-breaking aspects to adult filmmaking that are now staples of the industry. Legendary directors, check, hot stars, check, innovative and hot smut, check and check. Looks like all the boxes are checked so let's take a look at just how good www.EvilAngel.com is.

SITE BREAKDOWN
From the main page of www.EvilAngel.com you have access to one of the biggest XXX libraries on the web.
Accessing the content is fairly easy from the main page. There is a large rotating banner pointing you towards some of their newest and biggest projects. Beneath that are rows of newest content, upcoming releases and others focused on featured content. You can add your favorites, brows popular pornstars and specific types of updates. (DP, Anal, TS for example.)
There is also a toolbar at the top that makes it really easy to go exactly where you want to be.
You can seach by scenes, movies, channels, pornstars, photo sets, live shows and more. Of course there is also a good old fashioned search box if you want to get exactly what (or who) you are looking for. No matter which of these options you choose, there is even more precise tool bar along the left side. Since www.EvilAngel.com features straight, trans, bi and other flavors of action, there are options to hide certain types of scenes are only show those. This feature will come in handy if you are into exclusively one type of porn all the time or even if you just have some sexual mood swings that need tending to. Once you have that set, you can also choose your scene/movie based on director, series, category, pornstar, scene quality or scene length. When dealing with such a huge library, this sort of detailed search feature is a highly effective feature and a big bonus for the overall ease of use for the site.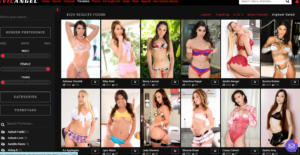 As of 3/6/2022 there are over 17,300 scenes on www.EvilAngel.com. Yes, this is a tremendous amount of smut and will keep you happily watching (and stroking) for the foreseeable future. They are currently adding a new scene every day so you can literally pop back in, check out something new and never even use the amazing back catalog.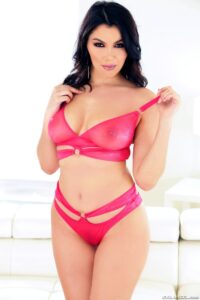 If you choose to search by Movies, there are over 2,900 of those to choose from. You have the same options to refine your search and this is where the director and series option comes in very handy. With some of the best directors in this history of XXX on their roster, everyone is bound to have a favorite. (Can you ever go wrong with John Stagliano, Dana Vespoli or Jonni Darkko?)
The Channels option offers some interesting choices. Some are just extensions of the search, but there is also a chanel made up of member compilations that is pretty cool. Just another way to search for the exact smut to make your day.
Evil Angel live takes you to a white label came model selection. If you decide that the more interactive approach is more your speed. The rest of the toolbar lets you pick by pornstar, check out the VOD/DVD/Toy store. There is also Evil Angel apparel for those of you who want to rock the brand any time you like.
Once you have chosen a scene or movie to your liking, the on-screen navigation is solid with lots of options. You first choose to watch the scene or a trailer (when available) and can stream it right from that screen. You get a whole list of recommended videos off to the right if you change your mind. You may stream the scene or save it for later. Downloads are available in a number of different sizes. Newer scenes range from 160p to 2160p so you can choose your quality. Of course you can save it on your computer or mark it for later viewing.
With such a huge catalog to choose from, it is really nice to see a site that offers multiple options to search for what you want and then enjoy the very best smut the industry has to offer.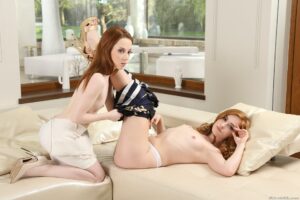 The most recent updates on www.EvilAngel.com include a threesome with Lotte Magna & Jia Lissa, a pair of trans scenes featuring Natalie Mars making fists disappear into asses, Mick Blue banging Victoria Voxxx and giving Leda Lotharia some POV dick and a bit of trans solo stroking from Ashley Angel. This kind of variety is what happens when you have so many titles to choose from and it keeps every week fresh and gives you plenty to choose from.
With over 3100 movies to choose from I had a little fun sorting by director to find out which titles were the most popular from my favorite directors. For John Stagloani is't Fashionistas: Safado, for Dana Vespoli My Evil Stepmom Fucked My Ass 1-3 dominated the top of the list, Jonni Darkko's Ardriana Chechik stars showcase Ultimate Slut, John Leslie's Naomi, There's Only One and so on down the list. Great titles all.
You can do the same thing with pornstars and as of today the top five highest rated stars on www.EvilAngel.com are, in reverse order Abella Danger, Valentina Nappi, Remy LaCroix, Riley Ried and Adriana Chechik. If you have a favorite XXX star from the past 20 years, chances are you will find them here. (Example, did you remember that Tera Patrick shot a B/G for a Joey Silvera flick?)
No matter what kind of porn you are looking for, you are going to find it on www.EvilAngel.com. You will find a lot of it and chances are, you will find some of the very best of whatever turns you on in their huge collection of the best smut in the XXX world.
COST: There are three membership options for
www.EvilAngel.com and special trial membership available.


-$2.95 3 Day Streaming Only Trial (No Downloads)

-$24.95 30 Day Membership (Streaming Only)

-$39.95 30 Day Membership (Streaming & Downloads)

-$131.40 One Year Membership ($10.95/Month Streaming & Downloads))
OVERALL: 100 of 100.
Models: 20 of 20 (Biggest Stars in the Industry)
Quality of Content: 20 of 20 (The best of the Best)
Quantity of Content: 20 of 20 (Frequent Updates, Tons of Older Content)
Ease of Use: 20 of 20 (Simple to Use, Good Download Options)
Niche Appeal: 20 of 20 (Specific Series, Something for Everyone)
www.EvilAngel.com and special trial membership available .