Podcast: 2022 AVN Awards Part 8: Best New Starlet, Male Performer of the Year, Best Star Showcase, MILF Performer of the Year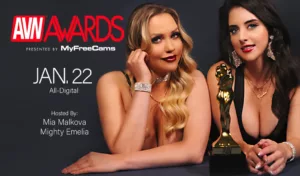 2022 AVN Awards Podcast Series Episode Eight: In the second to last pre-award show podcast, we tackle five of the biggest awards of the year. Best New Starlet where the future fantasy girls try out their fap-legend skills. Best Star Showcase where the biggest stars in the biz break out and give us DVD collectors some great stuff for the shelf. (Hello Influence: Emaily Willis, Jia, Ultimate Fuck Toy Gabbie Carter and a trio of Jonni Darkko titles.) Best Lesbian Performer which should be renamed to Best Lesbian Performer not named Charlotte Stokely, Male Performer of the Year where the competition is as as stiff as the cocks and finally Best MILF Performer
2021 AVN Awards Podcast Series Episode Eight: Second to the last pre-awards podcast. Winding down to the end and covering some of the really big categories. Best New Starlet, Best Star Showcase, Lesbian Performer of the Year, Male Performer of the Year, MILF Performer of the Year
2021 AVN Awards Podcast Series Episode Seven: Best Virtual Reality Sex Scene, Clever Title of the Year, Best International Female Performer, Best International Male Performer, Best Director, Mark Stone Best Comedy, Most Outrageous Sex Scene, Niche Performer of the Year.
2021 AVN Awards Podcast Series Episode Six: Best Supporting Actor, Best Supporting Actress, Best Taboo Relations Movie, BestTag-Team Sex Scene, Best Three-Way Sex, Best Thespian Trans/X, Best Trans Group Scene, Best Trans One on One Sex Scene, Best Trans Movie, Best Trans Newcomer & Best Trans Series.
2021 AVN Awards Podcast Series Episode Five: Best Niche Movie, Best Niche Series/Chanel, Best Non-Sex Performance, Best Oral Sex Scene, Best Oral Sex Series, Best POV Sex Scene, Best Screenplay, Best Screenplay- Featurette, Best Solo/Tease Performance, Best Soundtrack.
2021 AVN Awards Podcast Series Episode Four: Best Leading Actor, Best Leading Actress, Best Lesbian Movie, Best Lesbian Series, Best MAle Newcomer, Best Milf Movie, Best International Starlet, Best New Production Banner. Also, we get some feedback as listeners chime in with questions about AEE shows, Screener DVDs, the quality of adult movies today and the Angela White Drinking Game.
2021 AVN Awards Podcast Series Episode Three: Best Foursome/Orgy Sex Scene, Best Gangbang, Best Girl/Girl Sex Scene, Best Gonzo Movie, Best Gonzo Series, Best Group Sex Movie, Best Ingenue Movie, Best Ingenue Series, Best International Boy/Girl Sex Scene, Best International Production.
2021 AVN Awards Podcast Series Episode Two: Best BDSM Movie, Best Blowbang, Best Boy/Girl Sex Scene, Best DP Scene, Best Curve Appeal Movie, Best Directing Banner, Best Director Narrative Production, Best Director Non-Narrative Production, Best Editing, Best Featurette.
2021 AVN Awards Podcast Series Episode One: Introduction to this year's series with a lightly cut down format. Grand Reel, Best Actor/Actress Featurette, Best Anal Movie/Limited Release, Best Anal Series/Channel, Best Anal Sex Scene, Best Art Direction
Podcast sponsorships are available. Email me (Rog@rogreviews.com) for details. Full year for all podcasts including the AVN Awards Nominations series and all of 2022 are just $100. Half of any money from the site this year is going to the Walk for Alzheimer's in honor of my mother.
Your feedback is welcome, appreciated and will help shape future volumes. Send your comments, questions or suggestions to rog@rogreviews.com or send them on Twitter @RogerTPipe.
As always, we openly welcome any eye candy from performers/directors. Pictures, video clips, "thank you for the nomination" messages, fan signs etc will be included in future Podcast updates, a special gallery and we will talk about you a whole bunch in all future Podcasts.