Podcast: 2022 AVN Awards Part 4: Best Lead Actor, Best Lead Actress, Best Lesbian Move, Best Make Newcomer & Lots of Feedback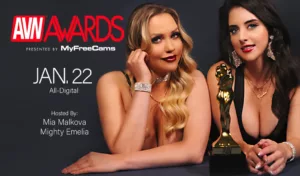 2022 AVN Awards Podcast Series Episode Four: We start with Best Leading Actor and Actress which pits two of the best in the business, Tommy Pistol and Maitland Ward against the rest of the field. Will this one go to the favorites or will someone step and take it from the top dogs? The ladies take over with Best Lesbian Group Scene, Best Lesbian Movie and Best Lesbian Series. (That's a lot of lesbians.) We also cover Best Make Up, Best Male Newcomer and Best International Starlet. Best Milf Movie, Best Milf Series and Best New Production Banner wrap things up before we get to the reader feedback. Got some great questions from listeners. Is this year's collection a disappointment? When was the last time I went to an AVN Awards? Why don't I play the Angela White Drinking game? And why screener DVDs matter. Thank you guys. Keep them coming.
2021 AVN Awards Podcast Series Episode Four: Best Leading Actor, Best Leading Actress, Best Lesbian Movie, Best Lesbian Series, Best MAle Newcomer, Best Milf Movie, Best International Starlet, Best New Production Banner. Also, we get some feedback as listeners chime in with questions about AEE shows, Screener DVDs, the quality of adult movies today and the Angela White Drinking Game.
2021 AVN Awards Podcast Series Episode Three: Best Foursome/Orgy Sex Scene, Best Gangbang, Best Girl/Girl Sex Scene, Best Gonzo Movie, Best Gonzo Series, Best Group Sex Movie, Best Ingenue Movie, Best Ingenue Series, Best International Boy/Girl Sex Scene, Best International Production.
2021 AVN Awards Podcast Series Episode Two: Best BDSM Movie, Best Blowbang, Best Boy/Girl Sex Scene, Best DP Scene, Best Curve Appeal Movie, Best Directing Banner, Best Director Narrative Production, Best Director Non-Narrative Production, Best Editing, Best Featurette.
2021 AVN Awards Podcast Series Episode One: Introduction to this year's series with a lightly cut down format. Grand Reel, Best Actor/Actress Featurette, Best Anal Movie/Limited Release, Best Anal Series/Channel, Best Anal Sex Scene, Best Art Direction
Podcast sponsorships are available. Email me (Rog@rogreviews.com) for details. Full year for all podcasts including the AVN Awards Nominations series and all of 2022 are just $100. Half of any money from the site this year is going to the Walk for Alzheimer's in honor of my mother.
Your feedback is welcome, appreciated and will help shape future volumes. Send your comments, questions or suggestions to rog@rogreviews.com or send them on Twitter @RogerTPipe.
As always, we openly welcome any eye candy from performers/directors. Pictures, video clips, "thank you for the nomination" messages, fan signs etc will be included in future Podcast updates, a special gallery and we will talk about you a whole bunch in all future Podcasts.