Podcast: 2022 AVN Awards Part 2: Best Blowbang, Best Directors, Best Featurette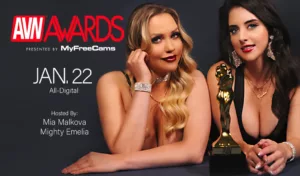 2022 AVN Awards Podcast Series Episode Two: We cover a lot of ground in this episode, starting with Best BDSM Movie which always begs the question, how hard to you have to fetish to get into this category and how soft do you have to go to win it? In between we cover the director awards for Banner, International Production and both Narrative and Non-Narrative Project. Also on the table are hardcore favorites including Best Blowbang Scene (Lacy Lennon is tough to beat) and Best DP Scene (Angela White, need I say more?) Best Editing and Best Featurette (Black Widow XXX is the favorite, but look at Spark as a darkhorse. Send in that feedback and ask your questions. I'll try to get to them in the next episode.
2021 AVN Awards Podcast Series Episode Two: Best BDSM Movie, Best Blowbang, Best Boy/Girl Sex Scene, Best DP Scene, Best Curve Appeal Movie, Best Directing Banner, Best Director Narrative Production, Best Director Non-Narrative Production, Best Editing, Best Featurette.
2021 AVN Awards Podcast Series Episode One: Introduction to this year's series with a lightly cut down format. Grand Reel, Best Actor/Actress Featurette, Best Anal Movie/Limited Release, Best Anal Series/Channel, Best Anal Sex Scene, Best Art Direction
Podcast sponsorships are available. Email me (Rog@rogreviews.com) for details. Full year for all podcasts including the AVN Awards Nominations series and all of 2021 are just $100. Half of any money from the site this year is going to the Walk for Alzheimer's in honor of my mother.
Your feedback is welcome, appreciated and will help shape future volumes. Send your comments, questions or suggestions to rog@rogreviews.com or send them on Twitter @RogerTPipe.
As always, we openly welcome any eye candy from performers/directors. Pictures, video clips, "thank you for the nomination" messages, fan signs etc will be included in future Podcast updates, a special gallery and we will talk about you a whole bunch in all future Podcasts.