Bang.com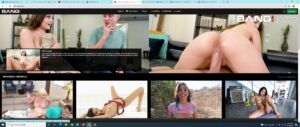 SYNOPSIS: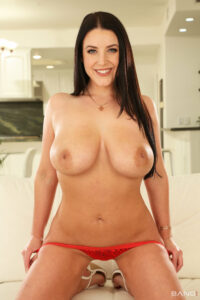 Welcome to www.Bang.com, a site that features original adult series, classic smut and everything in between. With frequent new updates and a huge catalog, it is the kind of site you can spend weeks or months exploring and still find something you haven't seen before. They have a dozen original lines that all cater to specific themes and fetishes. Additionally, the have 25 channels with thousands of videos from porn flicks and sites stretching back more than a decade. The originals, channels and catalog cover virtually every type of porn you could hope for, so this site doesn't confine itself to a particular audience. In short, this is a site that offers (Forgive me dear readers) plenty of BANG for your buck.
SITE BREAKDOWN
From the main page of www.Bang.com it is pretty easy to check out what they have. The toolbar at the top makes it super easy, but you may be distracted by all the good stuff they display the second you open the page. As you move further down the main page it takes on the usual tube-style layout with lots of screen shots from dozens of different updates from all of their channels.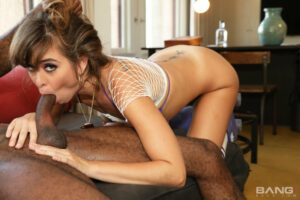 As if 11/29/21 there are over 137,000 individual scenes updated to www.Bang.com. Yep, you read that right. Doing the math, if the scenes average fifteen minutes, that means you could watch them back to back for nearly four years straight before you ran out of new smut.
With so many videos available, you would expect there to be a lot of updates. And there are. Even if you just count their originals, we are looking at almost daily new additions to the huge catalog of XXX action.
There are a dozen original lines on the site including Roadside XXX, Trickery, Real Teens, Rammed, Screw the Cops, Real MILFs, Glamkore and others. They cover a number of different genres ranging from simple interview/fuck scenes to full on role play featuring teens, MILFs, cops, Euro Babes, starving models and many others.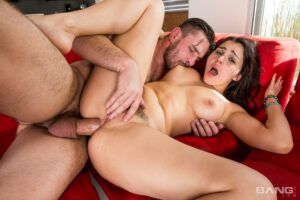 www.Bang.com includes dozens of channels with thousands of non-exclusive scenes covering a variety of niches. There is literally something for everyone with channels dedicated to big boobs, MILFs, Uncensord JAV scenes, Public Sex, Massage, Bi-Sex, Trans Sex, Big Asses, Lesbian Sex, Interracial Sex and many more.
The main page layout is easy to use and uses large screen shots to capture your attention. The basic tube-style format makes it easy to pick out a scene that looks like fun from the main page. If you want a little more control. The toolbar at the top separates out the Originals and Channels as well as offering a search feature and a pornstar option to pick out your favorites.
Individual update pages offer one click video streaming options as well as multi-quality video downloads including 1080 and 2160p for high end viewing. Photo galleries are also available to view and in zip format for downloads. Some of the older updates have different video quality options, but all are available for download or streaming.
On screen options such as Like, Add to Collection, Download Later and a number of helpful theme tags make it easy to pick what you like and save it to your collection. The viewing screen is good sized (With a full screen option) and has some screen shots as well as related videos and scene tags conveniently displayed. Scenes also have chapter breaks if you want to move to specific sections.
The most recent updates on www.Bang.com feature sexy starlets like Aften Opal, Emilly Willis, Kate Dee, Zerella Skies and Yumi Sin. These are in the originals category and cover a number of different subjects. It is tempting to start scanning through the huge back catalog, but let's stay focused on the new releases for now.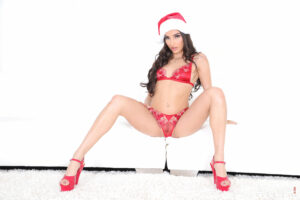 Emily Willis takes on two dicks in the latest update from the Rammed series. (Give you two guesses where this one is going to go.) She starts out with some tease in a little monokini that is easy to maneuver out of the way to show off her hot body. It takes no time at all for her nipples to her perk up as she pinches them. Her ass understandably gets a lot of screen time in what amounts to a pretty fantastic round of tease. When the teasing stops she lets them paw at her ass and tits before dropping to her knees to please them with her mouth. Emily has a gorgeous face and she seems to love gagging on dick and sucking balls until things get nice and messy. They get her on all fours for a dick in the pussy and another to keep her mouth busy. The shots of her ass from behind are fantastic and we still get awesome eye contact as she gives world-class head. Taking every inch of dick is all this cutie can think about and she makes them disappear beautifully. The guys do a good job of dishing out the cock and staying out of the way so we can enjoy the sight of her hot body while she does her thing. Emily gets on her knees and takes both loads on her pretty face. This is the kind of nicely-shot, hot scenes that make this scene so enjoyable.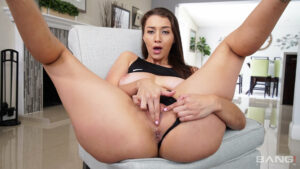 Another recent update stars beautiful Bella Rolland from their Surprise line. Bella shoots an audition video with a very specific request. She wants the biggest dick they can find. Demonstrating on a toy, she shows the kind of cock she doesn't want. In fact, she can't even feel this one. Her request video hits all the right nerves and they show up with Damian ready to rock her world with his monster dong. They give her a shirt to change into and she launches into a vigorous finger fuck as she talks dirty. When they finally let him join her, she gives a wonderfully over the top reaction. Face to face with the dick she wanted, she hungrily pushes him to the back of her throat, gagging for her efforts. The blowjob is fantastic and Bella makes every second hot with her insane energy and gorgeous eyes. After eating that dick like a cock-starved hose monster, she climbs on top and works her hips. Now it's time to watch that big round ass in action as Bella bounces and rocks on his rod. When she turns around, the shots of her long legs and bouncing breasts are great, but her expression really pushes this one over the top. She loves his big dick and isn't afraid to show it. He flips her over to give us some POV shots of the doggy. She begs for his load and then wears it proudly on her face. Lots of heat in this scene.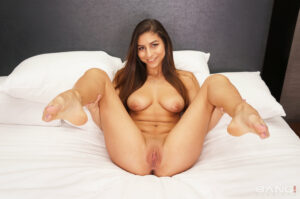 The highest-rated scene on www.Bang.com features cute teen hottie Nina North. The twenty year old brunette shows up for an outdoor, public interview in regular clothes. She looks super cute and is nervous about what they are about to do. With no bra or panties on, she gives little flashes as she talks. Moving to the room, the interview continues with Nina telling us all about how much she loves sex and masturbation. Breaking out a vibrator, Nina spreads her legs and works it deep into her tight young pussy. The solo play is quite sexy, but she looks even better when they move to POV blowjob fun. She sucks dick nicely, using no hands at first to let the camera catch her pretty face as she does her best to please him. Leaning back on the bed, she throws a leg on his shoulder and rubs her clit while he pumps in and out. Holding the camera overhead while he fucks her, dude gets some pretty nice shots of the pentation. They finish up with a cumshot right in her mouth shot as a profile and then replayed from the POV angle. This is a nice looking, low-impact fuck that allows the pretty young performer to show off her body and shine as a pretty solid new girl.
COST: There are three membership options for
www.Bang.com


-$3.95 2 Day Trial Membership (Rebills Weekly)

-$29.95 30 Day Membership

-$96.00 One Year Membership ($8.00/Month)
OVERALL: 83 of 100.
Models: 18 of 20 (Plenty of new girls & and all stars from the past)
Quality of Content: 17 of 20 (Well shot, Nice Variety)
Quantity of Content: 20 of 20 (Frequent Updates, Tons of Older Content)
Ease of Use: 17 of 20 (Simple to Use, Good Download Options)
Niche Appeal: 17 of 20 (Specific Series, Good Variety in Catalog)