Ainslee Divine Interview
Thanks for doing this Ainslee. First off, where can people see your work and follow you?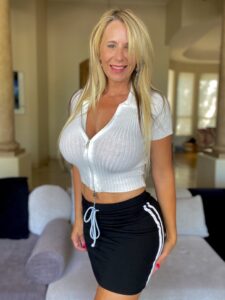 You can find all my links at ainsleedivine.com! My twitter is https://twitter.com/ainslee_divine and my IG is https://www.instagram.com/chasingainslee/.
Given OnlyFans recent decision to at least consider banning adult content, do you think there will be a mass shift to another service like OF?
I think they were wise to re-think their position, however I would always say that having all of your eggs in one basket is never a good idea!  The more eyes that can see you is always better in my book!
How did you come to adult entertainment?
I lost a bunch of weight and was feeling great about myself in my early 40s so I opened an IG account under a pseudo name and it blew up!  I had so many things being thrown at me and didn't know what to do next but I got lucky and connected with an amazing producer for solo websites.  While in the process of getting that website set up, he recommended that I look into web camming and on October 4, 2016 I went live for the first time and haven't looked back!
A lot of women get into the adult business at a young age. You waited. How do you think that helped you as a performer?
Oh my goodness I think it helped me tremendously! I have owned my own business and have actual life experience at my age. Being business-oriented only helps me in this industry!
You only do solo and girl/girl. Why do you focus on those types of shows/clips and how does that relate to your success?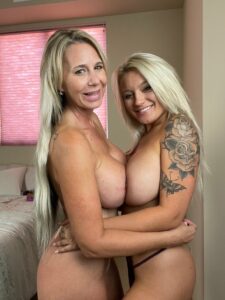 Honestly when I got started in the industry I was a solo model only.  That was the decision that I made with my husband.  As I progressed as a performer I slowly added girl/girl content into my business plan and it has been very lucrative for me.  I have no doubt that I would be even more successful if I added boy/girl content but at this point it isn't anything I'm looking to do. Never say never I guess tho, but for now I'm very happy where I'm at.
What do you find most attractive in another woman? 
I really find a beautiful smile is what gets me every time!
You also do cam shows. How different is it for you interacting live vs shooting something to be watched later?
Live shows are amazing!  Being able to provide immediate gratification is such a rush and gets me all worked up too.  It is very specific to each person so I can make it very personal.  Obviously videos that I film are done for the masses so they are more generic but still just as fun to do!
You won the XBiz Award for MILF Cam Performer of the Year in 2020. What do you think makes for a great cam performer?
They are there for an experience so the more you listen to what they actually want the better the experience will be for them.  I feel that I am great at making dreams come true!
Have you seen a change in cam traffic/behavior since the start of the Covid crisis?
Traffic-wise with customers I haven't really seen much difference.  I'm an established model on my site so my placement puts me in the top spot most of the time.  What I have seen change is the number of models on at any given time.  It used to be a really busy day there would be 2,800-3,000 models online.  Those are the slow day numbers now!  It's pretty rare to ever see under 3,000 models on at anytime I log on. 
The MILF genre is very popular in mainstream porn, do you think that translates to clips and cams as well?
Oh absolutely it does!  Mature in general is huge across all platforms within the adult industry.
You are also extremely fit. How do you say in such great shape?
Thanks so much!  I try and stay active and watch what I eat as best I can.  It's not easy at my age and is a constant battle for sure but it's my business so I have to take it seriously!
What does a typical workout for you look like?
I don't really have a typical workout to be honest.  I like to mix it up often and make it fun!  Looking for some form of cardio with some strength training or core work.  During the pandemic with gyms being closed I focused on working out from home and have just continued that now. It makes for no excuses that's for sure!
What part of your body is the favorite among your fans?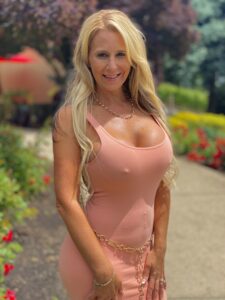 That's a hard call between my tits and my ass. I've got whatever they need!
When you aren't performing or at the gym, what do you like to do?
I love golf, hiking, laying by the pool with a good book, shopping, traveling, going for car rides and hanging out with my husband and French Bulldog Paige!
What advice would you have for someone just starting out in adult entertainment?
There are so many things to share!  The most important thing is to know that this is still a business and you should set everything up that way.  Form a company, set up a business bank account, etc.  Further, one of my biggest pieces of advice would be to have reasonable expectations and time lines.  You don't make it overnight.  It's a lot of hard work and pushing thru the tough times.  You have to be willing to put in the time and effort to see the reward at the end!
How about for cam fans? What is the best piece of advice you could give to those who want a great experience?
The show is live and the model is there to make it the best experience for them.  Giving the model as much information as they can about what they are looking for so we aren't having to guess what they want!  In the end we just want to please them and do exactly what they want to make them explode!
What is the strangest request you ever got during a cam show?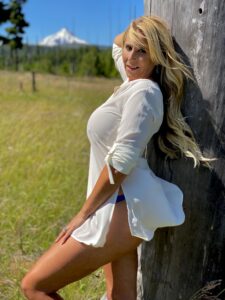 I'm not so sure about the strangest request but probably my most memorable cam show was a guy that after we completed the show wanted to show me his appreciation for an amazing show.  His web cam was on so I could see him and he walked outside on his balcony, grabbed a bottle of alcohol and poured it all over his chest and then lit himself on fire!  I was completely shocked and was yelling at him to put it out.  He finally did, said thanks for the great show and ended the stream.  My jaw was on the ground :)
If you could go back and talk to 19 year old you, what would you tell her?
Oh my goodness where do you start??  I think the one thing that I would stress would be to love yourself and know that you are beautiful.  Having confidence and loving your body is so important to establish at a young age to carry through your life.  When I was younger it wasn't something that was preached to young girls and it should have been! 
 
What does the future hold for you? 
I've always got several irons in the fire that I'm working on!  Nothing too set in stone that I can share at this point but just know that I'm always working on lots of stuff behind the scenes.  I'll continue to focus on cam and Onlyfans content for now but who knows what is around the corner for the naughty MILF!!!
Thank you Ainslee…..
Check out Ainslee's work at ainsleedivine.com! My twitter is 
Follow her on Twitter @ainslee_divine
And on IG @chasingainslee/.