How To Be A Better Lover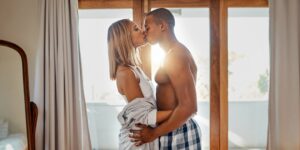 When both parties enjoy sex, the entire act will be gratifying and enjoyable. It might even be more than that, and it should be something that everyone has a good time with. The issue is that many people are so concerned with ensuring that they are doing 'well' in bed that they neglect to enjoy themselves or even to ensure that their partner is having a nice time. However, you can use several simple methods to improve your love life that do not entail learning (many) new positions or dressing up (unless that works for you). Read on to find out more.
Make Sure You Smell Good
Although our natural pheromones attract others, it doesn't mean you should rely on them and let your body odor become overwhelming. Someone who is clean and neat, who washes on a regular basis, and who wears deodorant is always preferable. If you insist on missing out on a shower and jumping right into bed after a hard day at work and then hope that your partner will want to have sex with you, you might be disappointed. Take the extra time to get clean and smell good, and the difference will be impressive.
Communicate
Talking to your spouse has more power than you may realize. It might feel awkward at first, but talking about sex, learning what your lover wants from you, and telling them what you enjoy in bed can go a long way toward ensuring that your lovemaking is not just good, but amazing.
Don't Pile On The Pressure
If your spouse feels as though they have to sleep with you, they will not enjoy it as much as they might otherwise do. Even if they really want to make love, forcing them to attempt a position they aren't interested in, for example, can kill the mood considerably and instantly. So make sure you're doing activities that both of you want to do. When you want to try anything new, tell them about it first to see how they respond.
Maintain Your Fitness Level
Although appearance and body aren't everything in a relationship, being as fit and healthy as possible means that sex will be a lot more enjoyable. Your endurance will improve, you will be less out of breath, and you will be more flexible. Eating the proper meals and exercising on a regular basis are both excellent methods to get your fitness program off to a good start, as does decreasing your alcohol consumption and totally stopping smoking.
Get The Fundamentals Right
It doesn't have to be difficult to have good sex. Before you attempt anything new, make sure you understand the fundamentals and can locate the erogenous zones in easy positions. If this necessitates some study, go for it – there are lots of publications and websites that will provide you with information on how to ensure you've got everything just right. Or, if you want to try something new and exciting, you could hire an escort from Playgirls to give you some tips.
Make The Time
It's not attractive to feel like an afterthought or as though you are just part of a routine. Although it is a good idea to plan sex (just to make sure it happens), try to make it seem spontaneous if at all possible. That way, you get the best of both worlds; you know you'll have ample time since you prepared ahead of time, yet you can also experience the thrill of the spontaneous act itself.