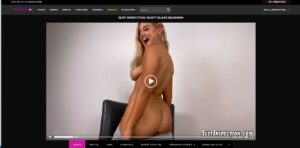 SYNOPSIS:
This is a site with a pretty simple premise. A husband and wife team (Dan and Suzanne Ferrari) shooting hot girls who come over to fuck Dan. It is a simple premise and a rather stripped-down and site. The updates do not feature elaborate locations or lengthy set ups. Instead it is straight-forward sucking and fucking with a nice collection of young women dropping by to get dicked down. They are no related to anyone, not looking for a job or to pawn off their Backstreet Boys memorabilia. They are just there to see if they can be proper porn sluts. We have seen this formula work for Mark Wood and Francesca Le for years and it certainly has a strong pro-am vibe to the action. Even with that feel, the performers are pretty and there are some recognizable names in the video updates.
SITE BREAKDOWN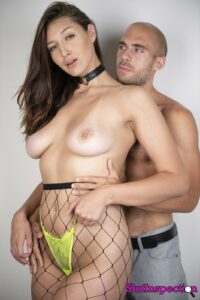 www.SlutInspection.com is a new site with the first update added a few months ago. (Their content goes back farther than that, but may take a while to be added to the newly designed site.) They are adding new updates at a very good rate (Nine last month and two a week since.) That gives you lots of new options and should grow the library quickly.
The main page layout is pretty simple. There is a toolbar at the top to jump immediately to Videos, Models, Photos or Categories.
Updates include video that streams at 720 or 480. Scenes can also be downloaded at 4K, 1080, 720 or 480. High quality photo galleries may be viewed or downloaded as zip files. There are also cap galleries to preview the action or download should you choose. The update pages provide basic information including model name, video run time and number of photos. There are also category tags and a user comment section for each update.
The toolbar makes it easy to go where you want, but there is also a way to customize it and sort by your favorite stars or themes.
Membership to www.SlutInspection.com also includes access to www.DTFSluts.com and www.TeenageAnalSluts.com. This adds a considerable amount of content to your membership and is a nice bonus while they keep adding to the main site. The style of these other sites also fits well so it should have similar appeal.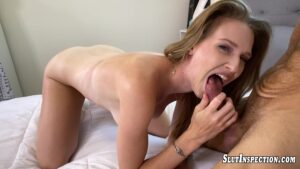 As if 5/12/21 the most recent update on www.SlutInspection.com features Ashley Lane who is very nervous as she is interviewed by Dan's wife. She giggles a lot and seems shy as he comes in and gives her nipples some attention. While he is using his mouth on her breasts, he slips her panties off to get down to the nitty gritty. Ashley gets down for a close look at his cock. Her smile towards the camera is very appealing and if you like girls who aren't afraid to get a little messy while giving head, Ashley is your girl. He turns her head upside down on the bed to see how she can handle some face fucking. No problem there so they move on. Ashley interacts with the camera while she spread her legs and lets Dan fuck her lean body. After a few slow strokes to get her going, he picks up speed and she seems to like that quite a bit. When she puts him back into her mouth, her eyes drift to the camera. It is the interaction with the camera that seems to make this scene stand out. There is some solid doggy with ass play before she gets on her knees and strokes him to a climax on her face. Ashley passed her inspection with flying colors.
The most popular scene on www.SlutInspection.com stars Brooklyn Gray who looks fantastic with her hair cut short. She discusses having sex with married men, being watched and just how much fun she has being a slut for an audience. Her slutty stories are quite interesting, but eventually Dan has to get into the mix so they get on with the banging. Brooklyn gets busy with her mouth, sucking him slowly until the couple challenge her deep throat skills. That sets things off as she works until every inch stays in her throat for a good long on-camera countdown. (25 seconds for those keeping score at home.) They work into 69 where she continues her oral assault on his meat. Brooklyn is ready to get on top and do some serious riding. To prove just how naughty she can be, she eats his ass, looking right into the camera with a satisfied look on her face. Brooklyn's interaction with the camera really pushes this scene over. She gets "Slut" written on her chest in lipstick and then goes back to earning that title. After getting thoroughly fucked, she kneels and begs for his load while sucking and stroking to completion on her face. She set out to prove that she was a good slut. Mission accomplished.
COST: There are three membership options and a trail offer for
www.SlutInspection.com

$1.00 2 Day Trial Memership

-$29.95 30 Day Membership

-$59.94 90 Day Membership

-$119.88 One Year Membership ($9.95/Month)
OVERALL: 92 of 100.
Models: 15 of 20 (Pretty, mostly newer models)
Quality of Content: 16 of 20 (Technically solid, hot.)
Quantity of Content: 15 of 20 (New Site, Frequent Updates)
Ease of Use: 17 of 20 (Simple to Use, Good Download Options)
Niche Appeal: 18 of 20 (Pro -Am Feel, Model/Camera Interaction)
Bonus: +1 (Access to 2 other sites).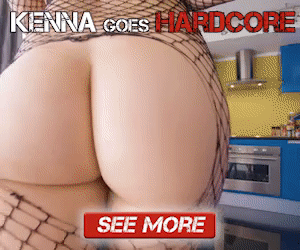 WEB SITE: www.SlutInspection.com
www.SlutInspection.com