Penthouse Calendar Girl Cyberskin Stroker: September Lindsay Marie (Reviewed by Roger T. Pipe)

Overall Rating: B+

Type of Toy: Handheld Stroker
Bottom Line: Portable and Pleasing.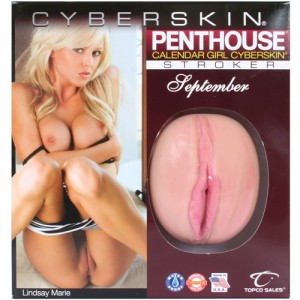 Price: $37.80 at DallasNovelty.com
Manufacturer: Topco Sales (www.TopcoToyz.com)
Size: 3″ wide, 3.75″ tall and 7″ deep.
Best For: Portable stroker with enough length for full insertion.
Review:
This pocket stroker from Topco is part of their Penthouse Calendar Girls line. Ms. September is Lindsay Marie. She looks super hot on the box and if this is what her pussy really looks like, then she has sexy looking girlie bits as well.
The toy has a realistic molded look on the outside with nice texture and nice outer lips. The 3 by 3 main unit is very solid, but the rest of the unit is built for convenience and it keeps the overall weight down nicely. Most of these types of toys run into one of two problems.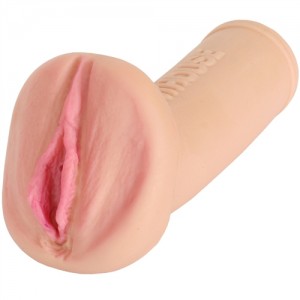 Either they are way too shallow for full strokes of over five inches or they are so heavy that they don't lend themselves to the portable experience. This one combines the best of both worlds as the main unit is sturdy and life like while the thrust-tube is long enough and light enough to be fantastic.
The tube is a full seven inches deep and ribbed with some serious texture. It is also thin enough to allow hand pressure to greatly affect the fit, customizing the experience alone or with a partner.
It is perfect for use with a friend who can control the pressure on the strokes. In addition to being long enough to allow for full strokes and textured enough to feel fantastic, the end of the tube also has a hole for easy cleaning. This also doubles as a bit of a vacuum. If you cover the hole, it creates quite a sensation.
Overall this is a great looking toy that is very portable and functional. It is nicely textured, very well designed and perfect for a little self love on the go. It folds up nicely for easy storage as or packing on trips. The hole at the end of the tube makes clean up really easy as well.
If you are looking for a light, portable toy that allows for a realistic feel and deep strokes, the Lindsay Marie Penthouse Cyberskin Stroker is a fantastic choice.
Batteries Needed: None)
Clean Up: Warm soapy water, toy sprays.