Flash Brown Black Cock Addiction (Reviewed by Naomi St. Claire)

www.FreeOnes.com: Free Ones, perhaps the best collection of galleries, video clips and other stuff on the web.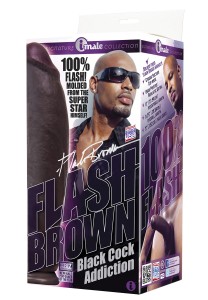 Overall Rating: A-

Type of Toy: Vibrating Dildo
Bottom Line: Realistic, Huge & Fun
Price: $80.00 at DallasNovelty.com
Manufacturer: Icon Brands (www.IconBrands.com)
Size: Full 11" Insertable length, 11.75" overall length, 3" thick shaft and balls
Best For: Size Play and Suction Cup Action for Riding and Doggy
Review: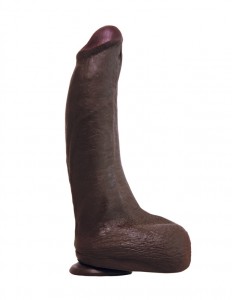 This toy is molded directly from adult performer Flash Brown and it is huge. It is a full eleven inches of insertable shaft that is very realistic and highly detailed. From the lifelike head and circumcision line to the hair follicles on big balls and long veins for that added tactile sensation. The details are fantastic.
It is also big, really big. The eleven inches is a serious haul even for very experienced users. Keep that in mind and make sure that you have plenty of your favorite lube handy. In theory this toy can handle water or silicone based lubes, but I always like to err on the side of caution and go with the water-based. No sense in letting you favorite toys fall apart. Once you have everything all lubed up, this bad boy is ready to go.
The suction cup is very solid and it sticks quite well to any hard, flat surface. The size makes it perfect for riding so sticking it to a hard floor works well. It also sticks nicely to the side of the shower for doggy fun.
If you are looking for a super sized toy that will give you hours of fun, the Flash Brown Black Cock Addiction vibe is a fantastic option. It is huge, sturdy and very realistic. I have not had the pleasure of working with Flash Brown, but if his toy is any indication then I would very much like to give the real thing a try.
Batteries Needed: 2 AA Batteries (Not Included)
Clean Up: Warm soapy water
Naomi's Clips Store at www.clips4sale.com/50469