Flash Brown Black Cock Addiction (Reviewed by Sally Sparrow)

Overall Rating: B+

Type of Toy: Dildo
Bottom Line: Definitely not for beginners, great for anyone looking for size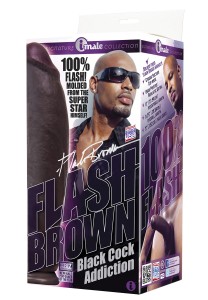 Price: $80.00 at DallasNovelty.com
Manufacturer: Icon Brands (www.IconBrands.com)
Size: Fucking Huge! Measurements are 11" Insertable length, 11.75" overall length, 3" thick shaft
Best For: Vaginal play and maybe VERY adventurous/experienced anal play
Review: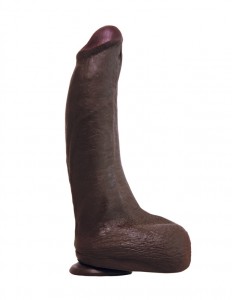 Holy crap this thing is huge! The way you think of God's as big! Yeah I saw the dimensions and thought I was easily up to the task of reviewing this bad boy. I have had my share of scenes with larger male talent, but DAYUM!
After trying out this toy, I have decided that I need to add a new section to all of my reviews. From this review forward, I will add a portion to my reviews recommending toys for various levels of experience. This toy is definitely not for beginners! If you pick it up for the size or the BBC fantasy, it is great for that, but just be aware that this is baby has some serious size and weight behind it. It is clearly designed for people who like the size or maybe the size fantasy. It is built for that. The Flash Brown Black Cock Addiction is perfect for anyone looking for something larger to really fill them up in length or girth. Size-queens, this thing is right up your alley(s)!
This toy is heavy, like 2 ½ pounds kind of heavy. Because of serious weight, it took me by surprise when the suction cup held its weight so well. I have found with other (much smaller) toys, that the suction cup is kind of worthless.) Feel free to use this bad boy in the shower, tub, on a table… pretty much anywhere you want to stick it, it will stay put (within regular suction cup boundaries…)
As far as the look and feel of the toy, it is quite impressive. The Flash Brown Black Cock Addiction is made from PVC and is very realistic with a pronounced head and has veins down the shaft. It is a realistic looking cock and perfect for anyone exploring the BBC fantasy. Obviously from the pictures, it's a dark brown and has a lighter brown head and is very realistic, looking pretty much just like Flash himself.
I would highly recommend using a water or silicone based lubricant with this one. That should go without saying with a toy of this size. Lube. Use it, love it. It also comes in handy because of the material used on this toy. There is a bit of drag when you drag it across your skin and the lube gets rid of that as well as help with ease of insertion.
Overall the Flash Brown Black Cock Addiction is a lifelike, exceptionally large toy. It is not for beginners, but is perfect for women, men or couples looking for something with a lot of size. It also works perfectly for those couples looking to explore the BBC fantasy. I haven't had the chance to work with Flash, but after playing with his toy about a dozen times I think I may be ready to give it a try.
Batteries Needed: None. ;)
Clean Up: Warm soapy water, toy sprays, it IS made from a porous material so if going from vaginal to anal or sharing with a partner, you should use a condom (it requires an XL condom)
Sally Sparrow's Clips Store: See Sally in Action. Coming soon, Sally Sparrow Takes on Flash Brown (Toy)
Follow Sally on Twitter at xoxSallySparrow