Name: Doc Johnson Water-proof Mighty Mini Brute


Reviewed by: Christina Noir (www.christinanoir.com)
Type of Toy: Water-proof Vibrator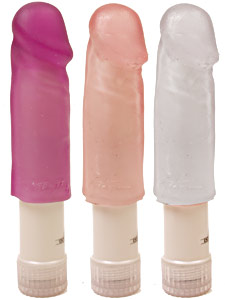 Bottom Line: Good starter toy, fun addition to a toy collection. Great for squirters since it's water-proof!!
Price: $8.99 at PEXXX.com
Size: 4″ jelly rubber sleeve over 6″ plastic vibrator
Material: Rubber, penis-shape covered plastic vibrator available in several color choices
Best For: Highly sensitive users and anal play
Review:
This is a cute little vibrator that, because of its compact size, would be good for traveling and great fun for anal play. It requires one AA battery, not very powerful, but does have variable speed control, which is nice. It's a fun toy for newbies and it's water-proof design is great for people like me who squirt and soak everything!
Weaknesses: Not big enough for me, but then again, I'm a size queen " lol!
Batteries Needed: Uses 1 AA battery (not included
Clean Up: Soap and water.
For more sex toys, visit: