New Calendar for 2011 Completed
DIGITAL PLAYGROUND PRESENTS THE CONTRACT STARS COLLECTOR'S EDITION 2011 CALENDAR
The Illustrated Calendar Features Jesse Jane®, Riley Steele™, Kayden Kross™, Raven Alexis™, Stoya™, Katsuni and Selena Rose!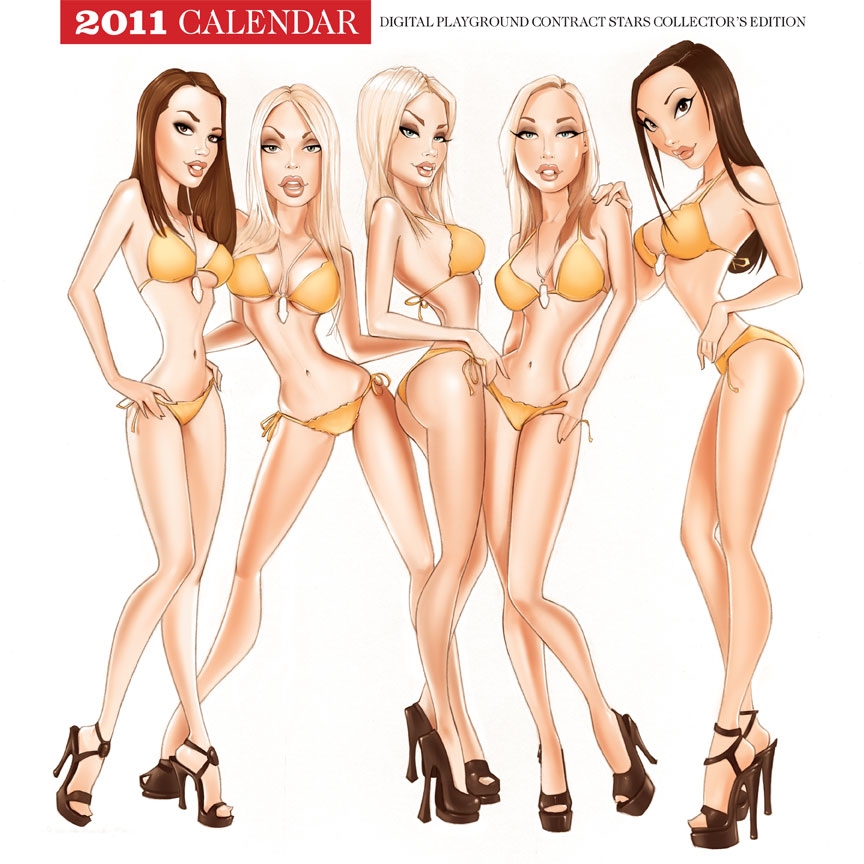 July 27, 2010 — VAN NUYS, Calif. — Digital Playground presents the Contract Stars Collector's Edition 2011 Calendar well in time for the holiday gift giving season. The illustrated calendar features erotic artwork of Digital Playground contract girls Jesse Jane®, Riley Steele™, Kayden, Kross™, Raven Alexis™, Stoya,™, Katsuni,™ and Selena Rose. World famous artist Amy Matthews painted fifteen steamy, XXX poses of the girls, which fans will lust over. A limited number of calendars are available immediately for distributors to place orders.
Joone, Digital Playground's founder says, "Our first calendar was such an overwhelming success, we wanted to extend our customers' enjoyment of Digital Playground's gorgeous girls into 2011. The artwork in the limited edition calendars is exquisite, representing the quality people expect from Digital Playground's movies."
To download the cover of the Digital Playground 2011 calendar, visit http://digitalplayground.com/mailings/DP-2011-Calendar_fc.jpg
Distributors interested in placing an order may contact the Digital Playground sales team at sales@digitalplayground.com
Samantha Lewis, Digital Playground's CEO says, "As a collector's item, our 2011 calendar is a truly original piece of merchandise. Like most of Digital Playground's undertakings, it is groundbreaking material for adult entertainment."
"Digital Playground's Contract Stars Calendar is a must buy for collectors. As a global distributor, IVD is always looking for items that compliment the films we market and this is one of those products we have incorporated to boost same client sales. We are looking forward to the 2011 calendar." Joe F., Marketing Director for movie distributor IVD.
"Once again, Digital Playground has created a fun and sexy product featuring their gorgeous women that simply drives sales." concurs Jasen Bartlett, Marketing Director for Castle Megastore Group, Inc.