Web Cam Girl Interview: Paige Little
Live web cam shows have become the fastest growing form of adult entertainment. Cam girls work from the privacy of their own home and perform shows for fans around the world. Coming the best aspects of strip clubs, adult movies and custom videos, performers give their fans exactly what they want. As such, Cam Girls are becoming stars in adult entertainment and I have decided to start a series of interviews with some of the hottest web cam models in the business.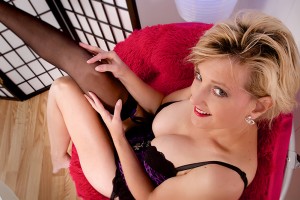 Paige Little, also affectionately known as "Sexy Little Paige" is a sexy blonde housewife from the Midwest who cams daily on www.Streamate.com. A veteran cam model, her bubbly personality and good looks have long made her a fan favorite. Plus, she's super cool and the perfect person to be featured in our debut web cam model interview.
To see Paige live, visit her at Paige Little on Streamate
Follow Paige on Twitter @sexylittlepaige
Cam Girl Interview: Paige Little
How long have you been camming and how did get into it?
Paige: I have been a webcam model for 10 years. The weekly member shows I did with my first website began my enjoyment of camming and the aspect performing live shows.
Why camming and not adult movies or stripping?


Paige: Camming is interactive and constantly changing minute by minute as the viewer selects how they want their personal experience to play out. Each show is different. That is why I love camming!
You cam for Streamate, what is the best thing about camming for them?
Paige:Over the years, I have web cammed with several different networks. Streamate is the best because of the wide variety of options and tools they provide for us. They are always updating and improving upon their system to allow us to broadcast the highest quality shows available on the web.
What is the most common request you get on cam?
Paige: I get a lot of requests for mutual masturbation and virtual sex. Most of my visitors like to be called by name and enjoy being encouraged to climax along with me.
What is the strangest request you have ever gotten?
Paige: From time to time I do get unusual requests. One of the strangest I received was from a viewer who wanted me to pretend like I was asleep. I did decline that request. I am still not quite sure what that was about. LOL!
What is your favorite type of show to do?
Paige: I am known as a toy gal! I have a huge variety of toys that I switch out and play with on cam daily. My regular visitors even have a few favorites of their own that they request for toy fetish play.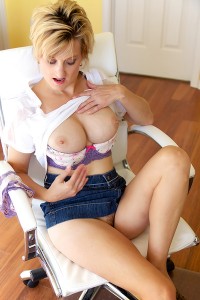 Do you have any kinky fetishes that you wish more people would ask for on cam?
Paige: I really enjoy wet t shirt and ice play cam shows. I would love doing more of them, during warm weather of course.
What is the one thing guys should never say to a cam girl?
Paige: I am easy going and few things bother me, however, It is never a good idea for guys to enter my chat room and say "Now slut!" HUGE turn off!
What is the funniest thing that has ever happened to you while live on Streamate?
Paige: Every day something crazy goes on while I am camming. I am a bit of a klutz and actually managed to hit myself on the head with my Hitachi. I had a good size knot! LOL!
If you could play any character from literature, TV or Film in a XXX parody scene who would it be?
Paige: "Gone With the Wind" is my favorite novel! If a XXX parody were made, I would love to be Scarlet! "Frankly my Dear, I don't give a damn!" "Just bring the lube!"
What is your favorite technical feature on Streamate?
Paige: Streamate is the best network for supplying it's models with tools. I love the new "ratings" program. It allows me to track my connection, speed, everything to make camming easier for me and better for the viewers.
If you could only watch one show on TV right now, what would it be?
Paige: "Game of Thrones" is my favorite show of all time! I even turn off my phone so there aren't interrupts. LOL!
Review the last book you read in twenty words or less.
Paige: "Game of Thrones A Dance with Dragons": Everyone is either killing or fucking each other. Dragons and midgets rule! And…Winter is coming! Oh!!! And zombies!
What is your geekiest guilty pleasure?
Paige: My iPhone is my favorite geeky pleasure. I take more pictures than I ever did with a camera. I catch myself texting and checking twitter a lot during the day too. I would be lost without it!
Finish this sentence "My day is not complete without…."
Paige: My day is not complete without running my dogs at the park. Love my fuzzies!
What Store can you never get out of without spending money?

Paige: Lovers Lane is the one store I can't get enough of! I love their lingerie and toys! I can't leave without at least buying a pair or two of stockings or panties!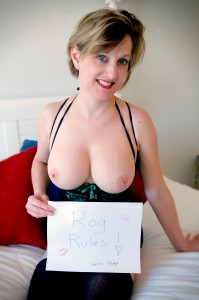 What is your favorite thing about being a cam model for Streamate?
Paige: I have cammed exclusively with Streamate for over 6 years! They are the most model friendly network I have encountered. From supplying us with the latest technology to providing us with the best cam traffic available, they are the BEST!
Complete this sentence: "To be a successful cam girl a model has to…."
Paige: To be a successful cam girl you need to interact with your guests! Simply sitting and bitching or doing your nails might attract a single visitor or two, but you need to keep things inviting and welcoming to be successful. They are seeking an escape and are looking for you to provide that.
What is one question you've never been asked, but always wanted to answer.
Paige: I really don't have an answer for this one. After being a cam girl for 10 years I have been asked everything and I mean EVERYTHING; from spit or swallow to the size of my big toe you name it. LOL!
Finally, which model should I interview next?
Paige: I have had the pleasure of knowing many awesome cam models over the years. I am torn between Catherine Tayler and Amber Lily for future interviews. Both are incredible cam models and wonderful people!
To see Paige live, visit her at Paige Little on Streamate
Follow Paige on Twitter @sexylittlepaige

www.FreeOnes.com: Free Ones, perhaps the best collection of galleries, video clips and other stuff on the web.