Name: Doc Johnson Pleasure Toy Love Prism


Reviewed by: Christina Noir (www.christinanoir.com)
Type of Toy: Dildo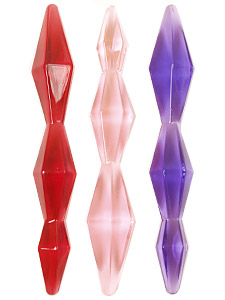 Bottom Line: A fun little extra toy to have around! I would buy this.
Price: $8.99 at PEXXX.com
Size: 8″ long, 1.25″ in diameter
Material: Smooth and flexible rubber (Jelly)
Best For: Working up to bigger and better things.
Review:
I like the shape of the three prisms in increasing size; good for working up to larger toys and is a more interesting-looking toy mouth-play. The color is a pretty pink and because it's translucent, it catches the light and flashes nicely.
Weaknesses: Has a funny smell, kind of like nail polish
Remover.
Batteries Needed: No.
Clean Up: Soap and water.
Similar Products: Dildos.
For more sex toys, visit: