TOTALLY TIFFANY
OVERALL RATING: 9+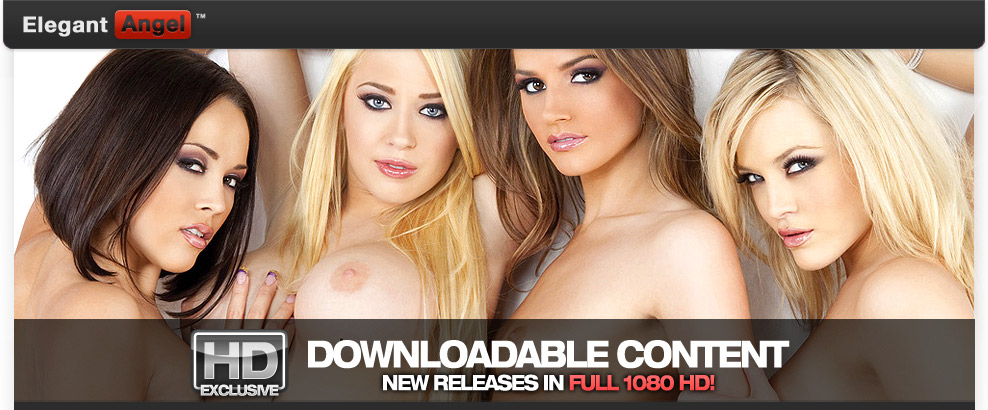 www.ElegantAngel.com
128 Mins.
DIRECTOR: Patrick Collins
Elegant Angel – 1998
THEMES: Tiffany Mynx, Oral Sex, Anal Sex, Feet.
STARS: Tiffany Mynx, Francesca Le, Barbara, Sasha, Nicole London, Nikki Shane, Kitty Yung, Heather Lee, Alexxx Knight, Nyrobi Knight, Randy Spears, Tom Byron, Jon Dough, Roscoe Bowltree, Randy West, Nick East, Cody Adams, Michael J. Cox, Scott Styles.
REVIEW:
Oh boy, two hours of Tiffany Mynx in her best scenes from Elegant Angel. This woman is a true legend of adult films and throughout her brilliant career, one thing has remained constant. She does her best work for Patrick Collins. Something about them just works and it comes through every time on screen. Now, before I spend the first page of this review drooling all over Tiffany, I will turn to the actual action, where I can spread my adoration out of the several pages.
Tiffany sits poolside in a black bikini, her skin glistening with sweat and suntan oil as she speaks seductively into the camera. She says she is in the mood to watch herself fuck. Well, that makes two of us Tiffany, I am almost always in the mood to watch you fuck. In the first scene, Patrick gets Tiffany to himself. Now, this has always been one of my favorite scenes, and when I told Tiff this two years ago, she told me an interesting story. (Did I mention I was giving her a ride back to her hotel at the time?) Anyway, this scene was supposed to be a full on anal scene, but as the tease and blowjob progressed, Tiff says Patrick decided it was hot enough as it was and just left it as an oral and foot scene only. (Maybe he just couldn't hold his pop shot long enough to fuck her in the ass.) There is quite a bit of toe sucking as Roscoe enjoys Tiff's feet, but those of you not into this, do not tune out. Trust me, the blowjob she gives is textbook material. Tiffany is a cocksucking genius who plays to the camera as well as anyone I have ever seen. Patrick fucks her from behind for a while, but the focus is on Tiff's feet and mouth. In fact, his load ends up on her feet, and Tiffany licks them clean to close out a scene that will have toe lovers and oral sex lovers creaming in their seats.
For the next Sodomania (Number Two for those of you playing along at home) Tiff hooked up with Francesca Le and Euro-honies Barbara and Sasha. You know, if it weren't for Tiff, I wouldn't bother with this scene since I don't care much for g/g and the other girls are just slightly above average. For lesbian action, this is just fine, it's just that there is so much else on this tape that I really love, I didn't want to spend too much time on this one.
From Sodo 3, Tiffany teams up with Jon Dough and Randy Spears in a very impressive scene. The two of them each take and end and fill her pussy and mouth with dick. Things are going along quite nicely when Tiffany takes a cock from her mouth and shouts "tear off my panties and fuck me in the ass." This kind of thing is what sets Tiffany apart from most other women in the business, she is willing to go that extra mile to make her scenes the very best. With Dough slamming away at her ass, Tiffany keeps her mouth full of Randy. For one of the most unique cumshots I have ever seen, both guys shoot into Tiff's heels and she drinks their jizz from her shoes. Interesting, nasty and a sure fire winner if you have a shoe fetish.
Nicole London joins Tiffany in getting revenge on a peeping Tom. They get back at him in way that can only be seen in porn, but sexually attacking him. The poor guy is held down, spanked and eventually forced to eat pussy. Oh no, not THAT! They tie up his cock with a belt and do a pretty harsh ball slapping, but that just makes his dick grown to full erection in record time. Great tease stuff here as Tiff fucks herself with a toy just out of reach of the guy, who writhes around trying to get at her. The girls roll him over and start assfucking the guy with a toy. This isn't my cup of tea and really doesn't last too long since the girls can't keep their tongues out of each other long enough to bother fucking him. For his final punishment the guy jerks off onto their faces. Shit like this makes you want to take up crime.
In a scene from Sodo 5 (Damn, Tiff was in the first 5 Sodos) and won best anal scene for 1994. Tiffany says this is her personal favorite. It ranks right up there on my list as well. When we start, Tiffany has Randy West's cock in her mouth and is fucking maid Kitty Yung with a dildo. (This is the abbreviated version, so please go out and rent this so you can see the whole scene.) Kitty is blindfolded and forced to do her mistresses' bidding. This means sucking the cock of the 'mystery guest.' Lots of sexy talk as Tiffany lets Kitty know she is sucking off the gardener. Kitty and Tiff are two of my faves and together, they are pure dynamite. Little Kitty gets her ass fucked and is about as loud as I have ever heard her. (You would think someone with a big dick were fucking that ass.) Tiffany also gets her ass fucked by Randy as Kitty licks his balls. She licks the cum off her mistresses ass after Randy spurts a load on Tiff's perfect butt. This is one of the very best you will ever see.
Switching from Sodomania, to Bottom Dweller, Tiffany meets up with Nikki Shane and Nick East. These two are clearly more than poor Nick can handle, but he gets an A for effort. This is a good scene, very good even, but you know, compared to Tiff's best, it just lacks something. Maybe because I never like Ms. Shane that much and she takes screen time away from Tiff. While the rest of the scene is just average, Tiffany still manages to shine.
Back to Sodomania, this time number nine. Tiffany plays a hitchhiker who tries to rip of f Heather Lee and Cody Adams. Instead of getting away with the goods, she has to give up her ass to the horny couple. Heather has a great time with Tiff's tight little honey hole. Then Cody comes in, Tiffany does a great, acrobatic blowjob, standing up, facing away from him, she bends down and sucks his cock through her legs. Very sexy. Heather looked great at this point in her career and she can actually hang with Tiff when it comes to wild fucking. Still, Tiff's tight ass getting plugged with prick is something incredible to watch. Cody drops his wad on Heather's ass so that Tiffany can lap it up. I've said it before, but I'll say it again, another great Tiffany scene.
After her hiatus from porn, Tiffany came back for a sizzling three way with Nyriboi Knight and Tom Byron. Tiffany is the teasing housewife who wakes up one day to find her maid and frustrated husband doing a number on her prissy ass. We join the scene in full swing and Tiffany is enjoying a tasty Nyrobi snack. Both these women are super dynamic fucks and Tom somehow manages to keep pace with them and lay plenty of wood to their tight twats. Nyrobi even gets her ass fucked good and hard while tasting Tiff's tangy treat. Another cum shot in the ass licked up by Ms. Mynx.
Tiff and Alexxx Knight have another g/g scene from 'Thermonuclear Sex' that is just one too many lesbian pairings for me. They are acrobatic and enthusiastic, but I just can't watch another 'veggie' scene. (Hi Adrian, tell the clones that one was for them.) Actually, a guy comes in to provide some meat to this pairing, but to be honest, I didn't like the movie the first time I saw it, and even though this scene was the best part of it, it still can't measure up to the classics that fill the rest of this tape.
For the final scene, we get a tremendous POV blowjob scene with Tiffany totally playing to the camera. Tiffany knows just how seductive eye contact is, and sucks cock like her mission in life is to launch a trillion sperm scuds. This blowjob should be the thing great oral scenes are measured against. It should be required viewing for pornslut 101, and could probably save countless marriages if used as a teaching tool. Tiff decides to give the lucky camera
guy a shot at her pussy which allows us that up close and personal experience that is the closest most of us will ever come to this incredible sexual being. From behind we get a great anal insertion shot as Tiffany takes it up the ass yet again. Of course, this great scene is not complete without great big, wonderful facial cumshot.
Tiffany Mynx is the perfect porn star, good looking, great body and incredible sexual charisma. All of her scenes are worth watching, and the ones she has done for Patrick Collins are, without exception, impressive. So, what do you think I am going to say about a collection of the very best Tiffany/Collins scenes? Watch it, rent it, fucking buy it for Pete's sake. There is some great anal sex here, brilliant cocksucking, some toe and feet stuff and a ton of sticky facials. Fans of Tiffany must own this tape, and the rest of you should at least give it a good look.