ANAL ATTACK

www.AssTraffic.com
OVERALL RATING: 7 (With bonus points if you like fisting.)
95 Mins.
THEMES: Fisting, Euro-babes
1998 (6/98)
STARS: Debora Coeur, Carmen Condor, Jan-Pierre Armad, Yves Baillat, Martine Hendrix, Backey Jakie, Julie Mirage.
REVIEW:
This German company is totally new to me, but I have had plenty of requests to review their material. The women are new to me as well, so this will be an interesting trip down a road untraveled. Debora, the "Queen of bizarre action" (as the opening titles indicate.) is supposed to be the most hard-core porn available anywhere. (I wonder whether I should stock up on Kleenex or be more worried about my supply of Pepto-Bismol. After all, I haven't ever seen a full Euro version of any tape.)
Things start out innocently enough, with brunette Deborah out jogging with a male friend. She takes him home and immediately starts sucking his cock. She's a pretty good looking woman with a nice body and active tongue. Keeping her tits in her bra, the guy bends her over and starts fucking her through a hole in her running pants. Once his cock is nice and wet from her pussy, he shoves it in her ass and lets Deborah bounce up and down on his cock for a while. They have some dialog in German, but from the looks of it, she must be saying something to the effect of "Pound my colon until I can't think straight." This is not for the faint of heart. Deborah gets her ass seriously fucked by this enthusiastic bugger. Serious gape shots for you guys who are into this sort of thing.
Just about the time her ass is stretched wide, another brunette comes out to join them. She wants his cock very badly and to prove this, she sucks him straight of Deborah's ass. Since the new girl came in late, she gets the messy duty of finishing off what the guy started. Presto, she is wrist deep inside of Deborah. While this may be a new treatment for Carpal Tunnel syndrome, it looks more like a painful sexual practice to me. For Deborah, it must be OK however, since she welcomes the guy back into her butt while her friend stays planted in her puss. I thought the fisting was harsh, but the lovely residue now dripping from Deborah's ass and from the guy's dick as he pulls out is just a little to up close and personal.
To start the next scene, a pair of women, one blonde(Julie Mirage), the other brunette, have a few drinks. This leads rather quickly to a more intimate encounter in a back room. The blonde does a very nice job of sucking pussy while warming her ass up with a finger, or two or, three or, oh fuck, there it goes again. In her ass? I know it's totally off topic here, but what if her hand actually gets stuck? That just doesn't look comfortable, but I know a lot of guys are going to cream over this. Since this is a totally foreign sexual concept for me, I'm not sure what makes for a well shot anal wrecking scene, but there are lots of close ups and I am guessing this is a good thing. The blonde proves that her pussy is every bit as accommodating as her friend's ass and while I would much prefer to watch her suck dick, I suppose for guys into this stuff, the sexy Eruo-slut is the perfect object for their obsessions. A couple of guys walk in to interrupt the fun and soon find that the women are happy to suck a little cock. Now this is a lot more to my liking, especially the blonde, whose thick lips seem made to wrap around a throbbing shaft. I would think that after all we have already seen, that watching these women fuck might leave some people feeling like they have already eaten the chocolate cream pie before the baby back rips arrive, but this is really good stuff. I much prefer the blonde to her less attractive friend and the action does get split up. However, since both women are totally nasty anal sluts who get the hell fucked out of them (Saying 'shit fucked out' in this case might be a little too scary.) I can overlook the editing style in favor of sexual content.
The final woman isn't as pretty as the others, but she goes after cock like she's starving. This time, the guy starts out with fingers in her pussy and her ass to get her warmed up for the action to come. Seeing a chance to park his prick, he slips it into her tight, wet slit. With all her hair shaved, we get to see all of her lower labia piercings. Talk about needing hazard pay. I don't think I would stick my dick anyplace that was so heavily guarded with metal. At least her ass gives him a clean shot without fear of having his unit shredded on the way in. Into the mix comes and even less attractive woman who immediately takes his cock from the woman's ass and sucks it clean. Damn, this woman has some pretty serious stubble going. The anal action here is intense, but the five finger is just too much for me. Into the mix comes Deborah, ready and willing to take half an appendage up her orifices.
Certainly the appeal here, for fans of this activity is the fisting action. Both vaginal and anal fisting abound. Beyond that, the sexual action is quite good and the women are better than average. Deborah is quite sexy and Julie Mirage is an exotic blonde who steals the show. Excellent production values add a great to a video that is hot even if the Euro action is not your speed. If you really get into this sort of thing, I expect you have already given up this review to order the video.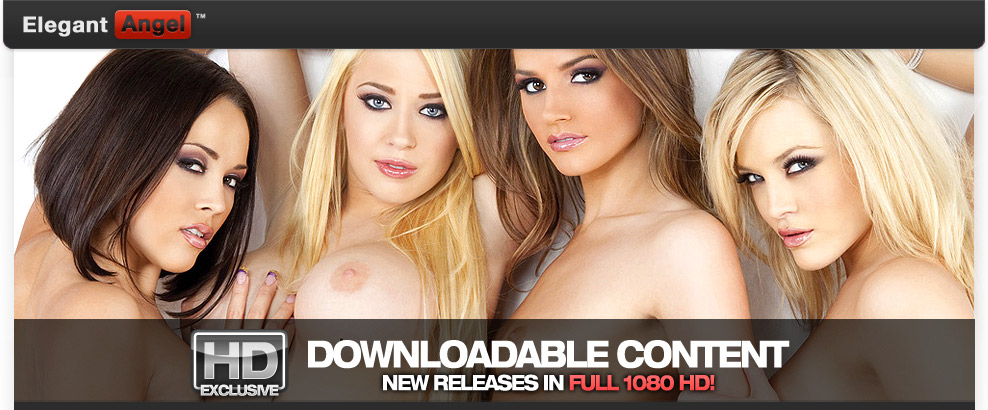 www.ElegantAngel.com