BOTTOM DWELLER 33 1/3
117 Mins.
Elegant Angel- 1995
DIR: Patrick Collins
STARS: Careena Collins, Marilyn Martin, Sofia Ferrari, Andrea, Nici Sterling, Petra, Roscoe Bowltree, Jake Steed, Michael DeShane, Joey Silvera, Sean Ricks.
THEMES: Anal Sex, Interracial Sex, Facials, Toe sucking.
OVERALL RATING: 9-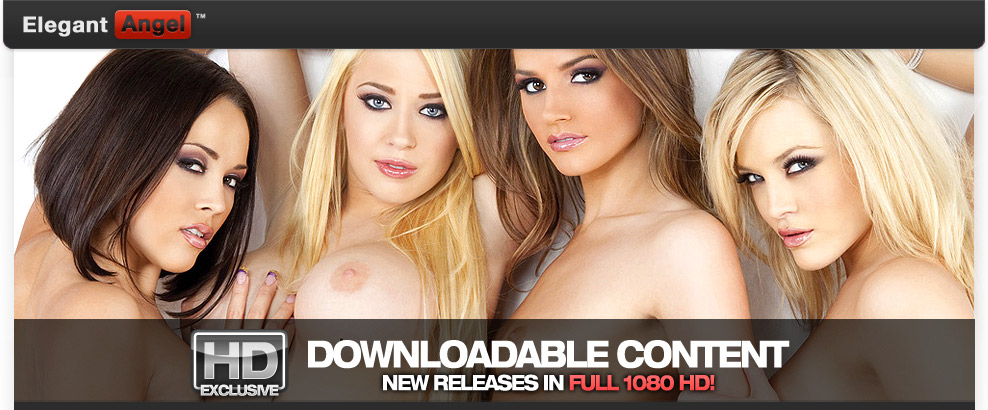 www.ElegantAngel.com
REVIEW:
Patrick Collins always seems to load up tons of hot female flesh for every voyage of his love boat, the Bottom Dweller. The loose story line about the long lost Harry Dweller. (Remember the whole, "Bruce is dead" think you could hear if you played the tape backwards) In this one, Patrick begins with a note from the IRS. The boat has been seized and his assets are frozen. Oh Great Scott, how will he finance his trip to find uncle Bruce.
A quick trip to the bank brings him in contact with the incredible Careena Collins. This banker gets right to the point. She will help Roscoe if he helps her explore her wild sexuality. Seems Careena is sick of missionary only sex and has been fantasizing about sucking cock, being gang banged, and even being a dog's bitch. Oh yeah, and apparently Careena is also a proud member of the Klan in her spare time. Her therapy begins with Patrick ordering her to play with her pussy. Careena looks fantastic and her submissive nature just takes over while Patrick gives her orders. Her beautiful pussy gets a serious rubdown before she crawls over to be taught how to worship a cock properly. After nearly choking herself on cock, the now overheated banker lays back and puts both hands to work on herself. Careena nearly fists her pussy while shoving four fingers in her ass. This is some of the hottest solo action I have ever seen. She does some more great deep cocksucking before Patrick splashes a nice thick stream of goo right onto her lips. Careena is now cum covered and warmed up.
For her next therapy session, Ms. Collins is instructed to go to a house, blindfold herself and wait for whatever happens. The kicker is that the little Klan girl being sent to the home of superhung black stud Jake Steed. Looking every bit the timid banker, Careena sits waiting for her cock in shining armor to arrive. With one hand already fucking her own hot hole, Careena wraps her other around his huge cock and jams it right into her mouth. I swear, Careena attacks this scene like a starving woman at an all night Vegas buffet table. Not nearly enough cock sucking for me before Jake plunges into her steaming hole and plows this very tight pussy. Great close up shot of her as she lowers herself down onto his shaft, her juices coating it in no time as she rides that monster. Just as quickly, she sits down on his lap with his cock in her ass. Great long insertion shot and some serious deep assfucking here. No doubt Careena is a hottie and no doubt this scene is perfect. An ass this tight taking a cock this huge is just fucking incredible. While sodomizing her, Jake gets Careena to talk nice and dirty. (Memo to directors, let the woman talk dirty, no one wants to hear guys degrading women.) He pulls out and jerks off onto her still blindfolded, foul mouthed face. Careena sucks up every drop of a truly massive jizz bath, rubbing it into her pretty face and sucking every last drop of cream from his stick. At last, Jake drops the race bomb on the prone Klanswoman, a final fuck you for equality's sake. This scene alone is worth the price of the tape, one of the best you will ever see.
The next problem Roscoe takes on is Michael DeShane. This Milli Vanilli looking guy has a fantasy scene with his dream woman on a pool table. Tall, blonde and beautiful Petra is quite the stunning vision as she slowly disrobes and does some pretty interesting things with the balls. Lots of slow tease footage as Michael practices his imagination exercises. His fantasies get a little more explicit, this time having Petra play with her pussy with the help of a nice toy. After that, he envisions her outdoors on a lounge, beckoning him to join her. Who would pass up a nice mid day pussy snack? The pretty German skips right over the cocksucking and goes straight for having her pussy plugged. When she turns her big round ass up upwards for him, I can't help but notice that Michael dispels certain stereotypes if you know what I mean. He also shoots barely enough jizz to be visible on her face after an incredibly short suck and jerk sequence.
IRS agent Marilyn Martin shows up looking for Dweller, and Joey makes a huge mistake pretending to be the man she wants. This nearly gets him killed before Marilyn makes him the same offer Careena made Patrick. Seems she too, has some sexual problems. (Gee Patrick, financial problems? Bankers and IRS agents as sexually frustrated anal sluts? Deeply symbolic.) Ms. Martin has a foot thing and Joey gets to suck her toes while she gives him a FJ (Footjob, like a handjob, only with the feet.) She seems to really like the whole foot sucking thing, which has never done anything for me. However, since she is so turned on, Marilyn gives some even better than usual head, which is something I do find terrible erotic. Too bad it's such a short blowjob before Joey throws her on the bed and uses his experienced hands to make her cum loudly. Ms. Martin was always a highly underrated, exciting on screen fuck and this is one of her best scenes. Joey just seems to bring out the best in this tight little blonde slam hound. Her pussy is absolutely soaked when he pulls out and lets her get on top of him. After a wild pussy poke, Joey goes up her backroad for a few strokes. Then he pulls out and goes without edit to her mouth, where Marilyn gives him a wet sloppy suckjob before ordering him back into her ass. This nasty act gets repeated. Why isn't Marilyn mentioned more by you guys out there as a perfect porn slut. She is just fucking hot! This time his cock stays in her ass until it is time for Joey to give her a cum snack. Marilyn not only sucks his cock from her ass, but manages to work a rather huge load from Joey and swallows most of it. Another fucking brilliant scene.
With the search not going well, Roscoe turns to his work with a sexually bored couple to ease his pain. Sofia Ferrari and Sean Ricks come to see him looking for a little adventure to spice up their marriage. Nici Sterling is along to help out this time, and you just know that with this English Muffin around, things are going to heat up super fast. Nici strips down in front of them in an effort to teach Sofia how to be sexy. You know, given an infinite amount of time, Sofia could never hope to be this hot. Nici is in a class of her own, and just watching her strip is a great experience. Her perfect body is on display for the couple and it's no wonder this gets Sean's juices flowing. A man would have be dead not to get going looking at this piece of genetic perfection. It seems that his wife is also turned on by female flesh and she gets a first hand lesson in pleasing a woman.
To help him see his wife in a new way, Roscoe has Sean watch while Sophia sucks his cock. Maybe it isn't approved sexual therapy, but is fun to watch. Even as Sean begs to be a part of this show, he is forced to just watch Roscoe enjoy both Euro-mouths on his member. (My vote goes to England in this little battle of the blowjobs.) At last he gets to see just how good Nici is with her mouth, and the feel of this exquisite woman's mouth on his member, seems to make Sean OK with the fact that his own lovely wife is sucking cock like a two dollar whore on pay day at the docks. She is just as eager to take it in her pussy and obey his commands as Roscoe orders her to suck her cum off his dick repeatedly. With his wife being slut trained, Sean is doing his best to keep up with sexy Nici. The spark has been lit and the loving couple rush to each other to finish things off, matching Roscoe and Nici stroke for stroke in a fucking contest to the end. Sexy Nici even squirts a blast of girl jizz all over Roscoe's fingers before bending over and taking a hard standing fuck from behind. (Hot shots of her legs and ass here.) The final phase has Sean having to watch while he wife takes another man's cock up her ass. Since he is fucking Nici at the time, I'd say he is plenty happy with the trade. Sean moves back to fuck Sophia's now ready rear, and as a bonus, gets Nici to lick his balls while he does. That does it for him and he pulls right out of her ass and rains down on Nici's gorgeous mug. Not to be left out of the buttfucking fun, Nici opens her ass for Roscoe for a brief boning before he too gets to plaster this covergirl face with sticky love sauce. No doubt about it, Nici Sterling is a porn queen for all times.
How does it all end? Who the fuck cares, we've already seen three absolutely top notch assfucking scenes and a ton of other hot sex. That is all the really matters here. Careena Collins gives one of the best sexual performances I have ever seen, and that alone is worth the price of this tape. Throw in the highly charged Marilyn Martin and the scalding hot Nici Sterling, and you have a winner no matter you slice it.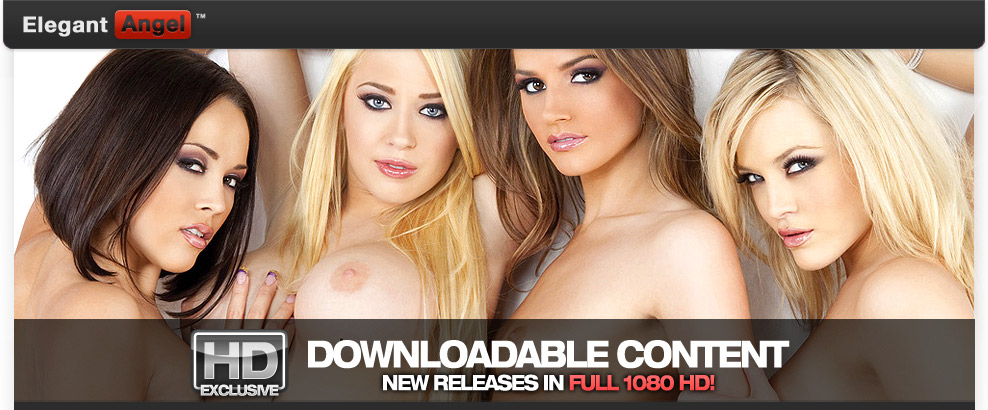 www.ElegantAngel.com