115 Mins.
Elegant Angel- 1997
DIR: Robert Black
STARS: Kaitlyn, Ashley, Sally Layd, Tricia Deveraux, Davia Ardell, Coral Sands, Precious Silver, Marc Wallace, Jay Ashley, Ron Jeremy.
THEMES: 6
REVIEW:
Remember when you were a kid and you had a missing tooth? Every time you stuck your tongue in the hole, it hurt like Hell, but you did it anyway, just to see if it still hurt? Well, that is how I am beginning to feel about Rob Black movies. Every time one comes out, I end up watching it for review purposes, and no matter how much I may have hated the previous ones, I keep thinking, maybe this one will be better. With Kaitlyn aboard, my hopes were relatively high for this one.
The whole subject matter comes across right off, the plight of a twenty dollar bill as it passes from John, to hooker, to drug dealer, to cop and back again. It starts out with T.T. Boy and his pal cruising for some action. They find an available working girl in the form of Sally Layd, who is dressed and looking the part. She hops in their car and in a flash they are off to party. Even though Sally is bought and paid for, the guys seem to feel the need to shove her around a bit while she scrambles to suck their cocks. It's too bad the guys have to get so rough, because Sally goes after cock with enough enthusiasm without their prodding. This overly busty blonde has always had a reputation as one of porn's most willing sluts, and she shows it here. She is perfect for the rough sex required, and once T.T. shuts up and starts fucking, the sex is good and hard, something very hot indeed. Then, the nasty spitting shit begins and it ruins things for me. Sally looks pretty hot in RC getting slammed from down low while her huge tits flop about wildy and her mouth gets filled with cock. The DP footage is equally hot and nasty until they start actually start choking her. This sort of thing just blows an otherwise good scene for me. The double facial is messy and well shot. A really good scene without the spitting and choking. And of course, the total fucking abuse the guys give her after the scene is over. Sorry, but shoving money in someone's mouth and taping her up is just a tad too sick for me to get turned on by.
Tricia Deveraux does a long monologue from a straightjacket about how being a prostitute "isn't really that bad." (Yeah, subtle subtext is not exactly Black's strength.) This leads to Tricia hanging on the street corner with friends Coral Sands and Davia Ardell. The trio gets picked up by Ron Jeremy playing a particularly creepy character who employees the girls to put on a little show for him. He gets to sit back and watch as the three women use a bevy of toys on each other. Davia and Tricia, as always, get WAY into their work, and Coral, although not all that attractive, is an enthusiastic performer. No tame sex here, as Davia and Tricia attack Coral, ripping her stockings off and assaulting her exposed flesh. Davia dons a fat strap on and really puts it to Coral from behind. As Ron watches this, he sits in the corner sucking his own dick. Tricia moves in as the center of a strap on sandwich, proving that she is a porn slut of the utmost magnitude. After forking out all that money, all Ron gets to do is watch the spectacle and jerk off onto a phone.
So far, I'm not too terribly disgusted by most of this, and with Kaitlyn still to come, I was ready to really start liking this video. Alas, it was not to be. Before we get to Kaitlyn, we have to watch a sobbing, bleeding, Tricia suffering immensely before lighting up her crack pipe and douching. Sorry, this bit of "realism" is just out of place and far too brutal.
A new busty blonde, Precious Silver, hops into a car with Jamie Gillis. Her boyfriend offers her oral services to him for twenty bucks and lets them speed off together. Once alone, Jamie, of course, has to let her know that she is a worthless whore. I just find this really unnecessary and a distraction from this sexy woman giving a front seat show and blowjob. Other than a huge tattoo on her shoulder, I really like what this woman has to offer. Great tits, a sexy face and she sucks cock like she really loves it. Jamie finally dribbles a rather pathetic cumshot into her mouth, ending her twenty dollar humiliation.
Things should get better with Kaitlyn up next, but from the moment she stumbles up to a crack dealer and buy her fix, things are amiss. Kaitlyn does a find acting job here, but watching her smoke her shit and die is just not the sort of thing I have ever, EVEN fantasized about. Once dead, Kaitlyn is haunted and attacked by a couple of white guys in black face and afro wigs. To add to the thick racial slurs, the guys do really bad street impressions and carry watermelons as they attack her. While Kaitlyn looks as good as ever, I can't get past the bad racial stereotypes (Much to Mike Paul's dismay) and the overdone watermelon smashing in her face and body. It is one of the only times I have seen the woman I put on a pedestal, NOT enjoying herself on camera. (And I include her scene with Max Hardcore and the double anal which I know she didn't like.) It is also the first time in recent memory that a Kaitlyn scene had no sexual appeal to me at all. It's not bad enough she has to die of an overdose, but Black feels the need to humiliate her as well. What a waste. There is DP, more choking and cum shot onto watermelon which is unceremoniously smeared onto her face and tits. Highly offensive and literally without sexual appeal. (Sorry Kaitlyn, but the material just grossed me out.)
Next we get Rob Black, doing a way too long monologue about being a "Vice Cop". OK, dickhead, we get the point, you think call cops are scum, blah, blah, blah. He relates a story about Precious, who is back for another wild fuck. This time, her loser boyfriend pimps her out to Marc Wallace. Marc takes her back to his place where he has some friends waiting. Of course, they get rough with her, throwing her on the ground and ripping off her clothes. I know a lot of you like this, but I for one, don't need or want to see a woman slapped around and resisting. Just fucking let her take on three guys and be done with it. All of these guys should be thanking God they get to be with a woman this hot. All the stupid violence shit just takes all the erotic potential, and there is a lot here, and douses it from the very start. Another huge waste. Precious takes some rough anal as is quite the sexy slut. She reminds me a lot in body type and sexual demeanor of Lovette, with better looking tits. Lots of choking pretty much spoils the DP footage, which otherwise is really hot. A really great triple facial that leaves Precious a very cum covered mess. Too bad the scene was so violent, it fucked up what could have been a classic.
The final scene has Black playing the burnt out cop again, this time dragging Tricia off the street where he takes her into an alley for a little rape under the color of authority. No matter how cute, sexy and nasty Tricia is, I just can't get excited over someone yanking her around by the hair and verbally degrading her. It is really too bad because I have really enjoyed watching this fresh faced girl fuck and suck. Her body is fantastic and that face is just too cute. This is a perfect example of what I have long argued, a good male can make a scene a little better, but a bad, or overbearing male performance, can sink a hot scene. Black, so caught up in his hair pulling, slapping, choking and name calling, seems to forget that his audience is not paying to see his sorry, wanna be tough guy ass, but to see the hot babe he is fucking do her stuff. When he shuts up long enough to let her do that, the sex is quite hot here. Even the nice facial is cut short by a swift slap to her face, and a brutally disturbing bit where he rubs her face against his car window, leaving Tricia in a heap on the ground.
In spite the little caveat at the end of this video, Week and a Half is not a documentary, it is not meant to show real life tragedy, and the evils of drug abuse. It is simply another depressing, degrading, violent vision from Black. The first half of this movie has enough good footage thrown in around the less appealing shit to have me enjoying, however, it takes a nose dive at the half way point, from a kinky ride, to a demented, hateful look at women, drugs and sex. This is by far Black's best cast, Precious Silver is a superstar waiting for something good, Sally Layd is really hot here and Tricia Deveraux has some great moments. Of course Kaitlyn is the main reason I wanted to watch this movie, and for the first time ever, her scene had no sexual appeal to me. Not her fault really, I just don't like the whole death by overdose, raped in Hell and the racist "humor" overshadow the hottest woman on the planet. In spite of the parts I hated, there is still a lot of good stuff here. In the hands of a less hateful, more talented director, this cast could have really smoked.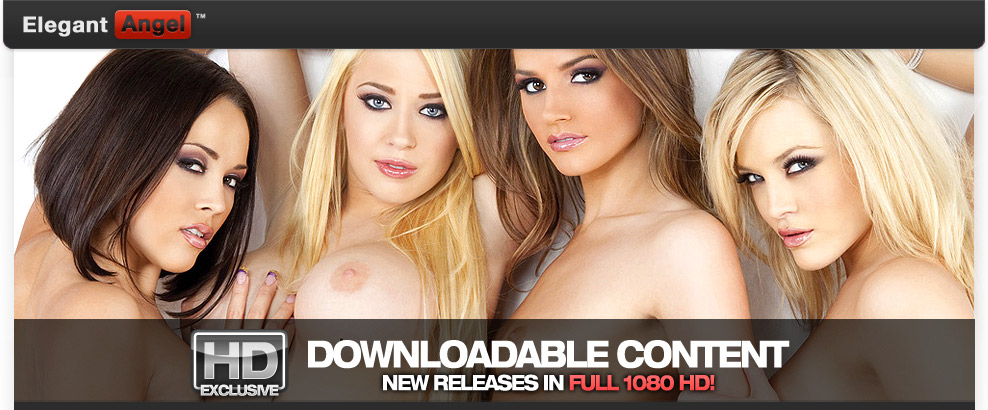 www.ElegantAngel.com