Sophia Santi Interview 2004 - Sophia's Bio & Movies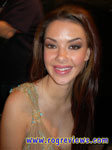 INTERVIEW: SOPHIA SANTI
We are here in the Digital Playground booth bright and early at the 2006 Adult Expo with…
Sophia Santi.
A very lovely and fairly new girl to the business.
Not that new. I've been doing this for about four years, but I went by a different name when I was doing the magazines and stuff.
But you are new to video work?
Yes, new to video.
Brand new and under contract with Digital Playground. How many movies do you have out?
My first movie just came out last week.
What is it called?
It's called "Way of the Dragon." It's an Asian inspired, light bondage, fetishy thing.
How was it on set?
I loved it. I got to have sex with Janine and that has always been a dream of mine.
You've been modeling for years so obviously you're not new to being in front of the camera.
No, not at all.
Was Janine your first scene?
I can't remember actually. There were a few. It might have been Janine.
Janine was the one you were looking forward to?
Oh yeah, she was the one I was really looking forward to. I have been a fan of hers for a long time.
Were you nervous at all?
No, she made me very comfortable.
Did it live up to your expectations?
Oh yeah. It was a lot of fun.
Did she have fun with you?
I hope so. You'll have to ask her.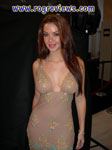 Are you only doing girls?
For now. We'll see how things go though.
Is Janine the only Digital Playground contract girl you have tried so far?
I've been with Jana as well. She was a lot of fun and has a very pretty pussy. I have not yet been with Jesse or Teagan.
But you plan to?
Oh yes.
How would you compare Janine and Jana?
They are so different. Janine is a take charge woman. She will throw you up against the wall and fuck the shit out of you. Jana is a little more easy going. They are both absolutely stunning and a lot of fun to work with.
What is your ethnicity?
My father is Romanian. His ancestors are gypsies from the Transylvanian mountains. There is a Mongolian influence on that side as well. My mother is Black Irish, German and Cherokee.
That makes for an interesting look. You could pass for just about anything with the right make up.
Pretty much. I have been mistaken for Black, East Indian, Latina, Brazilian, Asian, you name it.
With the right clothes you could even pass for a plain old white trash American girl.
Yes I could.
How tall are you?
A little over five-nine.
You are very tall for this industry.
I am pretty tall. It is hard to find girls who are close to my size.
Do you feel like you tower over them?
Sometimes. It feels like I'm mommy.
Are you a take charge kind of girl?
By nature I am more of a submissive, but it depends on the girl. Sometimes I will get aggressive.
Off camera do you enjoy guys?
Oh yeah. Off camera I enjoy both.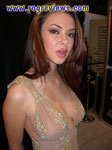 Other than Janine, were there other girls you really wanted to work with when you got in?
I always wanted to work with Tera, but she is no longer with Digital. Other icons like Briana and Jenna Jameson. I've always wanted to go there. Maybe one day, you never know. Maybe we can get something going.
You had that with Pirates between Digital Playground and Adam & Eve.
That's encouraging.
We could see Sophia and Jenna or Sophia and Briana. You and Tera could be scary because you could look so much alike.
We look somewhat similar and have similar bodies.
Before she had implants of course.
Right.
Where are you from?
Vancouver, Canada.
Did you grow up there?
I lived there until I was eighteen and then moved to Arizona where my mom is from.
Do you still live there?
No I moved to LA when I was twenty and have lived there ever since.
Did you move to model?
I moved there for this business. I've been modeling since I was fourteen and I still do mainstream stuff when possible, but this is what paid the bills.
How different is a mainstream modeling shoot than an adult shoot?
Minus the sex, not much is different. Depending on who you are shooting for I guess. I do a lot of bikini and lingerie shoots so the girls are still pretty comfortable with their bodies. I shoot with a bikini model, Masumi Maxx and she is never on set without a bottle of sake. Things can get pretty wild.
Who are easier to deal with, adult models or mainstream models?
Adult models are easier to deal with. Mainstream models will get on their high horse when they find out what I do.
Do the people you grew up with know what you do?
Yes they do and for the most part they are very supportive. I am sure they might wish that I was doing something a little more academic, but they are supportive.
Do you think the people you went to school are shocked by what you do?
Doubtful. I doubt they are shocked. I was quite the shocker in high school.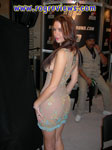 Give us one really shocking story.
I was kind of the bitchy punk rock kid who couldn't decide if I was Goth or punk or whatever. I would come to school with vodka in my Slurpees.
Were you sexually active?
(She laughs) Yeah.
Is that a good thing?
I don't know. I had fun. It was my idea the first time. I lost my virginity at fourteen. I just wish that I had picked someone who was better at it.
The first time was not very good?
It sucked.
Was he your age?
He was eighteen so he should have known what he was doing. It was disappointing.
Was it short?
Yes, it was short. I was like "that was it? That is what everyone is so excited about?"
Maybe you were just so hot that he couldn't control himself.
Maybe. It was just really boring.
How long did it take you to figure out that it got better?
I had to learn how to pleasure myself first. That only took until I was sixteen.
So you had wild streak then and you have one now. Nothing has changed except that now you don't put vodka in your Slurpee.
No, I still put vodka in my Slurpee. It's good. I like sweet stuff.
This is obviously your first show.
Actually I was here three years ago. Adam & Eve hired me to sign for them. I never came back. I didn't have security so the fans were really disrespectful. This year I have security so I don't have to worry about being groped all day.
What had they seen you in three years ago?
I had done Penthouse and had been on the cover of most magazines.
But they wanted to see movies.
Yes they did and now they can.
Do you have a wish list of guys for possible future scenes?
I have no idea. I don't even know who is out there. I should probably pay attention. I've been paying attention to the girls.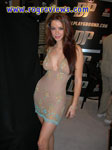 You have a lot of girls to go through first.
Yeah, there are a lot of girls I have to do first.
Do you have a type of girl you are attracted to?
I really like exotic women. If a girl has an accent, then I'm really attracted to that.
What about guys?
Guys with accents are hot too.
What kind of accent really gets you going?
I like Spanish accents.
You said you're five nine, what are your measurements?
34d-24-38.
Natural?
Yes, very.
Any plans to change the natural status?
I would say that I'm pretty well endowed for being natural so I would say that I plan to stay that way. Maybe when I turn thirty and have kids, but for now they are safe.
When did you start growing those?
It had to be sixteen or seventeen. They made fun of me in high school for not having breasts. They made rhymes about me.
Do you remember them?
Yes I do. They said "Roses are red, Violets are gold, why were a bra when there's nothing to hold." And "Roses are red, violets are black, why is your chest as flat as my back."
Were those girls or guys?
Guys.
How happy are you to know that those same guys are now eating their hearts out?
I could care less about those guys. I don't give a damn.
They are sitting at home watching your movies wishing they had been nicer to you.
I'm sure they are.
Do you have a web site?
Yes. www.SophiaSanti.com will be coming out soon. If anyone sees NataliaCruz.com, I have nothing to do with that web site so they can come to www.SophiaSanti.com
What will they see there?
Lots of hot steamy sex. Photo sets of me and video. They will see lots of photos from every day life, live chat and all kinds of other good stuff.
When you aren't on set being a porn star what do you like to do?
I love to travel. That is my favorite thing to do. I've been to thirteen countries so far. My dad has been to thirty nine so I have to beat him. I am big into alternative medicine so I read a lot.
What is your favorite travel destination?
My favorite is Costa Rica. I go there all the time.
Why is that your favorite?
There is this little out of the way beach that is a great hideaway. It takes six hours, four buses, two taxis and a ferry to get there. It's just so beautiful. It is the greatest decompression spot in the world.
Has the fan response been better this time?
It's way better. The fans are much more respectful now that they see the security guards next to me.
No one has seen you in a movie yet so they must be dying to see you.
I guess so. We have the movie here so a few people have picked it up.
Tell us something that no one knows about you.
I was a tomboy when I was a kid. I was constantly climbing trees. I have sprained each of my ankles eight to twelve times each and have torn five ligaments.
Does that make it tough to walk around in heels?
It does. Every time I tear a ligament. I just did it again a year ago.
There you go, something you didn't know about Sophia Santi. Thank you for your time. You're gorgeous and we look forward to seeing a lot more of you.
Thank you.